Unfortunate: The Untold Story of Ursula the Sea Witch
Book and lyrics by Robyn Grant and Daniel Foxx and music by Tim Gilvin
Fat Rascal Theatre and Wildpark Entertainment
The Lowry, Salford
–

Listing details and ticket info...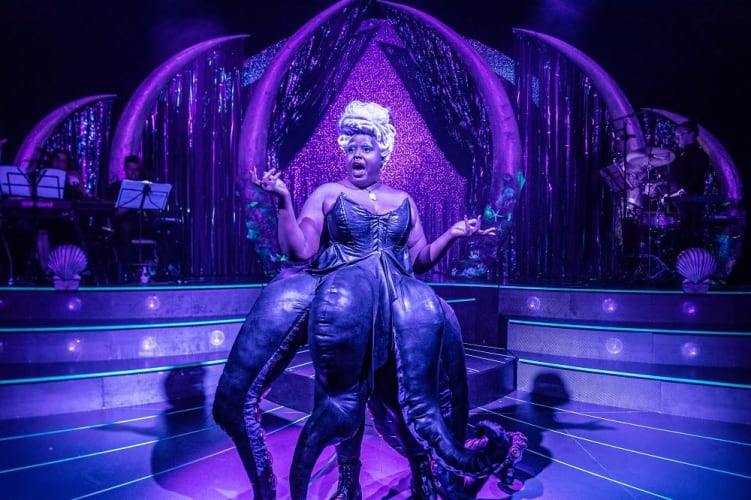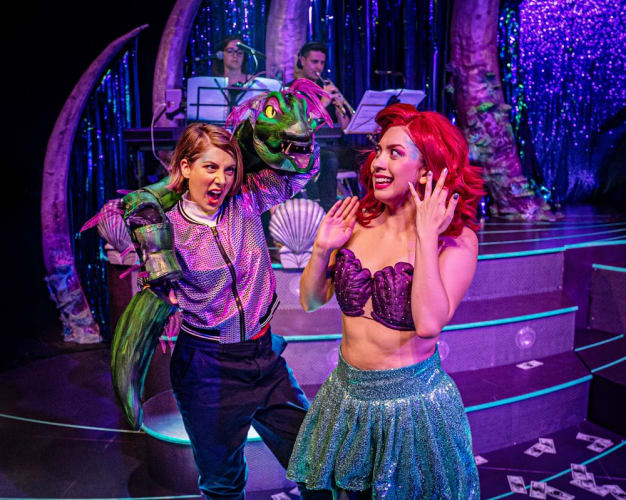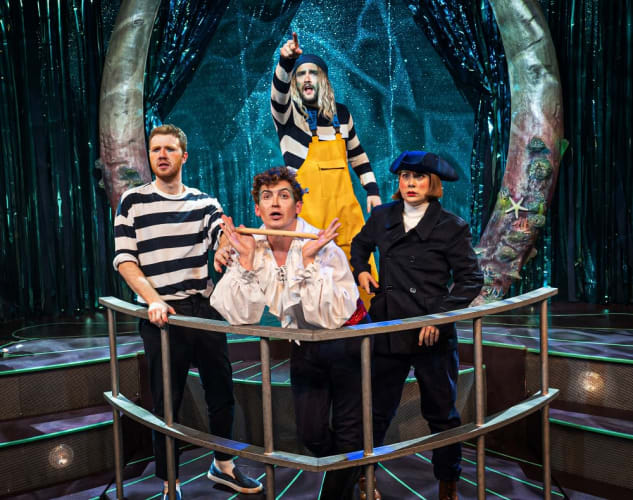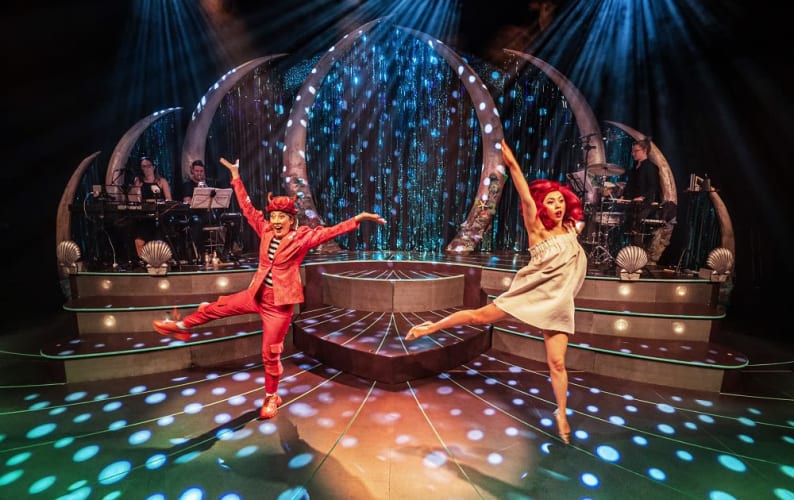 It began to seem like this show might be Unfortunate by nature as well as name. The scheduled first night was cancelled and illness necessitated a number of cast changes on the rearranged date. Actually, Unfortunate: The Untold Story of Ursula the Sea Witch is so classy, if the cast changes had not been mentioned no-one would have noticed.
Ursula (Allie Dart) explains she survived being impaled on the bowsprit of a ship at the end of The Little Mermaid because it was hardly the first time she'd taken a boatload of seamen to the chest. It is the first indication that, while affectionate, the show is not a standard tribute to a Disney classic.
Ursula explains her motivation in behaving in ways people might consider evil. Far from being a villain, she is an idealist hoping to persuade Prince Triton (George Whitty) to form an alliance with her smaller kingdom that will enable them to combat problems such as growing sea pollution. But naïve small-town girl Ursula encounters prejudice in the big city, not least from Triton's bigoted father who frames her for murder and exiles her well away from the kingdom. Years later, an abashed Triton seeks Ursula's help—his daughter Ariel (Miracle Chance) refuses to take seriously her responsibilities as heir to the throne and needs guidance. Ursula seems willing to help but may be seeking to put right past wrongs.
Unfortunate is promoted as a musical parody and authors Robyn Grant (who also directs) and Daniel Foxx draw out the satire gradually. Walt Disney's antisemitism is referenced in a song where misfits list the reasons they were rejected for a part in a Disney cartoon—including being Jewish. The over-optimistic, whistle a happy tune, aspect of Disney songs is spoofed with Prince Eric (Jamie Mawson) singing a heartfelt tribute to his flute, which may just have a double meaning. Far from being a starry-eyed romantic, Miracle Chance's hilarious helium-voiced and empty-headed Princess Ariel has a very basic motivation for visiting the surface world. She wants to go where the boys have dicks, the centrepiece to her collection of memorabilia from the surface being a nude statue almost as well-endowed as me. We're not in Kansas anymore Toto.
The satire is not limited to the source material. "Kiss the Girl", rather than being an encouragement to shy lovers, becomes, in the current hyper-sensitive woke environment, a cautionary warning about avoiding sexual harassment.
Tim Gilvin does not limit the score to a Disney pastiche. There are wide influences including calypso, rumba, country and western and a definite tip of the bowler to Cabaret.
Director Robyn Grant sets a gleefully sleazy atmosphere. Abby Clarke (who with Hugh Purves also designed the show's puppets) creates a set where shady lighting and glittery curtains feel like a strip club gone to seed. Grant misses no opportunity for humour—the cast are very much aware they look daft miming swimming.
Allie Dart is a superb anti-heroine. Relishing every saucy innuendo in full Mae West mode but with a soulful bruised innocence; offended that her efforts to challenge conformity somehow are interpreted as being evil.
At one point, Ursula defends her duplicitous behaviour saying she always gives a five-star performance. In Unfortunate: The Untold Story of Ursula the Sea Witch, she's not the only one.
Reviewer: David Cunningham