Unmasked
Andrew Lloyd Webber
Polydor Records
Released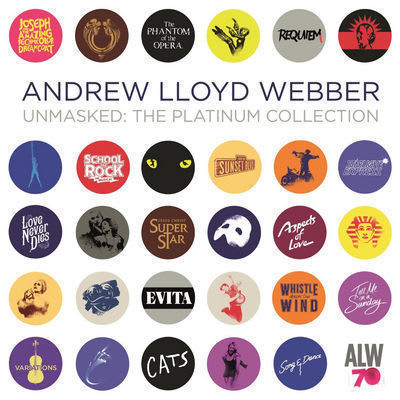 Lord Lloyd Webber is celebrating his 70th birthday with at least two high-profile retrospectives. Somewhat confusingly, both are titled Unmasked.
One is a fat autobiography, which has just hit the bookshops. The other is a set of CDs featuring a collection of his greatest hits. Even this comes in more than one version.
The deluxe edition reviewed here comprises no fewer than four CDs and 81 tracks, although there is a more select two-CD version. If nothing else, this proves how prolific His Lordship has been in a long, generally successful career that has seen him dominate the West End and Broadway like nobody else.
Fans will be racing to buy or download a compilation that will almost certainly include all of their favourites. Without getting further than scratching the surface, the collection starts with "Superstar" and "The Phantom of the Opera", the latter sung by Sarah Brightman and Michael Crawford who between them almost certainly appear more often than anyone else.
In total, there is music from almost 30 different shows from the earliest Rice/Lloyd Webber days of Joseph and the Amazing Technicolor Dream Coat to the recent smash School of Rock, which is currently breaking records in big houses in London and New York.
While everyone will be familiar with the most popular songs from Evita, Cats and The Phantom of the Opera, each of which is well represented across the set, some of the best discoveries come from lesser-known shows. Marti Webb singing "Take That Look off Your Face" is as good and catchy as anything in this compilation, while "You've Never Had It so Good" from a rare flop, Stephen Ward, proves to be both tuneful and witty. There are also two different versions of "Variations", both played by the birthday boy himself.
While most people will buy this set for the familiar tunes and renditions, Andrew Lloyd Webber has gone overboard in inviting musical stars to share in the celebrations.
The big names, only some of whom have appeared in various stage and screen versions of the musicals, go on and on and include Barbra Streisand, José Carreras, Lana Del Ray, Donny Osmond, Alice Cooper, Boyzone, Glenn Close and Madonna. There is also a bonus track featuring the unlikely duo of Beyoncé and Andrew Lloyd Webber delivering a version of "Learn to Be Lonely" from Phantom, recorded live at the Oscars.
The fourth disc is primarily (but not exclusively) made up of orchestral versions of overtures and shows a different side to the composer's work.
This Lloyd Webber fest hardly needs a review, since His Lordship's songs will sell themselves and he already has millions of devotees around the world. However, with the combination of familiar tunes, big stars and the odd hidden surprise, it is well worth picking up the CD or downloading the ethereal equivalent.
Reviewer: Philip Fisher