Until the Lions
Directed and choreographed by Akram Khan
Co-produced by Akram Khan Company, Roundhouse and Sadler's Wells
Roundhouse
–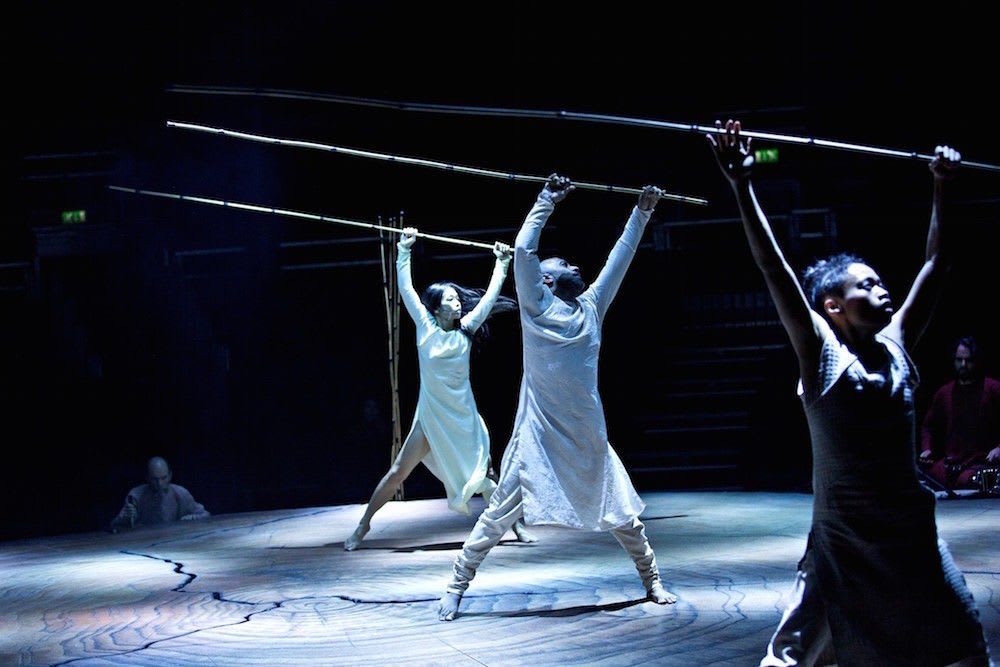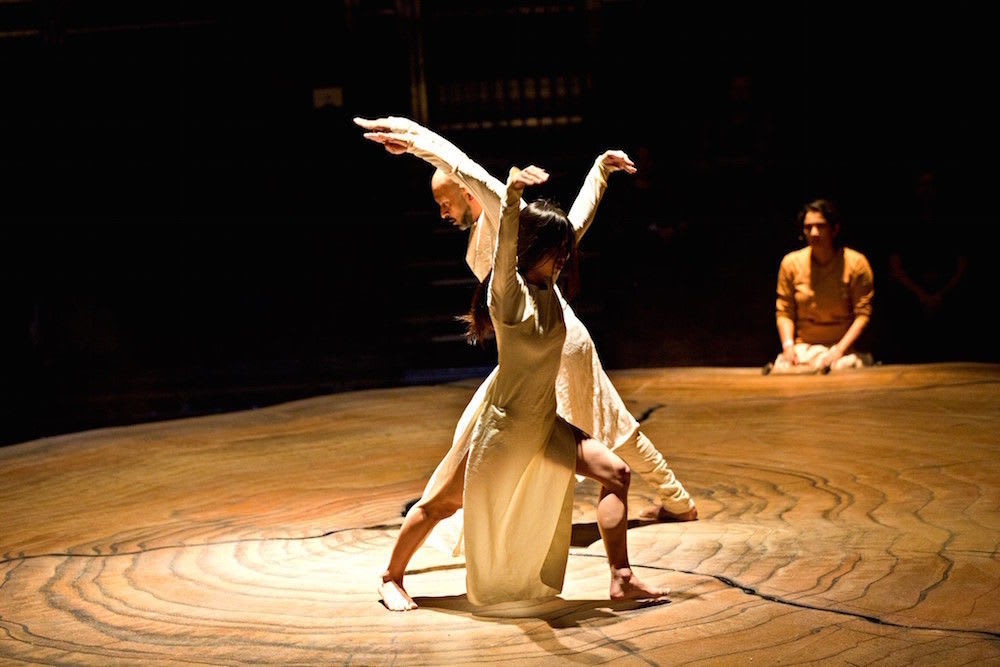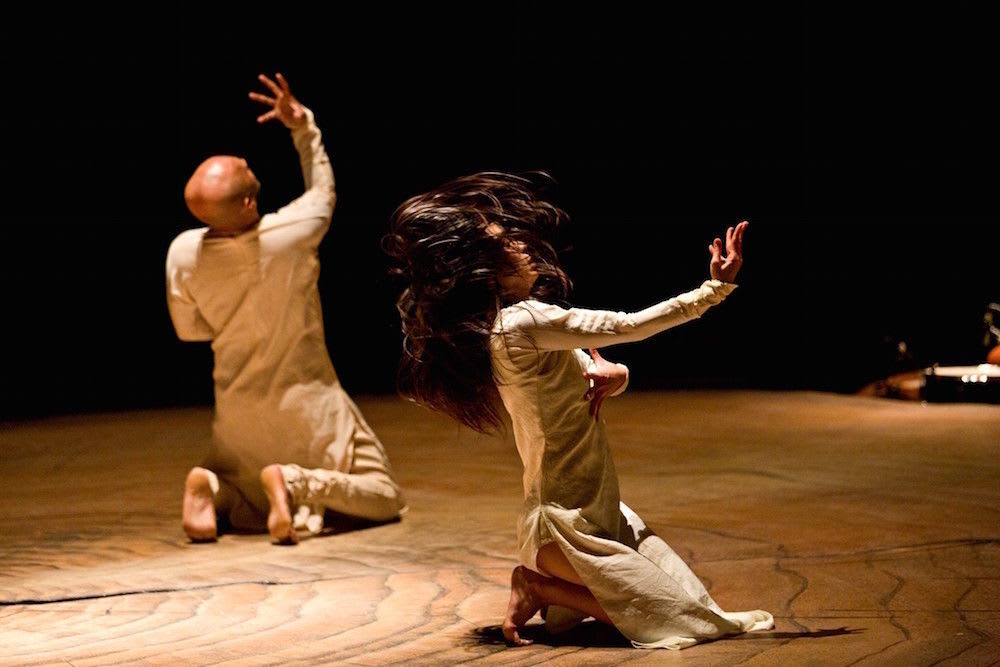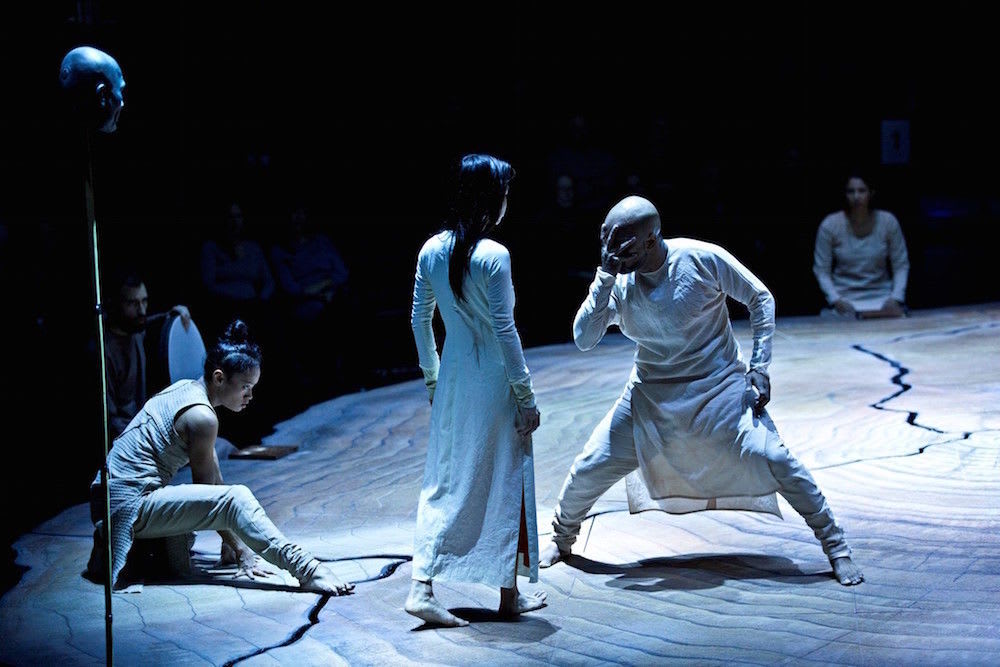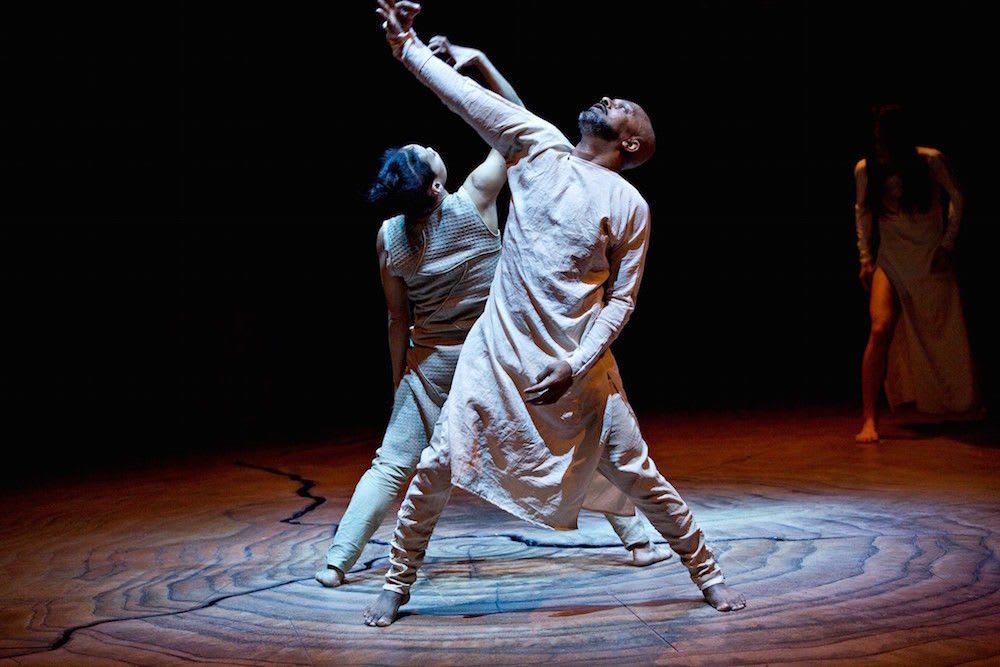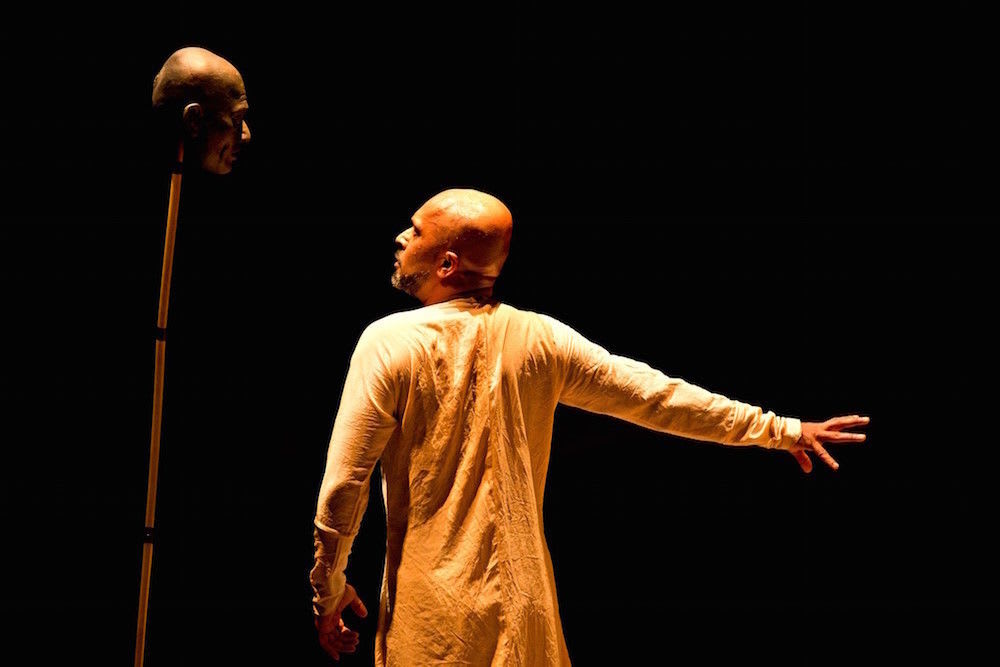 "Until the lions have their own historians, the history of the hunt will always glorify the hunter": this Ugbo proverb headlines the synopsis in the programme notes, underlining the defiance of a woman, Amba / Shikhandi, in this mythical, mystical tale of abduction, betrayal, revenge, justice, self-immolation and reincarnation as retold by Karthika Naïr in her book Until The Lions: Echoes from the Mahabharata, a reworking of the ancient Sanskrit epic.
Having seen its première two years ago, I decide to watch without reminding myself of the story, just watch the movement and absorb the accompanying sound design without any textual aid. See if I can understand, by osmosis so to speak, the vague relationships of these three people, two female, one male, on stage.
Why is she (Joy Alpuerto Ritter) collecting bamboo sticks; whose head is it on the pole reminding me of The Lord of the Flies? Is she worshipping it, in awe of its totemic power? Why is the earth cracking and smoking, why are its tectonic plates shifting? What are the singers singing?
Surround sound cinematic music mixing with the live keening exclamations and drumming below is a connecting factor. Submit to the senses; let the intellect trail behind. Look for guiding gestures and allusions. A locking horns bullfight, that can't be right, but a battle of the sexes, yes indeed.
Emotive, elemental, animalistic, Until The Lions touches deep into our psyches, the drumming at once ritualistic and compulsive. Musicians interact with the dancers, face off with them, circle the round tree stump base, itself a resounding drum for Akram Khan's Kathak-swift feet.
Khan gives the floor to the two women, who are astounding: supple, both strong and soft, of the earth and the air, lions indeed. It is their story, he as celibate Bheeshma, the instigator of the crime against Amba (Ching-Ying Chien) on behalf of his brother, becomes peripheral with his dervish spinning, his gestures of atonement. He cannot escape their final vengeance. He meets his end under a hail of bamboo sticks (reminds me of Kurosawa's Throne of Blood), though I flippantly think of the pick-up sticks game.
Asexual shape-shifting forest spirit Alpuerto Ritter prowls the stage, a creature of nature, crablike and amphibian she slithers, scuttles and stalks. Squats, moves like an aikido martial arts warrior, she manipulates her stick weapon dexterously with every bit of her body, a sight to behold.
Chien's Amba is soft, pliant, gentle, lyrical, submissive, her hand under his foot. She learns to reverse that situation but it takes time and control. And what astonishing control—there's something of the contortionist in her looking both ways body.
She and Khan grapple, her legs around his waist, a Janus being, entwined, inseparable, but she can't hold him forever. He is ambivalent then his male ego (his vow of celibacy) gains the upper hand. Caged under a circle of spotlights, she gives a dramatic solo, as the musicians, strolling minstrels, prowl the outer perimeter of the stage. She becomes a Fury in her fierce control.
The women meet, unite, merge, and the earth moves under their dual force. Formidable in synchronised movement, formidable in contact work, formidably attuned to each other and the encircling bards. Steam rises from the earth's cracks. It is on fire. They are on fire; they are mighty.
They bring the audience to its feet. What Until the Lions lacks in visual storyline coherence (first timers really do need to read the programme notes) it makes up in mind-blowing performances.
Production values are very high, how can they not be with a creative team including Tim Yip (visual design), Michael Hulls's lighting design directing the eye, original music score composed by Vincenzo Lamagna in collaboration with vocalists and musicians Sohini Alam, David Azurza, Yaron Engler, and dancers Akram Khan and Joy Alpuerto Ritter. There's even voice-over by Kathryn Hunter. And the splendid Joseph Ashwin on guitar.
There are just six performances in total with Khan dancing the role of Bheeshma for the final time, so it's a hot ticket this timely epic, a theatrical allegory on gender and time, on justice and liberty.
Reviewer: Vera Liber