Untitled
Inua Ellams
Soho Theatre
(2010)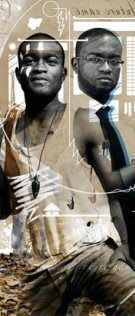 In Untitled Inua Ellams offers a powerful combination of potent stage presence and poetic storytelling.
Using an African brand of Magic Realism familiar to devotees of Ben Okri and his ilk, he entrances an audience with a tale in two unequal parts set on either side of the globe.
His monologue, told to an audience surrounding a leaf-strewn circle, starts with the anonymous, eponymous 25-year-old in Nigeria.
Born a twin on the country's Independence Day, this wilful boy refuses to be named for so long that he the spirits withdraw his the right to claim a name at all.
This section is divided into four parts. To begin with, we hear of the desertion of the baby and his father by Mum, who takes his twin brother with her.
Having no name but lots of attitude inevitably leads to trouble, first as a drummer much loved by the ladies but not his fellows.
A new career as medicine man goes little better, once again promise giving way to disgrace as his mentor is eased out but, with spiritual help, returns with a vengeance, literally.
All that is left is for the unhappy man, by now 25, to beg the spirits for a name but a surprise comes as, in a flurry of leaves and Clark Kent-style quick change, we are whisked from Lagos to London to meet his alter ego/twin, an advertising copywriter who specialises in naming.
The last quarter of the hour or so is devoted to learning, in poetic rap, of how an African life might have been spent had chance intervened. This child was whisked to London, educated and grew to an influential position.
Inevitably, the pair are brought together but to discover the consequence, you will need to head for Soho to witness the talented Mr Ellams in the flesh.
Reviewer: Philip Fisher