Us / Them
Carly Wijs
BRONKS
Summerhall
–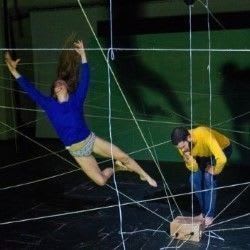 Big in Belgium is a remarkable Flemish promotion that ranges from the bizarre to the magnificent. Pleasingly, Us / Them is close to the superlative end of that scale.
A duo of very young theatre-makers and actors from BRONKS work tirelessly to recreate the terror of the Beslam School siege in 2004 when Chechnyan militants burst into a primary school and held over 1,000 children, parents and teachers hostage.
The opening minutes see a couple of bright, lively youngsters competing for our attention as they create a map of their school in chalk and walk us through a speech day, identifying some colourful personalities.
Everything changes when the terrorists arrive, forcing the brilliant young actors, Gytha Parmentier and Roman Van Houtven, to use thousands of calories inventing a symbolic web and re-creating the fearful atmosphere with their limited resources.
By the end, audience members will have been sucked into a horror story that is based on historical fact and seems likely to be repeated before too long in today's unstable and uncertain global political climate.
Reviewer: Philip Fisher