Uncle Vanya
Anton Chekhov in a new version by Helena Kaut-Howson and Jon Strickland
Belgrade, Coventry, and Arcola co-production
Arcola Theatre
(2011)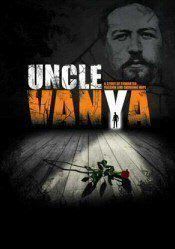 Helena Kaut-Howson and Jon Strickland have bravely created their own, modernised version of Uncle Vanya for this co-production between the Belgrade in Coventry and the Arcola.
Their attractive design concept, given body by Sophie Jump, perfectly fits the new Arcola's thrust space and evokes the period well, proving a good setting for the tale of unfulfilled lives as the Russian landed gentry began to see their birthright disappear.
The calm rural world is thrown into disarray by the arrival of Geoffrey Whitehead playing the property's owner, Professor Serebreyakov, a man well into his dotage, and his beautiful young wife, Marianne Oldham's Yelena.
While the old man locks himself away to study, the youthful lady, wearing a simple white dress, demonstrates languid ennui at every opportunity, at the same time effortlessly raising every male pulse (possibly offstage as well as on) to dangerous levels.
Tall, gawky Uncle Vanya, played by co-writer Strickland, loses his head in unrequited desire, eventually becoming a major player in the evening's key scene. In this, the selfish but impoverished Prof. tries to escape his obligations and his history forever and as a consequence ends up looking down the barrel of a shotgun.
Drunken Doctor Astrov (Simon Gregor) undergoes a major character change, swapping his languid frustration for unexpected desire when thrown into close proximity to Yelena, who seems genuinely unsure of her own feelings towards him.
This leaves her step-daughter Sonya to suffer. She worships the Doctor who is, to all intents and purposes, unaware that she even exists. Hara Yannas makes plain Sonya über-earnest to the extent that one can hardly blame a man for cutting her rather than take a chance on sharing a life of dismal misery.
This version of the play has a mild tendency towards the absurd but catches many of the emotions well. Whether the creators can ever be forgiven for re-naming Waffles (Ilya Ilyich) the much more prosaic "Porridge" is another matter. At least Paul Bigley graces the role of the ultimate cuckold with rare dignity.
Overall, this Uncle Vanya is a worthy and enjoyable 2¾ hours that revives a classic in a studio setting, which makes a pleasant change from the usual star casting at West End prices.
Reviewer: Philip Fisher