Vasily Grossman's Life and Fate
Adapted for the stage and directed by Lev Dodin
Maly Drama Theatre of St Petersburg
Theatre Royal Haymarket
–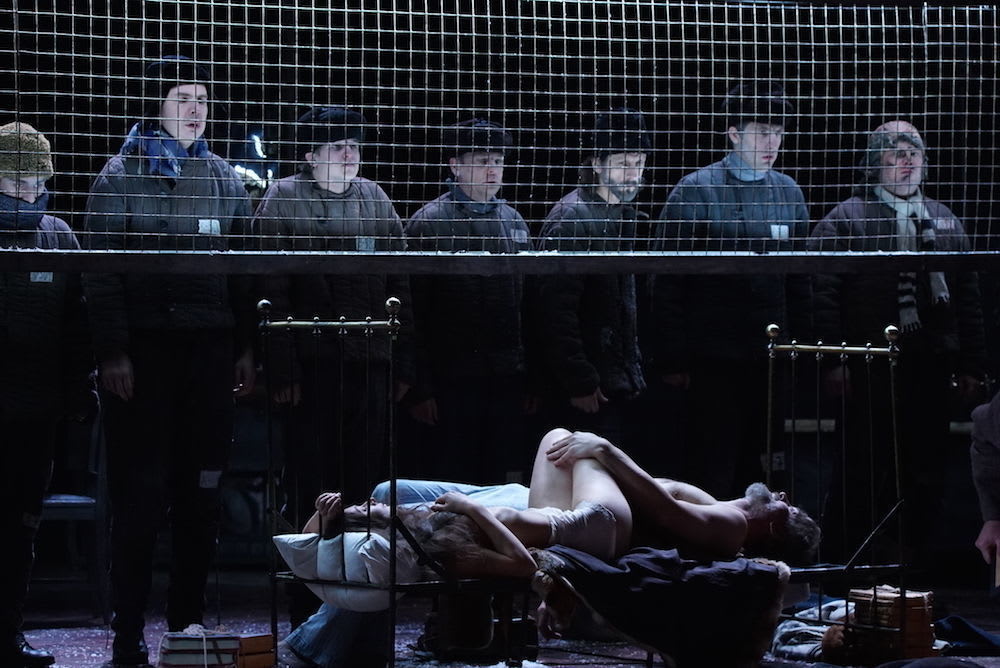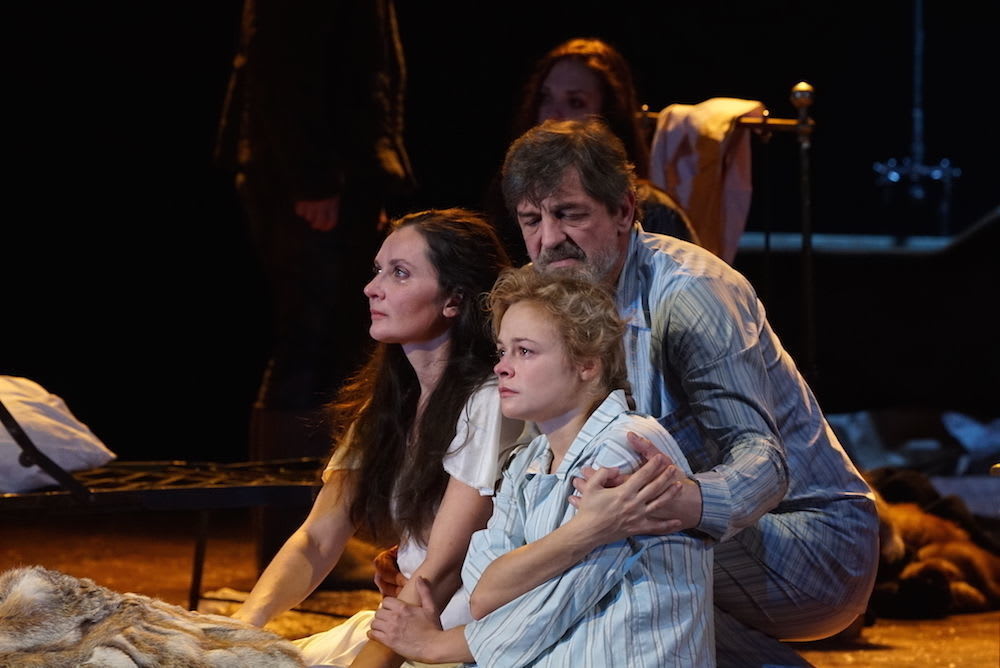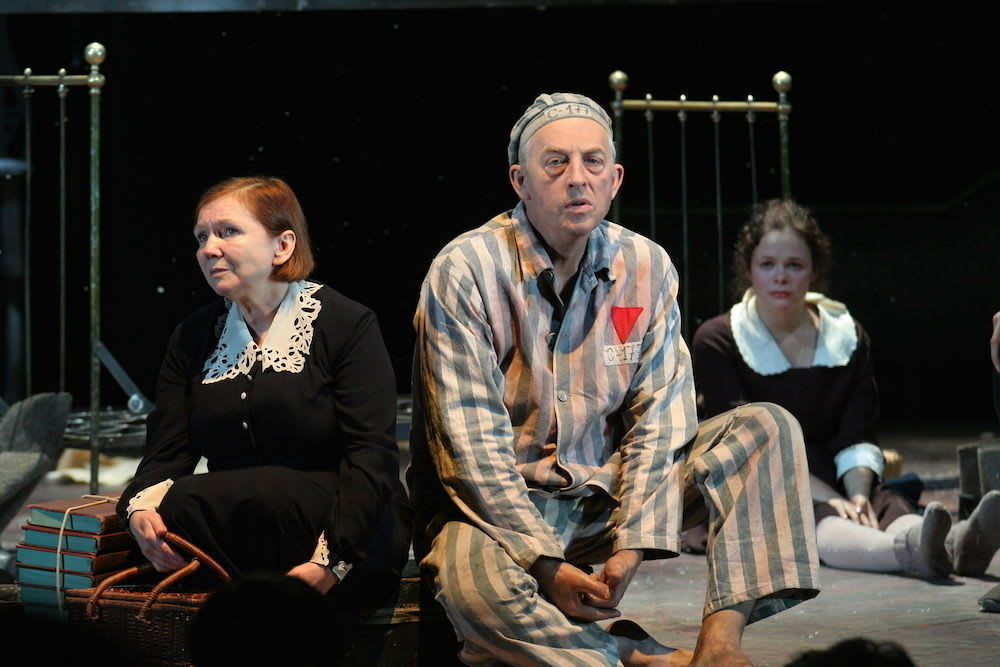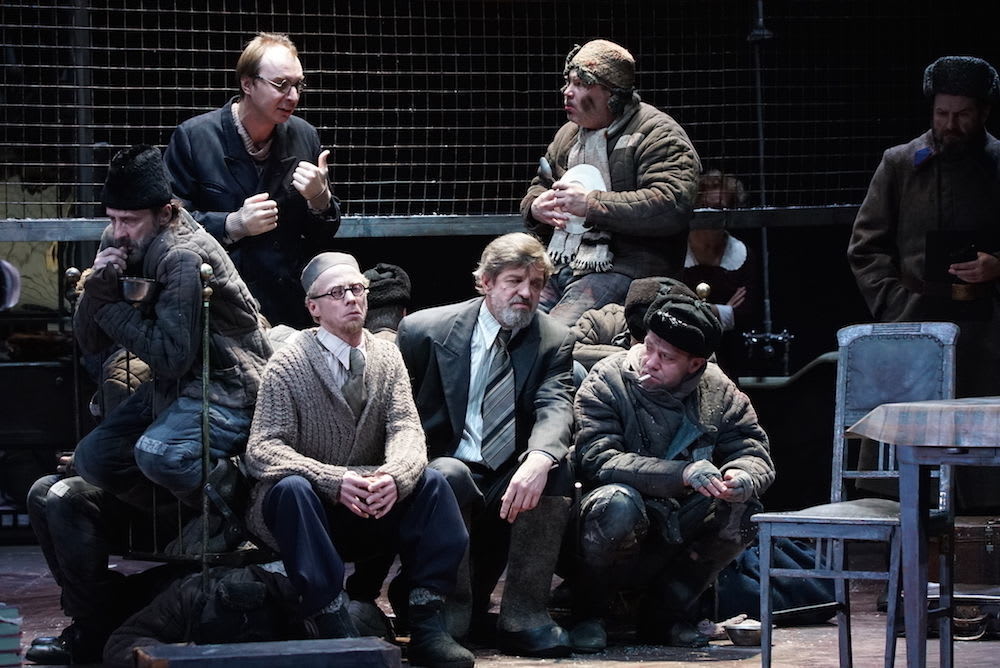 Robert Chandler, translator of Vasily Grossman's epic, semi-autobiographical, eight-hundred-plus-page novel Life and Fate, in 1985 described it as "a remarkably old-fashioned one", as is, I'd say, Lev Dodin's slow-paced, three-hour-plus stage version in its Stanislavskian naturalism.
Dodin's company is very much a 'family' of actors who have known each other for some time, having "spent three years rehearsing the piece, researching the period in great detail, visiting Auschwitz and eventually premièring the piece in Norilsk, a city in the very heart of Gulag territory."
World première in Paris spring 2007, Life and Fate has toured worldwide, won the Gold Mask award for best play, finally reaching London for its UK première tonight. I couldn't wait to see it, but now wonder whether it is an advantage or a disadvantage to know the novel in advance.
Inevitably, Dodin has had to excise characters, incidents, and condense huge chunks of the book—the battle for Stalingrad is very much en passant. But he is true to its essence: the battle not between Fascism and Communism but between Totalitarianism and Freedom, between one's conscience and survival pragmatism in Stalin's sectarian Orwellian universe ('repent' a word on repeat).
Dodin shows us an extended family, the Shtrums, evacuees newly returned to their dusty Moscow flat. Ripping newspaper dustsheets off the shabby furniture, multi-worlds come to life on the stage. At least four different locales overlap in Eisensteinian montage.
Metal bed frame, dingy bath, dusty piano, peeling sideboard, mirrored armoire, and a volleyball net dissecting the stage.
Yes, a cast of gulag prisoners, concentration / POW camp inmates, and tank commanders are playing volleyball with the family Shtrum. It's a bit like that game where whoever holds the ball must speak the truth, but it's also a metaphorical and historical link to parallel histories taking place simultaneously on the stage. Viktor Shtrum (Sergey Kuryshev) makes love to his wife, as gulag zeks look on.
Another framing device is to have Anna Strum (Tatiana Shestakova) read extracts from her last letter from Berdichev to her son Viktor, the eminent nuclear physicist, directly to the audience throughout the play. I usually can't read this letter without weeping, but here it fails to move me. Cut up into fragments it loses its impact.
An ophthalmologist, a kind cultured woman, an old Bolshevik and a Jew, Anna is exterminated by the Nazis with the rest of the town's Jewish population. She recounts the process of dehumanisation, yet finds moments of kindness amongst the cruelty. Sadly, playing too hard for pathos it teeters on the edge of sentimentality and bathos in performance.
She mentions reading Pushkin, Maupassant, seeing Stanislavsky's Uncle Vanya, her old lover Mostovskoy (Igor Ivanov), and here he is arguing in striped pyjamas in the Nazi camp, an unreformed fervent Bolshevik, who knew Lenin and Trotsky.
His arguments with Menshevik Ershov (Andrei Kondratiev) and SS Gestapo Commandant Liss (Oleg Dmitriev) are chillingly fascinating but arrest stage dynamics. Himmler and Yezhov are not so different, Liss asserts, "the capitalist West is our common enemy". Mirror images, together they could correct two thousand years of history...
Shtrum's wife Lyudmila (Elena Solomonova) is haunted by the death of her son Tolya from a previous marriage to loyal 200% Communist Abarchuk (Vladimir Seleznev), and we see him in the gulag arguing that his imprisonment is a mistake and being killed for his boots by a criminal element.
Lyudmila's sister Zhenya (Elizaveta Boyarskaya) has an affair with tank commander Novikov (denounced by his commissar Getmanov), whilst still holding a candle for her first husband, Krymov (Alexey Zubarev), also in the camps. That volleyball net serves as prison wire, prism and memory snare.
A prison military band plays as it marches across the stage (there's lots of singing as they march to and from the camps). The musicians are told to strip and we know where this is going. This is the briefest allusion to a heart-breaking section in the book describing Sofya Levinton accompanying a little boy to the gas chambers rather than saving herself.
The only moment of levity is when Shtrum is phoned by Stalin—"I wish you success in your work"—a sentence he can't stop repeating first in disbelief then with elation. Stalin, of course, had a habit of doing that (Bulgakov and Pasternak received calls, to name but a couple).
Tolstoy is name-checked—Life and Fate has been called the Soviet War and Peace—but so are Nekrasov and Chekhov. It is non-judgemental Chekhov that springs more to mind than the didactic Tolstoy in Grossman's 1960 epic (which presents Shtrum with his moral dilemma to sign or not to sign a statement he abhors) that was confiscated, "arrested", by the KGB.
And it is a Chekhovian tenor that pervades the play. "We'll manage", Shtrum's daughter Nadia (Daria Rumyantseva) says. A murmuring quietness, an inaudibility from a polyphony of voices to a tinkling piano and an ironic soundtrack (waltzes and Tchaikovsky's Dance of the Cygnets!) that makes me for once grateful for the compressed surtitles to nudge my ear.
Not an evening to 'enjoy' but a necessary evening, a marmoreal lesson from history. Bearing witness to life in Moscow and Russia's "slave soul"—shortage of living space, petty bureaucracy, show trials, a surveillance state in which most had to compromise themselves, even Shostakovich they say—journalist and war correspondent Grossman also brushed against the Holocaust (Anna's letter was his mother's), the Ukrainian famine, the battle of Stalingrad.
My companion wonders how many young people today know much of this past, its history fading, why else are we where we are today in our unsettled world. How could two nations with such rich and profound artistic cultures as Germany and Russia descend to such a heart of darkness, to such horrific pits of large-scale murder, corruption, distortion, prejudice and lies?
I leave the last words to Dodin: "Grossman's Life and Fate is in fact a simple family story, and it presents us with a vast panorama of the events and problems of the 20th and 21st centuries. In our everyday lives we still encounter the modern guises of fascism, communism, nationalism, totalitarianism, extremism, cruelty and lack of freedom. In spite of everything, people still continue to live, love and hope. Suffering has no nationality—I think this is why Grossman's novel is becoming so popular—again—in Europe and across the world."
Reviewer: Vera Liber