Vehicles
Martyn Harry
Operasonic
The Riverfront, Newport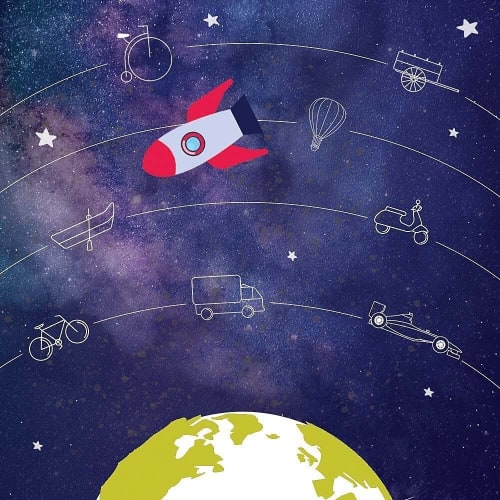 Operasonic is a company that specialises in creating operas for the family audience, as well as doing work within schools and communities to not only popularise but also broaden ownership of the art-form. Vehicles, premièring at their home venue in Newport, is aimed at 6- to 12-year-olds; but contains much to please and intrigue even those with more jaded palates.
Unusually, the cast all play instruments, and introduce themselves as the piece begins: Luci Briginshaw (piano), Peter Martin (trumpet and bass guitar), Charmian Bedford (violin) and Simon Wallfisch (cello). Bethany Seddon's set situates us on a not overly tech-heavy spaceship, with cartoonish starry vistas.
The plot sees Briginshaw's driven Captain Houston and Martin's more family focussed Lieutenant Schmidt setting off on what should be a routine mission to the Planet Zorg. Unfortunately, a problem with the warp drive, for which Schmidt seems to be to blame, sees them careering backwards in time and able to witness past events on Earth.
Martyn Harry's story (an Oxford University professor, he was responsible for both music and libretto) uses various means of transport as metaphors for the difficult relationship between Houston and Schmidt, with Bedford and Wallfisch, clad in white overalls, re-enacting several instructive scenarios. Thus, at Silverstone in the 1990s, one racing car is tortoise-like, the other a hare; during the Cold War, two submarines circle one another, refusing to communicate; in Ancient Rome, a pair of galley-slaves realise that, despite being unwillingly yoked together, co-operation is the only way to survive.
The performances are, of course, exemplary under the direction of Rhian Hutchings, which foregrounds humour alongside visual fluency (with dramatic lighting by Chris Davies). The (mostly) live musicianship (the musical director is Olivia Clarke) is impressive—one wonders why opera singers don't accompany themselves more often.
Harry's score eschews easily hummable melodies, but there are a number of emotionally engaging arias—Captain Houston's solo, for example, in which she muses on the pressures of leadership; and Bedford's military driver during World War 2, revelling in unaccustomed freedom as a woman. The "balloon" duet between Wallfisch and Martin is also a highlight.
There are also some striking visual moments: such as Wallfisch's Stone Age man's lunar inspiration for the invention of the wheel; and the climactic assembly of the machine with which Bedford's Leonardo Da Vinci just might be able to send our astronauts back home.
Thus, as well as the importance of learning from history, female empowerment and teamwork are the takeaway themes of Vehicles.
At the moment, the only other scheduled performances are in Didcot on 27 March; I imagine they won't be the last.
Reviewer: Othniel Smith