Vermilion Dream
Chris Lee
Salberg Studio, Salisbury Playhouse
(2004)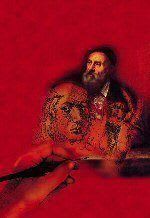 Whether Chris Lee's Vermilion Dream is play, art forum, or psychiatric workshop, it certainly examines an audience - not least in the walled confines of the Salisbury Playhouse Studio.
A young artist (Catherine McCormack) sits facing her consultant (Caroline Faber) and instantly we are into Miriam's deepening personality crisis with the all-too likely outcome that she will do herself serious injury.
Against this background, talk of great artists Dürer and Titian, together with their appearances (played by Sebastian Harcombe and James Wallace), simply adds to the air of fantasy. Only the interludes, in which psychiatrist Ruth becomes increasingly impatient with the smugness of her barrister partner James Wallace, spare us from loss of our own grip on reality!
Recalling the theatrical age of kitchen sink, I begin to wonder if we are currently in the era of the gallery plays - thinking immediately of Art and Old Masters among recent and current West End fare? In this connection, it's important to remember that in none of these plays, Vermilion included, do we see paintings - it's all talk, two hours of it in this case!
Yet this slice of life is as much Equus as Art and, somehow, under Nina Raine's direction, the five players hold our attention and bring it together somehow. It used to bother me when young actors played senior consultants, but no longer as, policemen apart, life increasingly mirrors art. Caroline Faber's is a nicely understated performance leaving McCormack, no histrionic herself, to draw our interest.
And the curtain is pure Strindberg.
The production runs at the Playhouse until 20 November, 2004
Reviewer: Kevin Catchpole