Vernon God Little
DBC Pierre, adapted by Tanya Ronder
Young Vic
(2007)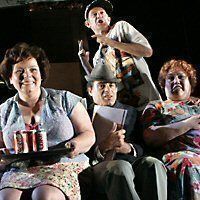 Mariah Gale, who wittily plays our grungy anti-hero's double love interest in this adaptation, is a winner of multiple Best Newcomer Awards. Her prodigious colleague, Colin Morgan, who inhabits the title character must surely be a good bet to follow her lead.
He remains centre stage throughout the two and three quarter hour black comedy, taking time out from his studies at RSAMD where he is not due to graduate for another couple of months.
When it was published in novel form a couple of years ago, Vernon God Little won its errant writer the Booker Prize and a dubious reputation. In Tanya Ronder's stage version, directed by Rufus Norris, it becomes a teen nightmare realised on stage.
Vernon Gregory Little is an ordinary boy living in small town Texas. He comes from a long line of trailer trash, deliciously sent up by the ensemble cast, led by two ladies who will never be supermodels but know how to act. Lorraine Bruce plays the over-sized and over-the-top Pam, while Joanna Scanlan is the fifteen-year-old's loving Mom.
Post-pubertal life would be good, had the youngster's best friend Jesus not decided to take up that increasingly popular American hobby, the schoolyard massacre. Having shot himself, the only person left to carry the can is Vernon.
The first half of the play sees him in his home town of Martirio (now there's a Freudian place name), surrounded by an assortment of hicks, who often burst into deliberately bad country and western songs as the law circles in, watched by a wannabe TV journalist. This is Mark Lockyer's sickeningly smarmy Lally.
After the break, Vernon has a whale of a time on the run south of the Mexican Border, in a cleverly created truck, before a night of passion in Acapulco turns into a sting that leaves the boy on Death Row, awaiting a weekly reality TV vote that will eventually, inevitably select him for the lethal injection.
Rufus Norris, the Festen (and more recently Cabaret) man, has done a great job of locating us in Texas and then Mexico, aided by designer Ian MacNeil. The props are flimsy but often comical and create an amateurish mood that fits the bill well.
On stage, the story is very clearly an indictment of a soulless society that does nothing about gun crime however many children fall victim and is obsessed with tacky TV celebrity to the extent that Warhol's 15 minutes of fame is more important than life itself.
The presentation is determinedly folksy, which can become wearing. That is especially the case as, like the book, the play takes its time to say rather too much about a largely run of the mill, if not downright distasteful, group of people.
Fans of the novel should delight in seeing it re-created in front of their own eyes and everyone should enjoy witnessing Colin Morgan's unspoilt performance in the title role, helped by the whole ensemble.
Running until 9th June
Reviewer: Philip Fisher