Versailles
Peter Gill
Donmar Warehouse
–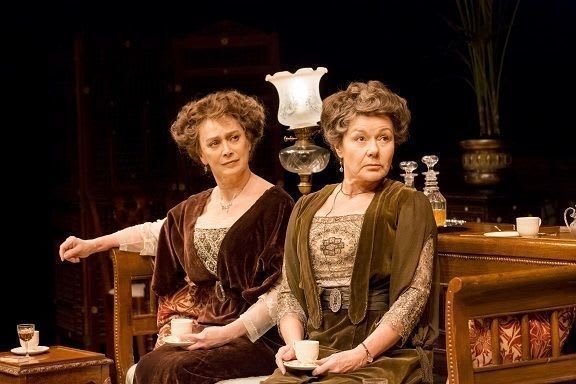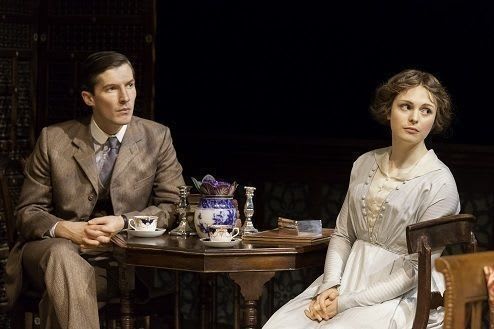 Big, serious plays of ideas are now almost a thing of the past. Indeed, there are very few contemporary playwrights who would be capable of writing a work as wide reaching as Versailles.
Peter Gill has tried to bring together the political issues that arose following the conclusion of the Great War and the Versailles peace treaty that attempted to carve up Europe fairly with the difficulties of a well-to-do middle-class family and their friends trying to come to terms with post-war life.
Having done that in a style that will bring to mind Harley Granville Barker or possibly George Bernard Shaw, he then introduces an additional element that is far closer to pure Peter Gill, a hidden homosexual relationship that would inevitably have ended in deep shame for all involved, were it not for the cleansing fatality of war.
Looking first at the political and social history, it is apparent from the outset that not only has Gill, who also directs, carried out considerable research but he also has an innate feeling for the period and the complex issues that inevitably evolve as countries that have together won a war impose rules and regulations intended to prevent its repetition in future. As even those who have flunked a history GCSE will be aware, there is much irony in the politicking as this war to end all wars did nothing of the kind.
The first act takes place in the Kent home of the Rawlinsons, ruled over by the matriarchal Francesca Annis who might seem a monster where it not for her friend, the grieving Edith Chater played by Barbara Flynn.
This patronising Little Englander is keen to emphasise that "I'm not more bigoted than the next person" but if that is really the case, one would hate to meet the next person. The Irish, the Jews and the niggers (her word) are all vilified and one hates to think how she would have reacted had her son Gerald survived and the tale of his unnatural "friendship" with Leonard Rawlinson emerged in court.
Tom Hughes and Gwilym Lee respectively play these roles well, the former far bolder once he has emerged from beyond the grave to play on the mind of his old school friend.
Young Rawlinson links the three acts by taking a job as a diplomat in Paris during the Versailles peace talks. These scenes provide a degree of light amusement amid the very serious business of trying to ensure that the Empire is protected from its friends as much as its enemies.
Here, the debate is somewhat more sophisticated than in the Rawlinson's traditional drawing room, designed by Richard Hudson. Although, arguably it is equally speculative.
Many other issues emerge during evening, feminism and the lot of the little lady with a brain are represented by Mabel Wallington played by Tamla Kari and her friend Constance Fitch, Helena Bradbury. They have to put up with approaches from totally unsuitable men, in Mabel's case is Adrian Likis as Geoffrey Ainsworth being bigoted enough to meet with the approval of even Margery Chater.
Pleasingly, Gill also introduces his own Wildean aphorisms. For example "instead of being, as we were, united in one preoccupation, we are all leading separate lives again and going our separate ways" could almost have been coined by the Irish Master himself. These help to ensure that the three-hour running time, complete with much talking and two intervals, does not feel overly long.
Both the Donmar and Peter Gill are to be congratulated for their bravery and ambition in staging a play that might seem out of its time in a period when anything running for longer than 90 minutes or intended to make viewers think is becoming a rarity.
This is proper, thought-provoking theatre and one hopes that it might help to herald a new wave of serious, challenging drama on the London stage.
Reviewer: Philip Fisher