Vertical

Le Patin Libre
Somerset House
–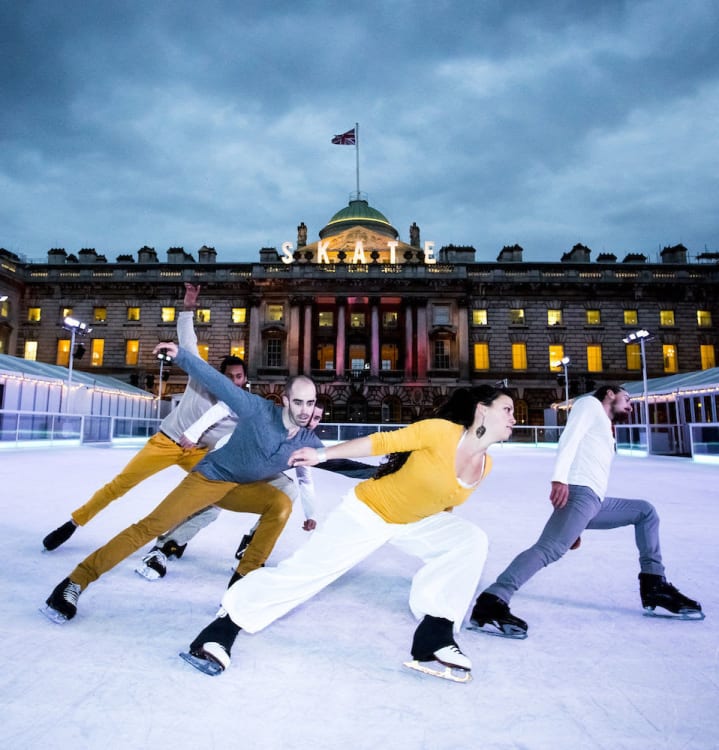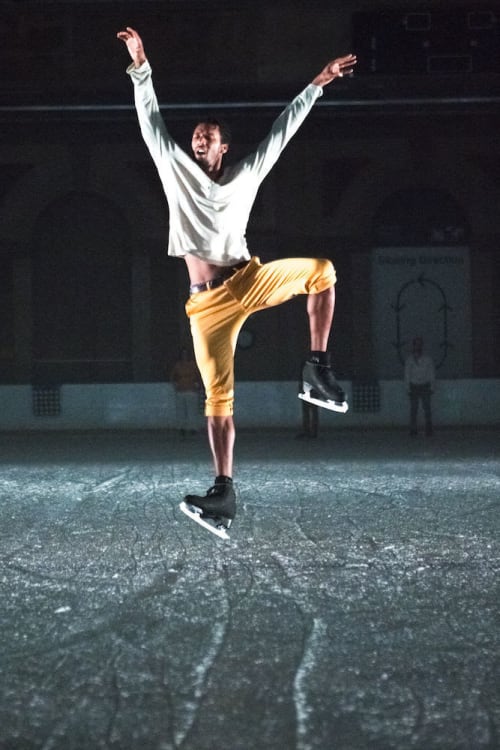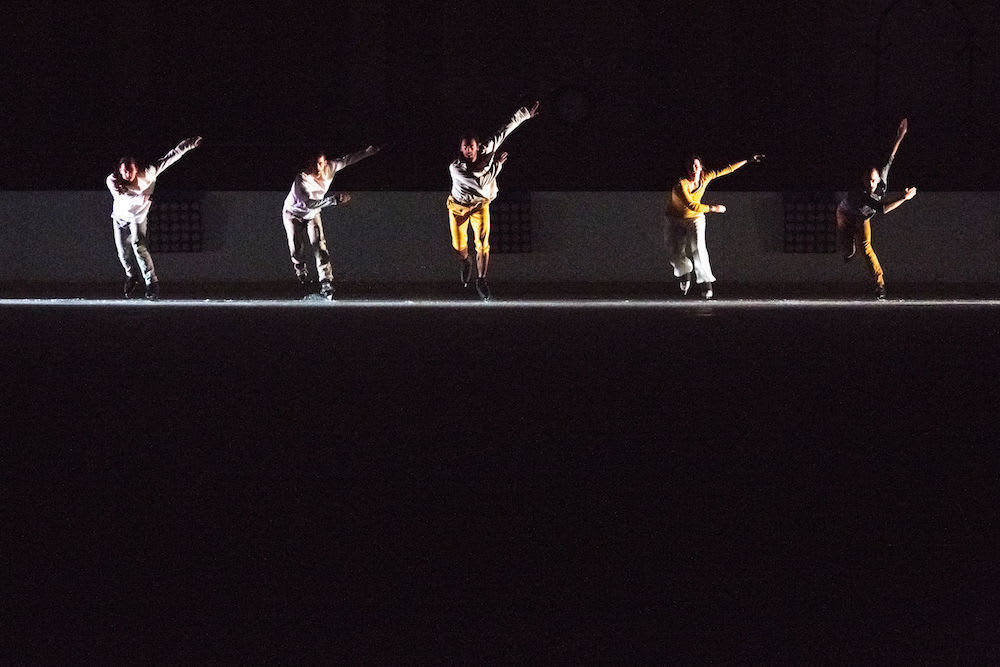 Part of Dance Umbrella 2014, Le Patin Libre (free skating) French Canadian troupe of five dazzled at Alexandra Palace and won five star reviews. Back at Somerset House for only five nights, they dazzle anew: Pascale Jadoin (the only female), Alexandre Hamel, Samory Ba, Taylor Dilley, Jasmin Boivin.
In existence for some ten years only, their contemporary dance style wins acolytes wherever they go: I bump into a dancer who saw them at Alexandra Palace and just had to buy a ticket to see them again. A front row ticket... Up close and personal. But nowhere is one far away.
The audience sits at one end of the rink facing the Somerset House cupola lit up against the crisp cold night sky (five degrees centigrade)—a lovely setting—the rain holding off thankfully, though rain capes are at the ready. A short programme, Vertical, thirty-five minutes in all, is just about manageable in this weather, but wrap up warm.
In casual outfits of grey, white and mustard yellow, the team glide and weave, smooth and staccato, corkscrew spin and sweep the floor in Jackson Pollock abstract patterning to a soundtrack created by cellist and electronic composer Jasmin Boivin, who also knows when silence is best, just the susurration of skates on ice.
Lucy Carter's blinding lighting, a son et lumière show, deepens the field of vision and brings it close. Out of the depths of darkness, tiny figures grow large in the light—appear like a mirage—perspective and dance architecture at one with the setting. Poses are suddenly held and statuesque figures come to life on a breath.
A soothing lullaby, relaxing, meditative, a flock of birds swish by, peel away, show off their plumes, their personalities in individual dance, one graceful, one digging his heels and toes into the ice in break dance approximation, another a wooden toy, his legs in plié going this way and that to the amusement of a little girl in the front row. Swish and swoop, they eye the audience, dare to stop right under its nose.
Founded in 2005 in Montreal, where these professional prize-winning skaters practiced on its frozen ponds and canals, le Patin Libre company has broken the figure skating ice with its witty new cool routines, liberating the image of ice dancing, introducing elements from urban dance. Hang loose and let it rip… Glide, baby, glide... It's the arms that do it for me, propellers, wings, the illusion of lift-off, with no fancy twiddles, just aerodynamics.
Reviewer: Vera Liber