The Vertical Hour
David Hare
Royal Court Theatre Downstairs
(2008)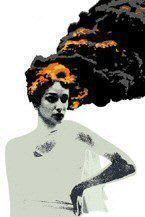 Sir David Hare took a good look at what his central character, Nadia Blye describes as America's "liberation" of Iraq in his last play Stuff Happens at the National.
Where that verbatim drama addressed the issue head on, The Vertical Hour looks at it more subtly, through the medium of the conflict and eventual rapprochement between American Yale Professor Nadia and the doctor father of her English boyfriend.
It is a pity that this play has taken so long to get to the United Kingdom. However the subject is still very topical and will get a different audience reaction from that which was originally seen at the end of 2006 in New York.
The fact that it made its debut on Broadway caused headlines since this resulted from a well-publicised spat between the playwright and the National Theatre, which he felt did not do Stuff Happens justice.
It also says much about the playwright's reputation that an Englishman was able to premiere a straight play on Broadway when very few Americans can. It will have done the project no harm in United States that it was directed by Sam Mendes, who had by then made it big in film, and starred two much loved screen actors, Julianne Moore and Bill Nighy.
Oddly, this kind of play of ideas with much talk and little action and generated on this side of the Atlantic seems fashionable in New York at the moment. In addition to Stuff Happens, Sir Tom Stoppard's Rock 'n' Roll and The Coast of Utopia, which structurally has much in common with this play, Michael Frayn's Democracy and Conor MacPherson's The Seafarer have all been successful in the last couple of years.
Although it is framed by two short scenes during which Nadia debates her political views with students, one of whom is head over heels in love with her, almost the whole of his 2½ hour debate about love and politics takes place at the isolated countryside home near Shrewsbury of Dr Oliver Lucas (Anton Lesser).
What Sir David does so well on this occasion is to combine really good and tender characterisation of his two leading characters, as well as the connection between them, Oliver's son Philip played by Tom Riley, with relatively subtle political commentary.
This is delivered from two very different viewpoints. To begin with, we hear those of Nadia the lecturer, who considers both sides of Bush's agenda on Iraq and also his policies more generally from an American perspective.
These views are then counterpointed by the opinions of the 58-year-old doctor. He is a man quarter of a century her senior who might reasonably be regarded as a mouthpiece for the writer, especially in a speech of denunciation, impeccably delivered by Lesser.
Indira Varma's glamorous Nadia has an interesting history. Before entering academia, she was a war correspondent who has clearly been deeply damaged by the time that she spent in the former Yugoslavia and then Iraq. Primarily, the damage arose from observing the horrors of war but a contributory factor was an intense relationship from which she has never recovered.
The defining moment of her career, though, was when she was invited to talk with George Bush in the Oval Office, thus destroying her reputation with all right-minded (left-thinking) liberals forever.
By contrast, Oliver has enjoyed, or perhaps endured, a remarkably quiet life in the decades following a professional and personal embarrassment that destroyed his burgeoning career and wrecked his family life.
Although he is centre stage for much of the time, Philip is a peripheral character who shows a third way. Having started life as a physical therapist (physiotherapist to us), he is now a confident businessman who only regresses to childhood tantrums and sexual insecurity in the presence of his father.
The real focus of The Vertical Hour, though, is on the dichotomy between those allies, liberal old England and conservative young America. This is somewhat ironic in view of the fact that when the play opened in New York, all of that city's sympathies will have been with the Brit doctor who so impressively dissects Nadia's arguably naive political analysis.
By the end, despite Nadia's thesis that "politics is about irreconcilable differences", the pair does come far closer together each influencing the other's outlook about both life and George Dubya.
Director Jeremy Herrin and designer Mike Britton have chosen the simplest of sets, with an eye to symbolism, as screens hide and reveal and a revolve is employed that serves no great physical purpose. It does look good, primarily because of a dramatic colour scheme enhanced by the lighting of Howard Harrison.
The two leading actors give fine performances and while some might argue that the play is overly wordy, it comes strongly recommended for its ability to bring together the human and the political, without seeming overly preachy, other than on rare occasions.
Playing until 1 March
Reviewer: Philip Fisher