A View from the Bridge
Arthur Miller
Duke of York's Theatre
(2009)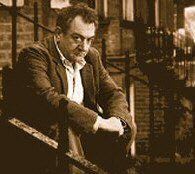 Ken Stott gives an outstanding performance in Arthur Miller's Brooklyn-based version of Greek Tragedy. He makes longshoreman Eddie Carbone simultaneously utterly reprehensible and pathetically sympathetic, governed by a weakness that destroys his own life and wrecks those of the people whom he loves.
Director Lindsay Posner has turned himself into an American specialist and gives this play a concentrated intensity that doesn't let up from the opening prologue delivered by Allan Corduner's matter-of-fact Alfieiri, at the same time a sub-Greek chorus poetically narrating Eddie's tale and also his confessor.
The tale opens with a scene of family harmony in the kitchen shared by the Carbones and their 17 year old ward. Catherine is played by Brideshead Revisited star, Hayley Atwell, who made such an impression opposite Simon Russell Beale as Major Barbara and proves that it was not just a one-off.
The love that Eddie shows for his wife's niece is unhealthy and bordering on the incestuous, causing pain to his neglected spouse, American film star Mary Elizabeth Mastrantonio playing the long-suffering Beatrice.
The tinder is just waiting for a flame and this arrives in the form of a couple of "illegals" from back home in Sicily. Gerard Monaco's Marco is a taciturn father of three desperate to feed and heal his family, while the perpetually smiling, blonde Rodolfo (Harry Lloyd) is more interested in carving out a new life in a city where he hopes that the streets will be paved with gold.
As soon as Catherine sees Rodolfo she falls for him. Eddie flips, losing his humour and behaving like a cornered big cat, brooding and pacing, awaiting his chance to do he knows not what.
By the end, this ordinary man breaches codes of conduct so old that they originate in the home country, becoming a snitch in a desperate attempt to rescue the girl with whom he is besotted from a fate an awful lot better than death.
The final scene carries a tragic inevitability that is almost unbearable to watch, as a deranged man meets fate head on, bringing even more suffering to a family that should have been happily celebrating a marriage.
Posner creates a great atmosphere, aided by designer, Christopher Oram who literally raises the walls on the Carbone brownstone between scenes that alternately take place inside and out. The only missing element is the dockyard.
It is hard to believe that Ken Stott's performance could be bettered, as he creates a living, breathing character whose happiness swiftly turns to jealous misery and then destructive vengeance. He gets great support from both of the leading ladies, Hayley Atwell's bemusement and then anger almost mirroring the reactions of Miss Mastrantonio as the older, wiser Aunt who literally begs Eddie to see sense but to no avail.
There have been some great productions of A View from the Bridge in this country and at the very least, this one must be a competitor to rival Alan Ayckbourn's 1987 National production with Michael Gambon for the prize of the best to date.
Visit our sponsor 1st 4 London Theatre to book tickets for A View From the Bridge.
John Thaxter reviewed this production on tour at the Richmond Theatre
Reviewer: Philip Fisher