The Village Bike
Penelope Skinner
Royal Court Theatre Upstairs
(2011)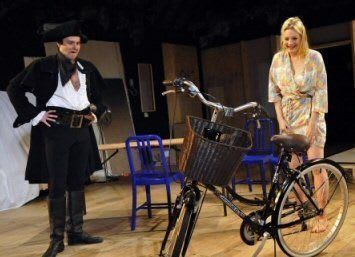 The Village Bike is a sex comedy with a dark heart. As such, it tries hard to be all things to all men (or women) and too often falls between two stools.
Its pregnant protagonist Becky, played very well by screen star Romola Garai making a welcome return to the stage, has just moved from London to a village with her husband, who is the epitome of tedium.
In a reversal of the normal order, pregnancy has turned eco-caring John off sex but made Becky into a wannabe nymphomaniac. Since hubby, Nicholas Burns' John, refuses to touch her for fear of offending the baby, she resorts to pornography.
Soon, real life begins to mimic fantasy as a lonely plumber is followed into the house by a highwayman bringing the eponymous Village Bike.
By this stage, boring John is driving both Becky and the audience to distraction with his mild obsessions. To add to the impact, a kindred spirit appears in the guise of Alexandra Gilbreath playing middle-aged Jenny, a lonely mother desperate for company but effortlessly able to alienate it. Her small talk is tortuous, even making Mike the plumber (Phil Cornwell) seem vaguely interesting.
It is a well-known fact that a playwright must be brave to put a bore into a play. Penelope Skinner is absolutely reckless in shoving three into a single play and, while one can admire her bravado, their stage time hardly makes for riveting viewing.
Redemption for Becky comes in the shape of Dominic Rowan as hunky Oliver. An amdram actor, he also readily signs up for some casual sex, insisting that he just wants a little fun during his wife's lengthy absence.
The experimental sex is satisfying to both parties and with its extensive variations might titillate some visitors.
The play begins to acquire depth after Becky gets hooked not just on rich Oliver's penis but his mind, regardless of his inherent cruelty.
Her suffering is nicely depicted by Miss Garai under the direction of Joe Hill-Gibbins. She hits rock bottom in a scene with his wife. Sasha Waddell gives a superb cameo as the long-suffering Alice, fed up with yet another of her husband's cast-offs who doesn't want to be.
The Village Bike is at its best in some moving moments of pathos as Becky suffers from her intractable urges. There is also a cleverly-conceived bike ride through the countryside courtesy of designer Helen Goddard.
However, the play spends far too much of its 2¼ hours trying to get laughs from comic sex scenes that have the feel of repeats of forgettable sex romp movies of the 70s.
Reviewer: Philip Fisher