Violence and Son
Gary Owen
Royal Court Theatre Upstairs
–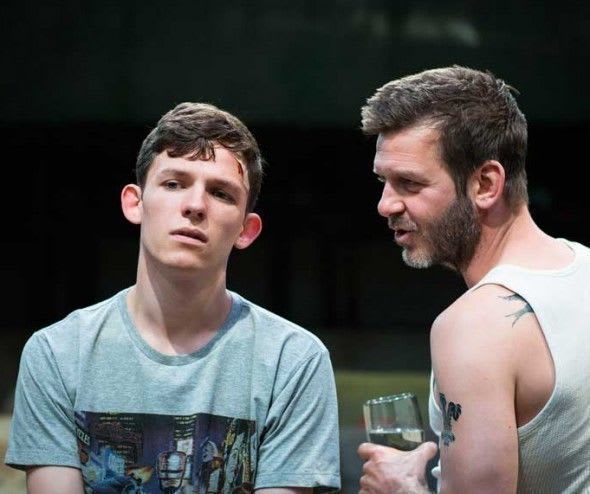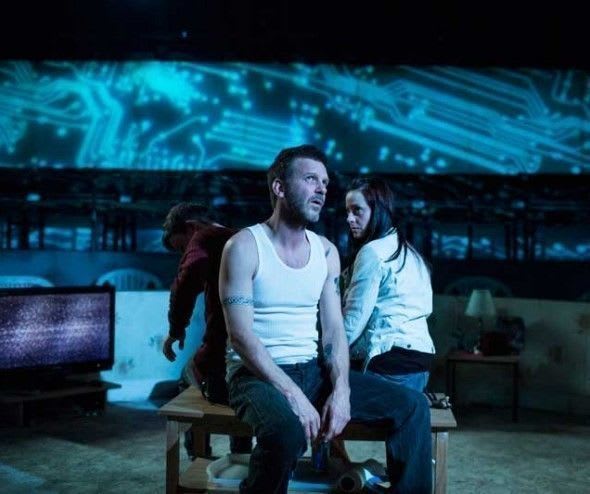 Welsh theatre is currently rejoicing in its own highly effective brand of Dirty Realism.
Gary Owen's belated debut for the Royal Court starts out as a kind of whimsical fantasy featuring Doctor Who geek Dave Moorst as Liam on a claustrophobic, circular stage designed by Cai Dyfan.
On one level, this might be a tardis but by the end of 2½ hours, it could as easily be mistaken for a bear pit.
In the aftermath of a convention, ultra-geeky Liam is still kitted out like the Matt Smith version of the Doctor, complete with fez and bow tie.
Somehow, the 17-year-old has persuaded Morfydd Clark's desirable Jen to forsake her rugby star boyfriend and turn up in a policewoman's outfit à la Amy Pond. However, no real copper would wear a skirt that, despite its best efforts, barely reaches thigh-level.
A typical coming of age drama shows the teenagers struggling with competing feelings of love, lust and intellectual fellow feeling before some telling sound effects offstage herald the impending arrival of the older generation.
In a marvellous tour de force, Jason Hughes gives a truly terrifying and absolutely convincing performance as Rick, better known as Viol(ence) and with good reason.
He clearly terrorises the neighbours in their unnamed Valleys town and does a pretty good job with the audience.
If he has a job, this is not mentioned but Rick's main occupation seems to be drinking, with a side-line in acting as a 21st-century Robin Hood to protect the not very innocent womenfolk of the region.
Having deserted Liam's mother before the boy was even born, leaving her to a sadly short life in thrall to the bottle, Rick felt obliged to take in the lad following her death.
The household in which the teenager finds himself is hardly a typical nuclear family. Rick drinks and gets violent, while his almost equally tattooed and nasty partner, Suze, played by Siwan Morris, divides her time between egging him on and pulling him back.
What makes Violence and Son a powerful, compelling and shocking play is its sure development from light comedy to something close to dark tragedy.
It is also helped by Hamish Pirie's well-chosen and highly-talented Welsh cast, with Jason Hughes leading the way in fine style.
During the course of the evening, Gary Owen tries to pull out a few too many bells and whistles, overly-complicating the relationships and the plotting.
Even allowing for that, this is undoubtedly one of the best plays that the Royal Court Theatre Upstairs has seen during Vicky Featherstone's tenure.
Reviewer: Philip Fisher