Visitors
Barney Norris
Up in Arms
Arcola Theatre
–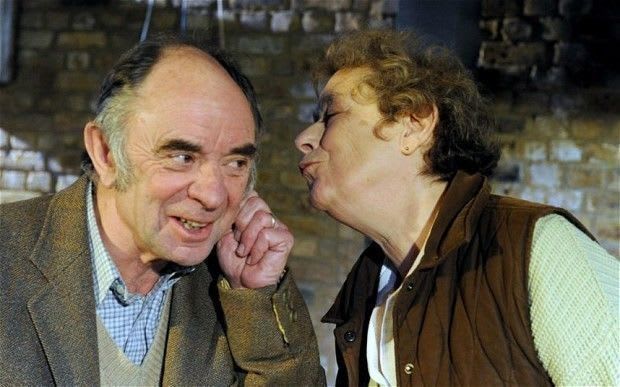 The Visitors in Barney Norris's tender play about love and ageing spend their time at an isolated but comfortable Francesca Reidy-designed farmhouse on Salisbury Plain. On the walls hang eight miniature vignettes that encapsulate the key elements of their lives.
This has been the home of septuagenarians Arthur and Edie for half a century and goes back through further generations of Arthur's family.
Love and devotion shine through the married couple's opening conversation, which is filled with the minutiae of familiarity and farming life. Nothing seems out of the ordinary, each contributes equally and both seem happy.
The first arrival is Eleanor Wyld's Kate, a bright young woman with blonde hair drifting into an unnatural shade of blue. This unemployed law graduate hides problems off her own but these are never developed.
Kate has arrived as a volunteer carer, needed because the local council no longer assists the elderly without two years' notice and helping out in exchange for her board and lodging.
Her presence is required because Edie is in the early stages of dementia, portrayed with sensitivity by the marvellous Linda Bassett who displays utter conviction as her character's mind gradually misbehaves more frequently. Throughout, Robin Soans as Arthur overcomes a natural taciturnity to provide all of the support that he can.
The empathy that swiftly builds with their guest is a tonic to the older couple. Ironically, while Kate is almost like the daughter that they never bore, son Stephen is uncaring and awkward.
Simon Muller plays a selfish man of around 40 who has always struggled to interact with people including his parents. The only surprise is that the life assurance salesman managed to find a wife and become a father of two teenage daughters, not that unseen Emily decides to kick him out.
His disconnect from real life becomes even more apparent when he makes a move on Kate, causing derision even to his mother in her delicate mental state. To be fair, whatever her problems, Edie's dry sense of humour never flags.
Throughout a gripping and at times traumatic couple of hours, Barney Norris demonstrates great knowledge of his subject and the authenticity is apparent from the little details, especially in the conversations between the old couple and the way in which they reveal both deep love and fear, as the unknown comes to take away the normality that they have relished so long.
All four actors make significant contributions under the direction of Alice Hamilton but inevitably, given her central role, it is Linda Bassett who will deservedly get the greatest acclaim.
Reviewer: Philip Fisher