Visitors
Barney Norris
Oldham Coliseum Theatre
Oldham Coliseum Theatre
–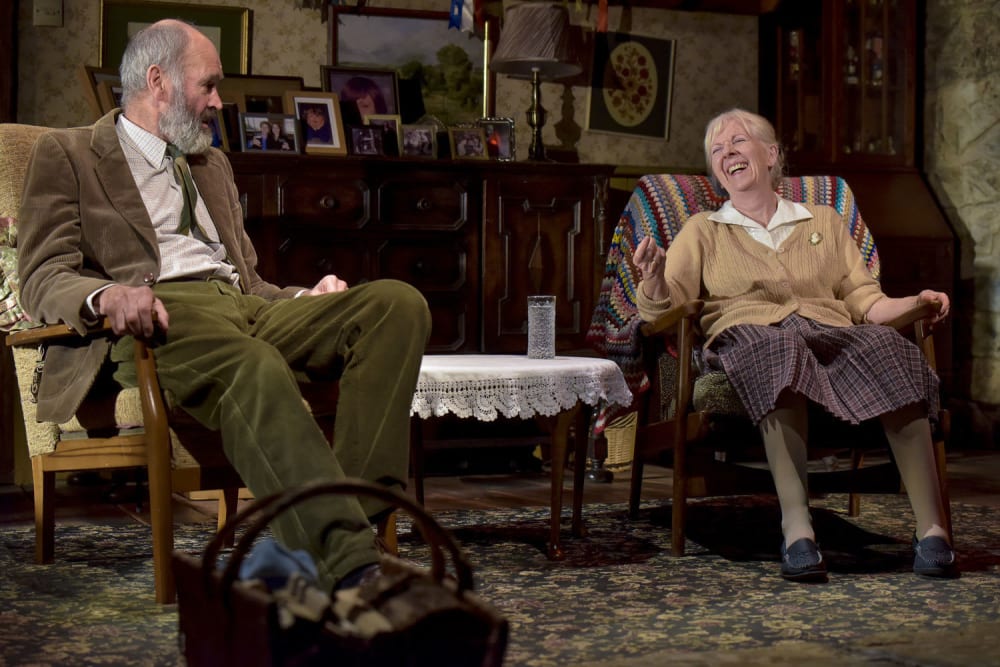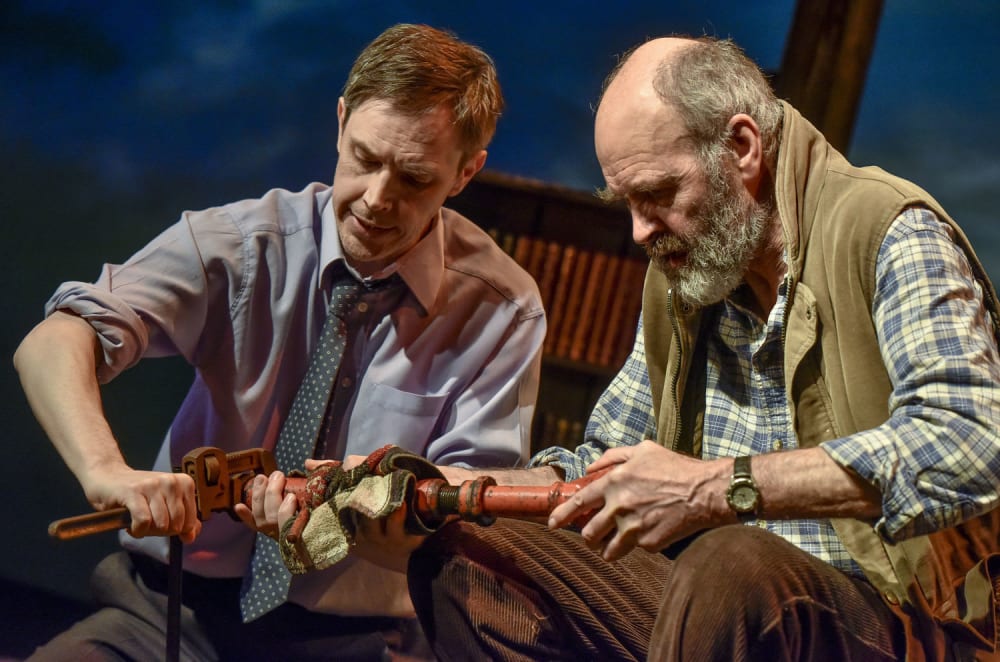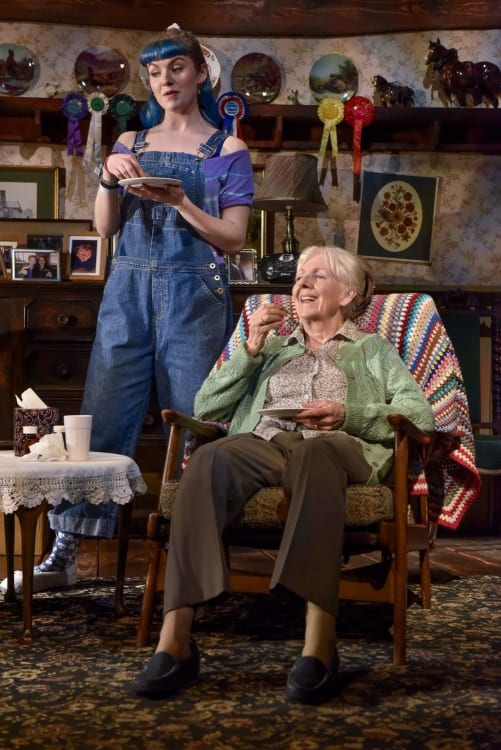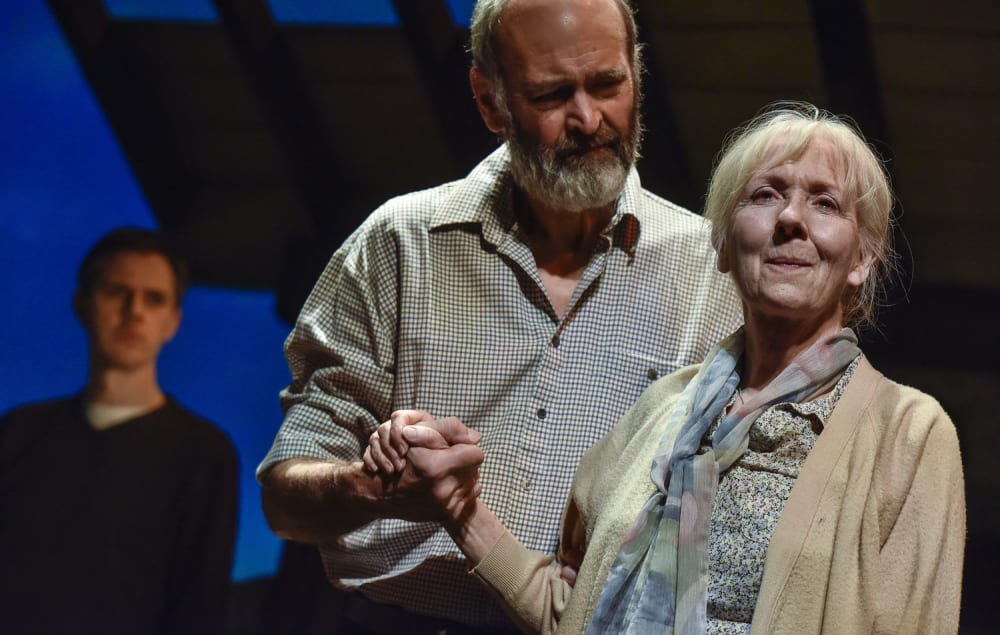 Barney Norris's debut play, brought up north by Acting Artistic Director Chris Lawson, comes with a string of accolades and awards from its London première at the Arcola in 2014 and its subsequent transfer to The Bush.
The play opens on a beautifully designed interior of an ageing farmhouse on Salisbury Plain (designer Sammy Dowson, lit evocatively by Jason Taylor), occupied by ageing farming couple Edie and Arthur, talking about their past time together as they wait for their son Stephen and a new visitor, Kate, to arrive. There's a lot of telling one another things they already know even for a wistful session of reminiscence, apparently to inform the audience, but this can perhaps be justified by what follows.
Kate is first to arrive, a young law graduate who, with no plans for her long-term future, has been working on farms in France since graduating and has now joined up to a 'programme', the details of which are sketchy (as are many details in this play) but would seem to involve putting young people into the homes of older people as live-in carers, apparently without requiring them to have any training or experience. Kate's blue hair initially shocks Arthur but she soon works her way into their affections with her unpatronising, caring manner and an understanding of their wishes and needs that seems to elude their own son.
Stephen is in 'life insurance' (actually 'life assurance', which you'd think he would know), initially portrayed as a salesman but later explaining that he has to make the decision about paying out in awkward cases such as those involving dementia, which would make him a manager in the claims department. He is in a bit of a transition himself, not feeling at home on his parents' farm where he grew up or with his wife and two teenage daughters as his marriage is crumbling; he even makes a fumbled attempt to ask Kate out at one point.
Although hardly a sympathetic character, Stephen is attempting, in his awkward way, to sort out some kind of appropriate care for his mother, whose dementia is only apparent initially during isolated moments but grows noticeably worse. Eventually, he makes some vague reference to a payout from her life assurance policy that would mean she could afford a place in a nursing home, but Arthur is reluctant to be parted from her.
The old couple, apparently based on the writers' grandparents, are portrayed as a lovable pair with a rich and interesting history. As Arthur, Robin Herford creates a wonderfully complex character, set in his ways but certainly not intolerant of young people like Kate, and Liz Crowther gets across the quick wit and intelligence of Edie in her lucid moments without any showiness about portraying her dementia.
Kitty Douglas isn't given much help on portraying Kate from the script as the sparse details of her life beyond the room we can see have little effect on the plot and some of her youth slang sounds a bit contrived, but she comes across as perfectly believable in the situation. Ben Porter's Stephen appears overly comical when he eventually enters in the first act, as though he is overcompensating for the very static scene with too much movement, but in the second act settles nicely into a believable portrait of a man who is lost in his life.
Norris has created a couple of nicely sympathetic characters in Edie and Arthur, but there is too much in the story that just doesn't add up, which would be fine if it immersed the audience into its fictional world but there are too many threads of plot or character history that create expectation but remain unexplored or unexplained, as does any social or political question about how older people with these sorts of needs and their partners should be cared for.
There is nothing at all wrong with Lawson's efficient production and there are good performances, especially from Herford and Crowther, but this is a play with a lot of talk—with a few interesting musings on life—and very little action that has a certain charm but is rather too comfortable to really say anything.
Reviewer: David Chadderton