The Vortex
Noël Coward
New Victoria Theatre, Woking, and touring
(2008)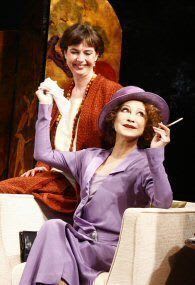 Coward was only 24 when he began to write The Vortex and, although his homosexuality was well known in later years, at this stage it could only be hinted at, at least in public, and perhaps he was struggling with emotions which even he did not understand. His intention was to write "a good play with a whacking good part in it for myself", and it has often been thought to be autobiographical. At the same time the play demonstrated contemporary life as he saw it, and perhaps even now it has coloured our impressions of life in the early Twenties as a time of a hedonistic lifestyle with no thought for tomorrow – or indeed for other people.
The action begins in the drawing room of Florence Lancaster's flat in Mayfair, and I'm afraid I found Alison Chitty's set disappointing. Expecting the lush opulence which usually identifies a Coward play, the furnishings were quite ordinary and totally overshadowed and dwarfed by the surrounding vast dark walls. Perhaps the intention was to demonstrate the depths of sorrow and depression which such a lifestyle could eventually bring. Costumes, however, were superb and right in period.
Florence is Felicity Kendal: cool, elegant and beautiful – and living a performance which must have drained and exhausted her, both physically and emotionally. This is a lady who intends to stay forever young, and to this end has taken a young lover, Tom (one of many as it turns out), and it is quite a surprise to find she has a husband, but she has no feelings for him at all – or indeed for anyone but herself. Malice abounds with her catty remarks about others, but all she wants is to be loved and admired.
It is when her musician son, Nicky, comes home after a year in Paris, bringing his intelligent and sensible fiancé, Bunty (Cressida Trew) that her artificial life begins to unravel and, spurned, she indulges in a paroxysm of wounded pride. Bunty and Tom (Daniel Pirrie) have fallen in love!
Nicky – in an equally emotionally draining and superb performance from Dan Stevens – is distraught, but not for the loss of his fiancé, and the hints of his homosexuality are evident, as they are also with Florence's straight-talking friend Helen (Phoebe Nicholls). There is a potentially tender moment when Helen gently and lovingly tells Florence she is on the wrong track but, Florence is too involved with herself and throws the moment away.
Nicky is obviously in torment and has taken to drugs to ease the pain. In the final scene in Florence's bedroom he confronts his mother trying to make her understand the folly of her ways, and heartrendingly attempting to transfer her into the loving mother he wished for, blaming her for his upbringing - "I've grown up all wrong" and "We whirl about in a vortex of bestiality". The play ends with the hope that things will change.
There is a pertinent performance from slightly camp old friend Pauncefort Quentin – Barry Stanton, using the Coward-like clipped, precise manner of speech (sensibly not attempted by Stevens – this is too emotional a character for artificiality). Annette Badland brings in a little comedy in the role of drama queen diva Clara.
Initially the Lord Chamberlain refused to license the production because of its "unpleasant" theme, but Coward persuaded him that it was "little more than a moral tract" and the play went on with Coward in the leading role, cementing his reputation as an actor and writer, and rest – as they say – is history!
Touring to Richmond and Malvern before opening on 20th February at the Apollo, West End.
Philip Fisher reviewed this production on its transfer to the Apollo, Shaftesbury Avenue
Reviewer: Sheila Connor