The Vortex
Noël Coward
Apollo, Shaftesbury Avenue
(2008)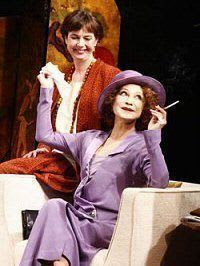 There is a strange sense of déjà vu in Sir Peter Hall's revival of this play written by Noël Coward in his early twenties over eighty years ago. With Felicity Kendal in the lead, it takes on much of the character of The Seagull in which she played Arkadina for the same director, with whom she works so often, at the Old Vic a dozen or so years ago.
The ageing Florence Lancaster loves nothing more than making a drama of her life, constantly rejuvenated by young lovers. This drives her sensitive son, a musician rather than a playwright, to despair, never more so than when his fiancée runs off with mother's lover and both have to face up to reality.
The similarities are manifold, although Coward accentuates the young man's weakness by giving him a penchant for drugs.
Like Chekhov, the young Noël has provided a strong crew of hangers-on too. In this production, the supporting cast is outstanding, on occasion, threatening to outdo those whom they are supposed to assist.
The first scene is a light comedy as bitchiness abounds in the Lancaster's London home, an incomplete impressionist version of art deco luxury in Alison Chitty's symbolic design, expertly lit by Paul Pyant.
Barry Stanton may not be quite camp enough as Pauncey but is extremely funny, helped by his straight-woman, Annette Badland lusciously rolling her 'r's playing Clara Hibbert.
The younger generation is initially represented by Florence's handsome lover Tom Veryan, coolly played by an assured Daniel Pirrie, enjoying a deserved West End opportunity following his Edinburgh triumph in Sting for Nolte. There is no doubt that we will hear more of him.
The plot thickens as young Nicky Lancaster, The Line of Beauty's Dan Stevens, returns from a year in Paris with a cynical fiancée in tow, Cressida Trew's Bunty Mainwaring. Unsurprisingly, mother and prospective wife do not get along, primarily because jealous, vain Florence is addicted to her own youth and objects to reminders of how long ago it was.
The second and third scenes in this two-hour-long evening including two intervals take place at the Lancaster's country house.
There the sky falls in on both mother and son, as their brittle relationships collapse with black humour, when their lovers renew an old and far more appropriate acquaintance.
The sumptuously dressed Felicity Kendal only really gets on to top form at that point, with Florence flat out on her bed, bewailing her misfortune, and then in denial when Nicky plucks up courage to confess to a weakness that he blames on her generic selfish carelessness.
Both mother and son get great succour from a brilliant Phoebe Nicholls playing Helen, here clearly in love both mentally and - she wishes - physically with the lady, but also wise enough to understand Nicky better than he does himself.
On this showing, Dan Stevens is not yet ready to be a West End leading actor, but his name and looks, along with Miss Kendal's will ensure that seats sell and hearts flutter through the run.
Sheila Connor reviewed this production on its pre-West End tour at Woking
Visit our sponsor 1st 4 London Theatre to book tickets for The Vortex.
Reviewer: Philip Fisher