A Voyage Round My Father
John Mortimer
Salisbury Playhouse
(2010)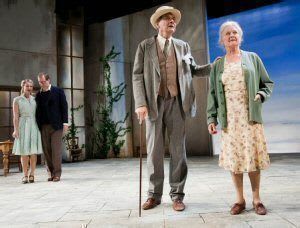 Nostalgia is heady stuff - particularly in theatre, although cinema and television drink regularly from this rich mixture. One thinks immediately of The Battle of Britain.
However, my thoughts are with Mortimer and his encyclopaedic knowledge of the courtroom where both his father and he spent so many profitable hours. Father of course was the jobbing barrister we all came to know as Rumpole, while Mortimer junior was the articulate lawyer better known through TV and radio as well as those famous Old Bailey episodes.
Jamie Glover's affectionate production of this autobiographical play represents his Playhouse debut - though both his actor parents have appeared here.
A Voyage Round My Father surely owes its present status to the plethora of stars that readily performed in it - Dignam, Guinness, Brett, Redgrave and Olivier, no less. Yet even without such names it is difficult to imagine this sharply observed, witty meander along memory lane would not have found its natural audience.
Like any provincial journalist in the 60s, I spent almost as much time in the courts as did Mortimer junior! Not, until very much later, with such proximity to the bench but quite enough to share a powerful sense of déjà vu with almost every step of this touching play.
Ryan Kiggell is excellent as narrator, Mortimer Jnr. There is an especially nice touch of clumsiness about his performance one feels must, or ought to be, redolent of the Mortimer we recognise.
Polly Adams' Mother put me immediately in mind of "she who must be obeyed", however unlikely that may be, and there is a legion of characterisations, all of them gems, from Alice Barclay, Andrew Frame, William Oxborrow, Olivia Poulet and Christopher Saul, whose headmaster I particularly admired.
Jeany Spark finds a special touch as Elizabeth while Simon Jagoe (the young son) and Ollie Spurr (second boy) both give lively performances. Paul Shelly, produces a tour de force as the so long neglected prototype for Horace Rumpole.
Andrew Edwards' design is another piece of inspiration which makes me wonder what all the other great artists did with this piece.
"A Voyage Round My Father" continues until Saturday 2nd October.
Reviewer: Kevin Catchpole