W.A.Y (re-work)
Choreography by Sung Im Her, music by Husk Husk
The Place
–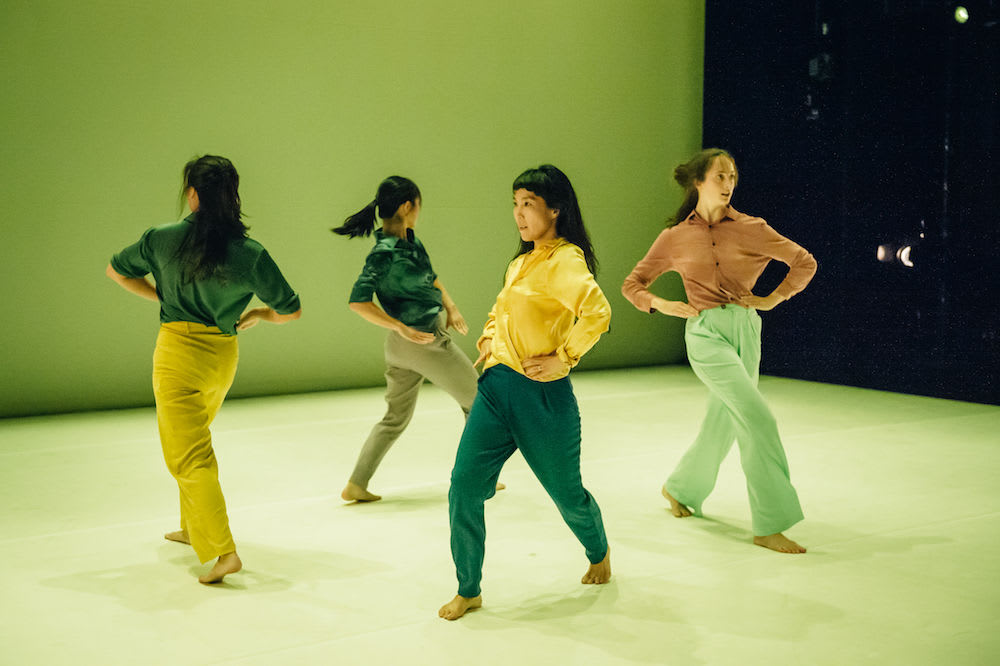 Paul Klee memorably said his artistic process was "taking a line for a walk", and the choreographer of W.A.Y, Sung Im Her, seems to be doing just that in her hypnotic fifty-minute piece.
Four females in simple trouser and silk shirt outfits of yellow, lilac, purple, lime and indigo are paint brushes against a white canvas, which is later suffused with the palest of greens and then dawn, or twilight, pink, as they walk on tiptoes round and round, and back and forth. The ministry of walks…
On and on and on they go creating patterns, Mondrian lines, criss-crossing the stage, running round in Constructivist circles, gathering in clusters and then apart. High-stepping thoroughbreds one minute; fashion models semaphoring and smiling at the audience the next.
Beckettian understatement, or maybe even Caryl Churchillian minimalism, make of it what you will. I am completely in its spell, though Belgian composer Husk Husk's tinnitus-inducing music keeps me alert. Repetitive, music and choreography finely knit, W.A.Y crescendos from catwalk finesse and still poses to frantic head-banging under a rain of glitter.
All spent, hair unleashed, hot and sweaty, rosy-cheeked, they look as if they've been through a therapeutic St Vitus's dance purging, a holistic ritual. Meditative, building like layers of paint, finely textured, tempo suddenly changing, they spin like giddy children. Three have had enough, but one continues, her stamina outstaying the rest.
They all return for a long-held silent pose—are we meant to be looking at an artwork? Slowly, they judder to life. They bow and bow, smile and smile. Are they AI? Was it all a dream, a hallucination? I am reminded of professor Anil Seth's book on consciousness, Being You.
Apparently, "the piece flows between a myriad of uncertainty and fear as well as joy, to illustrate this conflict in life". I don't quite get that, but the dancers Iris Chan, Martha Gardner, Yanki Yau, and Sung Im Her herself are proper Duracell bunnies.
The Place is taking COVID seriously: there is social distancing in the auditorium, which is to be commended. After the packed houses at many theatres I have visited (and few masks), I am pleasantly surprised to see two officially empty seats either side of mine.
Reviewer: Vera Liber