The Wages of Thin
Trevor Griffiths
Congo Red
Old Red Lion Theatre
(2010)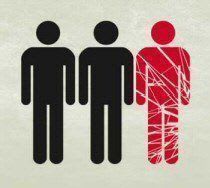 Let's put aside for a moment, but not forget, Trevor Griffiths's working class northern background, his left wing stance, and let's delight in his language and erudition, for this is what the young creatives of the Congo Red Company have done with their revival of Griffiths's first play written in 1969, just two years after the flawed Sexual Offences Act. It rings with youthful fervour.
Authority-challenging plain-speaking fellow northerner Alan Sillitoe has recently died. 75-year-old Griffiths is one of the last of that ilk, and at last he is being rediscovered. Comedians, a play that stunned me in my youth with its aggression and put Jonathan Pryce on the map in 1975, was revived at the Lyric Hammersmith last year, and A New World: A Life of Thomas Paine was produced at the Globe, also last year, to celebrate the 200th anniversary of Paine's death. The play was originally commissioned in 1989.
Griffiths has had his vicissitudes and been out of favour, but it seems this is his time. He has mellowed, apparently, but the fire still burns. And is being rekindled by a new generation.
The Wages of Thin shows its influences: Pinter, Beckett, Ionesco, Orton to a degree, and of course Kafka, but the dynamic and verbal energy is all his own. The crescendoing list of synonyms, the French wordplay - this is a confident young man showing his mettle.
I was sceptical but curious about seeing his first play, a play that has languished in a filing cabinet for thirty years. I had read it but never seen it performed. And how wrong I was. The taut production is excellent. Trafalgar Studios ought to seize it, as they did Theatre503's The Mountaintop. Gems can be found in the fringe and this is one.
Alfred Rimbaud Thin (now there's a name), an insignificant little man, a clerk in an export company, is entrapped and interrogated in a urinal underneath a railway by two men - yes, the double act, the good cop and the bad cop, used to chilling effect by Pinter, but here One and Two are less Pinter-sinister and more Orton-lite. And Ionesco-absurd. A 'comedy of menace' with the emphasis on comedy.
Beautifully cast by Janine Snape, intelligently directed with wit and insight by Prasanna Puwanarajah (who wears several useful hats in his life already - director, actor and medic), and well performed by Ryan Gage (suave One), Alan Francis (shirt and braces podgy Two), and Richard Sandells (in the difficult reactive role of Thin). If anyone out there from casting is reading this, Gage with his death head grin, is an absolute synch for a young Tony Blair. Francis is a Scottish stand-up comedian in real life - his laconic timing serves the intense Gage (in razor sharp suit and estuary accent) perfectly.
The set by James Cotterill is exact, David Gregory's sound design and Matthew Pitman's lighting complement each other - when a train passes overhead the central light rattles and dims. The grubby venue gives off its own sordid smells and vibrations. And the young audience, drinks in hand, think the play hilarious. I must confess they laughed more than I did - but not because I didn't like it. Au contraire.
Producer Natalie Eskinazi has chosen the venue well - in the cramped hot room above the Red Lion pub we sweat it out with poor Thin. Three white porcelain open stalls, flushing intermittently, face the audience, there's a closed cubicle to the side with a dead body, maybe incriminating, maybe a plant, and a metal cupboard through which the two interrogators pass to fetch the tea tray (teapot and tea cosy so very reassuringly British), tape recorder and mugs of water.
A Narnia behind that door? Well, there's a phone in the cistern, and listening and spying bugs behind a sign, so who knows what's behind the door. Evening dinner suits? Mislaid accents?
Thin doesn't know what's hit him. They know everything about him, his sexual preferences, his pervy friends abroad (check out their silly names), and that he 'loves' his mother. This is more than sexual entrapment - this is laying the ground for future projects.
It's a job well done. Is Griffiths extracting the urine? In a pissoir. What do you think? Entertaining, worrying, and, like Posh at the Royal Court, a reflection on the establishment's unchallenged authority. They know best.
A judicious revival. And a talent showcase.
Till 15th May 2010
Reviewer: Vera Liber