Waiting for Godot
Samuel Beckett
Sydney Theatre Company
Barbican Theatre
–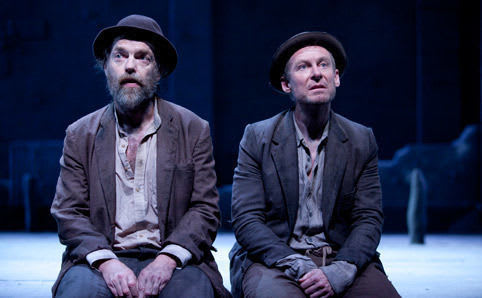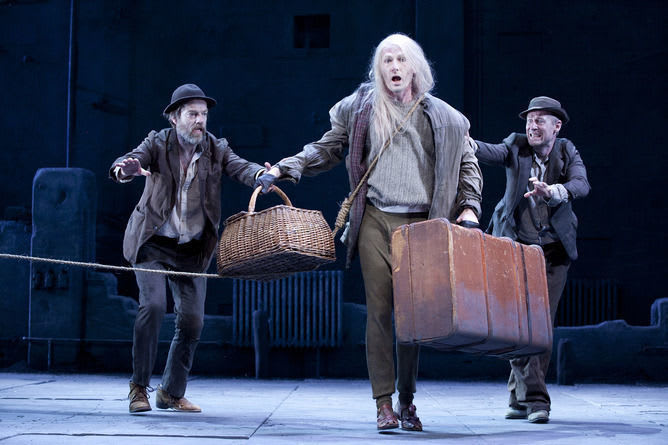 Andrew Upton and his Sydney Theatre Company have become regular, welcome visitors to the Barbican and return to play their part in a mini season celebrating Samuel Beckett's works.
Their latest venture is a revival of one of the greatest, if least penetrable, stage works of the twentieth (or any other) century. As such, it is likely to be very familiar to most of those who purchase tickets.
Although this interpretation largely conforms to expectations, there is a mildly Australian slant to the production and Upton does make his mark, especially through the physicality of a star cast.
The English might not immediately know the names but Hugo Weaving as Vladimir and Richard Roxburgh playing Estragon both have lists of film and TV credits as long as your arm.
Each is also very well versed in stage work, as soon becomes apparent during the 2¾-hour performance.
They play the famous tramps on a bleak, Zsolt Khell set that looks like a derelict grey factory or warehouse. Almost the only adornment is a sickly tree leaning further than the tower of Pisa. Even when it springs leaves after the interval, the offering is meagre, providing less symbolic hope even than usual.
From the outset, Vladimir is the poshest of tramps, remembering at least a little of the past and continuing the long, hopeful wait for the possibly deified Godot to arrive.
By contrast, the shorter Estragon is a lower-class clown whose mood swings in both directions are considerably more extreme.
The actors make a fine double act as their characters inanely chatter away for some time about their lives and by extension our own, amusing along the way before the arrival of another duo.
Better known on these shores is Philip Quast, who takes the role of Pozzo combining aggression and slapstick in his partnership with Luke Mullins's Lucky. This is never an easy role for an actor, who is expected to remain mute for so long that when he eventually vomits out an epic monologue, it comes as a complete shock to the audience.
Mullins is good both with his physical acting in the early stages and a relatively slow-paced speech, enlivened by a considerable amount of stage business from the other actors.
That is a recurring characteristic of Andrew Upton's production and the main way in which the director stamps his artistic imprint on the memory.
Despite its mystical nature, Waiting for Godot rarely fails to entertain with its mixture of light comedy and highly serious existential probing. This production is well worth a visit to see what Australia's finest managers to do with the very best that Ireland can offer.
Reviewer: Philip Fisher