Waiting for Godot
Samuel Beckett
Druid
Royal Lyceum Theatre
–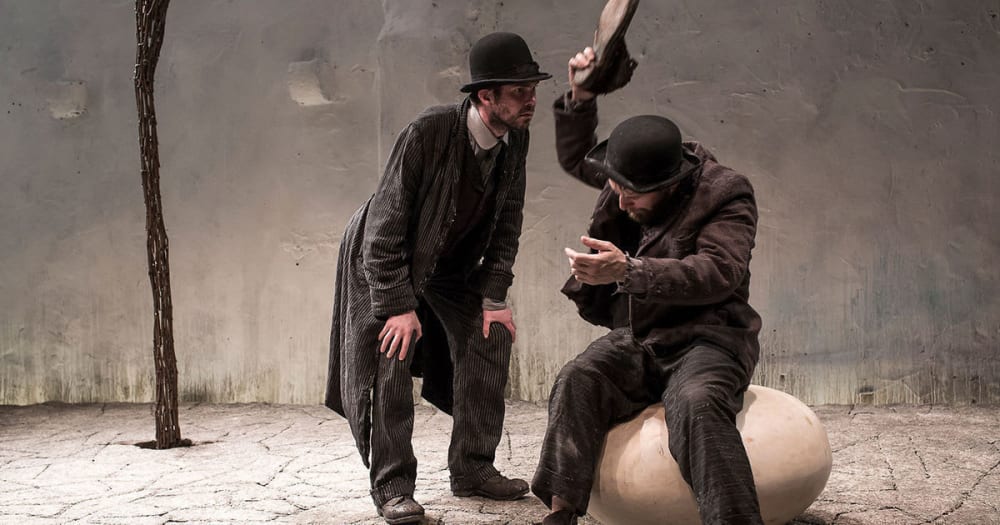 Any visit from Galway's Druid is always going to be a treat and this new production of Waiting for Godot, directed by Garry Hynes, effortlessly justifies the hype.
Over the last 60 plus years, there have been innumerable debates about the meaning of a legendary play that can seem very obscure not only to the uninitiated but also devotees.
Samuel Beckett's classic makes us ponder our own existence, often entering deep into the subconscious as it does so.
It can also be seen as a surreal vision of human life. That view is effectively symbolised by a Frances O'Connor design concept superbly lit by James F Ingalls, which seems to offer more than a hint of many abstract works by Salvador Dali.
On a bare, brown piece of ground, from long before the lights go up, Marty Rea as Vladimir patiently awaits not only Godot but an audience. He is a pessimistic, maudlin man with sore feet. Soon enough, Didi is joined by Aaron Monaghan as cheery, optimistic friend Estragon or Gogo, equally heavily bearded but a head taller, which adds to the musical effect of much of their slapstick comedy.
For the next 2½ hours at a carefully judged and never overly-fast tempo, they spout much rubbish together with many profound philosophical thoughts relatively randomly. In doing so, the pair enable viewers to consider human interaction and the meaning of life, even while they are laughing at the tramps' misfortune.
While fully respecting the sacred text, Miss Hynes tastefully manages to complement it with touches here and there, especially through often very funny injections of physical humour.
While the two central actors hold the stage for most of the evening and work wonders on their audience, the appearances of another duo have a significant impact.
Rory Nolan plays whip-wielding Pozzo, dressed as landed gentry but behaving archly as a heartless tyrant towards the enslaved and ironically named Lucky. In the latter role, Garrett Lombard turns himself into a human automaton moving as if by remote control until he gets his moment of glory with the legendary "Skull in Connemara" speech, which starts out slowly then accelerates to a satisfying babble.
By the end of a gripping evening, Garry Hynes and her cast will have made an indelible impression on their audience with what is undoubtedly one of the best productions of Waiting for Godot in recent memory.
Reviewer: Philip Fisher