Waiting for Hamlet
David Visick
The Goat Mcr Festival / Smokescreen Productions
The Amphitheatre, Great Northern Warehouse, Manchester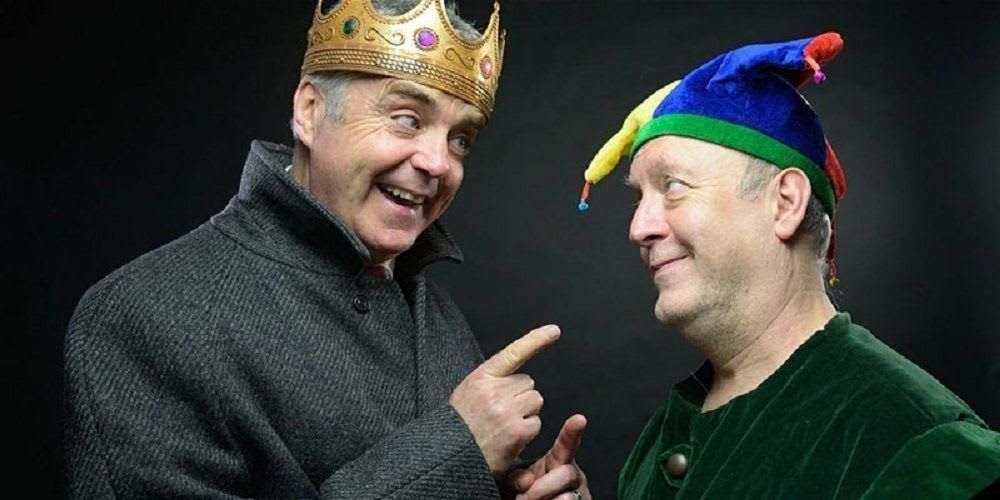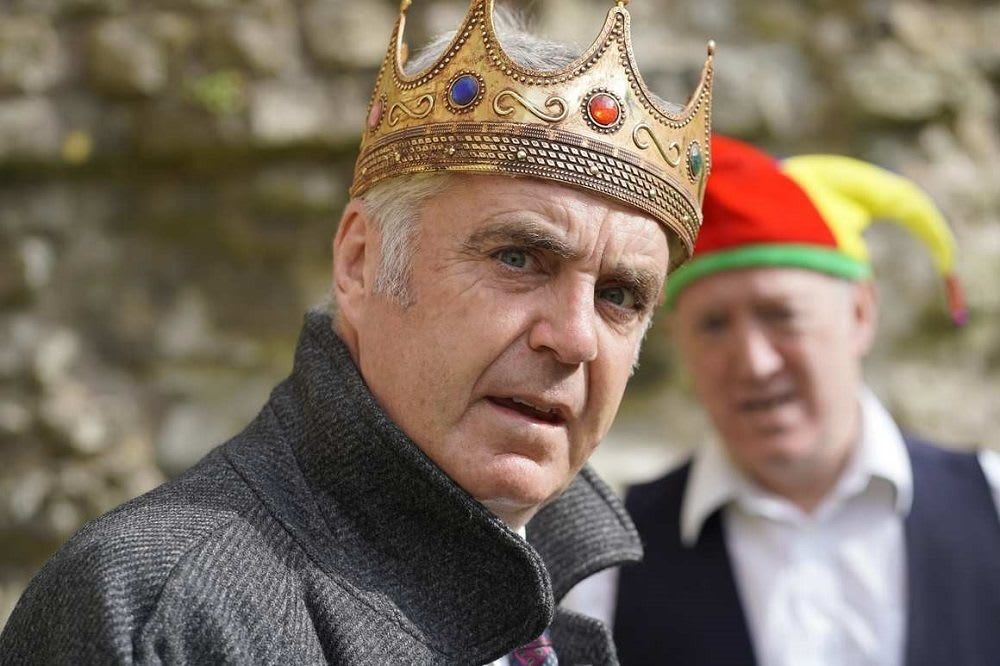 The Amphitheatre at the Great Northern Warehouse has always been an underused resource. With tiered seating looking down to a central area, it seems designed for performances but, apart from half-hearted outdoor exercise sessions, is never used for such purposes.
The Great Open-Air Theatre (GOAT) Manchester sets out to correct this situation with a Shakespeare Festival held in the amphitheatre. However, bearing in mind the unpredictable weather in Manchester, a Plan B is always prudent—it has been raining heavily all day, so Waiting for Hamlet moves indoors to 53Two at the Great Northern Warehouse.
Having passed away some years ago, jester Yorick (Nicholas Collett) has been stuck in limbo feeling in his bones he still has a role to play in the mortal world. Old King Hamlet (Tim Marriott) is in no doubt the need to bring his murderer to justice entitles him to escape from limbo. Yet something is preventing the duo from making a connection with the living world.
The influences and inspirations of author David Visick are apparent in Waiting for Hamlet. Visick does not limit himself to Hamlet when paying tribute to Shakespeare but quotes liberally from King Lear and Richard II. Visick clearly adores the skilful wordplay of Tom Stoppard and the silliness of the Monty Python team, but the author is not content to offer a simple pastiche. Waiting for Hamlet is an ambitious play debating the value of democracy as opposed to the divine right of kings and examining the motivation of Gertrude, Hamlet's mother, in marrying the man who killed her husband.
If the themes are heavyweight, the tone of the play is light; Visick is always willing to offset any possible pomposity with humour. King Hamlet explains the social order is maintained more by hats (crowns or jester's caps) than by an army—millinery not military. When Yorick sighs uneasy hangs the head that wears a crown, the king explains it is because of the pointy bits on the top. The wordplay throughout is witty with Yorick pointing out the king is trying to right the wrong wrongs.
Tim Marriott plays old King Hamlet with a hint of Boris Johnson. Marriott has the lofty attitude of someone out of touch with the realities of daily life—comparing himself to Jesus, boasting of his combat skills but unaware his wife was unfaithful or that she and his advisers were running his kingdom better than he could. His efforts to be imperious are spoilt by a degree of petulance. The afterlife does not offer the benefits to which he, as a king, is accustomed and he finds it hard to adjust to being on the same social level as his former jester.
Nicholas Collett takes the traditional approach to Shakespeare's fools making Yorick an adviser as much as a comedian, patiently coaxing the sulky king and offering tips on how to best communicate with the lower classes. Yet Collett brings in a hint of justified anger and bitterness. After all, unlike the king, Yorick had to work and struggle for his few benefits in life and resents his skills are not more appreciated.
Waiting for Hamlet is a fine tribute to the works of Shakespeare and theatre as a whole. An audio version of the play can be enjoyed on Soundcloud.
Reviewer: David Cunningham