Waitress
Book by Jessie Nelson (based upon the motion picture written by Adrienne Shelly) and music and lyrics by Sara Bareilles
Barry and Fran Weissler and David Ian for Crossroads Live UK
Opera House, Manchester
–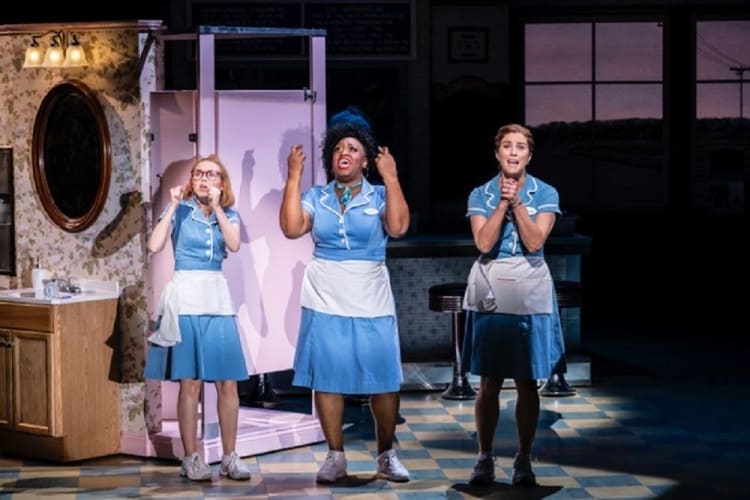 The ingredients for Waitress are traditional rather than fresh. In small-town America, Cinderella-like Jenna (Lucie Jones) is a put-upon waitress trapped in an abusive relationship. Like her mother, Jenna pours her passion into baking, producing pies with names that have Freudian double meanings. Plans to start a new life using prize money from a pie-making contest are frustrated when Jenna falls pregnant. As if life wasn't complicated enough, at the hospital, she meets the charming, and married, Dr Pomatter (Matt Willis).
Director Diane Paulus is determined the audience should not have to make an effort to enjoy themselves. The characters are broadly drawn easily recognisable stereotypes—Jenna's workmates are sassy, cutely kooky or a curmudgeon with a heart of gold. Ironically, the best-drawn character is the villain: Jenna's abusive husband, Earl, played tonight by Nathanael Landskroner who gets the chance to show the petty, selfish motivations which prompt Earl's controlling behaviour—a fear his wife will love her child more than him.
The atmosphere, suitable for a modern-day fairy tale, is dream-like. Lorin Latarro's languid choreography is closer to stylised movements than dance steps. The ensemble is more a Greek chorus than a chorus line—their exaggerated movements echoing those of Jenna or articulating her thoughts and experiences including going into labour.
Paulus satisfies the 'girls' night out', crowd with the spectacularly raunchy "Bad Idea" but seems less comfortable with the darker aspects of the story. Jenna's abusive relationship is depicted realistically but the script and director gloss over the potential impact of the affair between Jenna and Dr Pomatter on the latter's wife. Matt Willis plays Dr Pomatter as a love-struck dunce so befuddled he never considers the consequences of his actions or experiences guilt. Considering Waitress is intended as an example of female empowerment, it is odd a man saves the day by stepping in to help Jenna financially.
Scoot Pask's crisp, clear set is a major success. It unfolds quickly when scene changes are needed and is vey convincing as a restaurant that just happens to have a seven-piece band in the corner.
Jenna is a bland protagonist; Lucie Jones gazes into the middle-distance reciting recipes for happiness which sound a bit twee. In a nice touch, when stressed, Jenna also makes plans for resolving her problems in the manner of recipes. Jenna is overshadowed at times by her workmates and Sandra Marvin and Evelyn Hoskins, along with a highly eccentric George Crawford, generate most of the comedy in the show. Understandably, having been on a low boil throughout the musical, Lucie Jones grabs the chance to let rip vocally and brings the house down with her final big number.
After a long period without live entertainment, a wish-fulfilment fantasy is particularly welcome. Even so, while Waitress is a sweet treat, it is more of a dessert than a full main course.
Reviewer: David Cunningham