Walking the Tightrope: The Tension Between Art and Politics
Mark Ravenhill, April De Angelis, Sarah Solemani, Hannah Khalil, Gbolahan Obisesan, Evan Placey, Neil Labute, Ryan Craig, Hattie Naylor, Julia Pascal, Tim Fountain
Offstage, in Association with Theatre Uncut
Theatre Delicatessen
–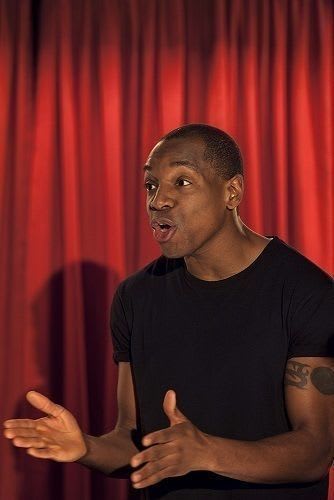 Offstage, in association with Theatre Uncut, has put together a program featuring world premières of 12 short political plays exploring the tricky relationship between art and politics in the contemporary world.
In particular, as Cressida Brown who thought up the concept explained in a brief introduction, it was heavily influenced by protests against actions by the Tricycle Theatre, an Israeli company attempting to perform at Edinburgh's Underbelly last summer and the Exhibit B controversy at the Barbican, in which a South African performance presentation that was thought to be deeply exploitative of its black artistes was protested out of existence.
90 minutes of plays, with direction shared between Miss Brown and Kirsty Housley, were supplemented at the Friday performance by a half-hour feedback session. This was chaired by the CEO of Index Censorship Jodie Ginsberg. It was dominated to such an extent by the constantly shifting opinions of a single panellist with a one-track mind that regrettably the debate shone limited light on what had gone before.
The plays were generally much more rewarding.
What Are We Going to Do About Harry by Mark Ravenhill
The short, intelligent opening piece featured an uncomfortable discussion between an artistic director and a well-to-do benefactor.
Its ultimate point appeared to be that money is a far more potent weapon than writing in today's economic climate.
Sun City by April De Angelis
Sun City featured a conversation between a politically ignorant Elvis impersonator and his agent back in 1986. The naïvety of the performer was matched almost equally by the cynicism of his manager.
Acting Towards the Promotion of Peace by Sarah Solemani
Sarah Solemani used spin doctors to look further into cynicism, this time in the context of Palestinian-Israeli relations.
A Bond of Love by Hannah Khalil
A Bond of Love was a less overtly political but considerably funnier work than those before. It featured an engaged couple planning their wedding.
The initial goal of going it alone was soon compromised as the bride-to-be's father offered to buy first the flowers and soon enough wedding, honeymoon and the whole shebang.
The subtext is all in this case and will not have been missed by many in a full house dominated by those working in and around the arts.
Re:Exhibit by Gbolahan Obisesan
The evening really started to heat up with this simple but powerful comedy featuring Naomi Ackie as a horrified actress on whom the realisation slowly dawns that she is auditioning for a role in Exhibit B.
Band Wagon by Evan Placey
When a group of kids are deemed to be inadequate even for their school orchestra, they set up their own terrible band but soon find themselves fighting over artistic differences with an underlying political edge.
Exhibit A by Neil Labute
Only Neil Labute can be this controversial when writing about controversy. His contribution to the evening was a play about a Turner-shortlisted artist played by Syrus Lowe, who turns rape into an art form (or doesn't).
The power of such a short playlet was remarkable, causing a stunned hush in the audience as only this playwright can.
Please Forgive Us Whoever You Are by Ryan Craig
The only solo of the evening was delivered by Stephen Fewell and featured self-satire as Ryan Craig created an alter ego called Brian Draig.
This playwright clearly set out to challenge by writing the kinds of plays that get banned but his diatribe about those who censor plays without reading them still hit home with this audience.
Faust for Kids by Hattie Naylor
The lead-in after the interval was a charming comedy featuring Philip Arditti and Naomi Ackie as a pair of actors performing for children and chatting during a break.
They had a surprising amount to say about the way in which funding can cause corruption especially when artists get into bed with multinationals.
Old Newland by Julia Pascal
An old Irishman of Jewish descent seems to be struggling with reality and illness in a hospital or nursing home. However, his most powerful memory, of life in a concentration camp, helps to define him.
Beyond the Fringe by Tim Fountain
Melissa Woodbridge and Philip Arditti are delightful and very funny as a typical mother and son at the Edinburgh Fringe.
He is a student performing and keen on experiencing every aspect of the Fringe including that Israeli musical at Underbelly.
Writer mum goes up the wall because she has been leading the protests against it.
Tickets Are on Sale Now by Caryl Churchill
In the same way that Exhibit A could only have been written by Neil Labute, Tickets Are on Sale Now is a characteristically Churchillian work which experiments with form as much as content.
A couple declare their love in a bite-size opening scene and then like the Goldberg Variations run the same scene repeatedly inserting different theoretically meaningless words.
Suddenly, a love story becomes a look at the world of high finance, branding, propaganda and even dear old Israel.
Those who recall the writer's 1998 double bill Blue Heart will see and enjoy the similarities in a fine closing piece.
Selected plays from the 'Walking The Tightrope' project will be available for anyone to download, read and perform, anywhere in the world, rights-free, for the period 2 to 9 February 2015 only.
Reviewer: Philip Fisher