A Walk in the Woods
Lee Blessing
Tricycle Theatre, Kilburn
(2011)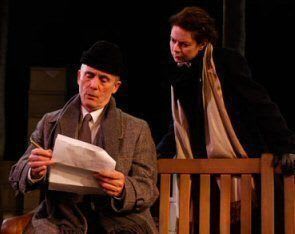 In the quarter century or so since A Walk in the Woods was written, the world has changed out of all recognition. Indeed, to anybody aged under 40, its topic of the Cold War and potential nuclear conflict will be nothing but a subject read about in history books.
Lee Blessing's one and three-quarter hour long two-hander often feels more like a hard-fought chess game or heavyweight title fight than a play.
In the red corner is the wily veteran Andrey Botvinnik (even named after a chess grandmaster) played with dry wit by Steven Crossley. In the original production by Northern Stage, Vermont and then on Broadway his combatant was a fiery, tyro American diplomat, John Honeyman. In this post-Cold War revival by Nicolas Kent, John becomes earnest Joan, feistily portrayed by Myriam Cyr.
The drama is based on a real series of meetings in 1982 between negotiators for the two great superpowers and takes place in a beautifully conceived Swiss wood, courtesy of designer Polly Sullivan.
From the opening moves, it is clear that the Russian will run quiet rings around his counterpart, having a great deal of fun at her expense but conceding nothing. There could be two reasons. Either he is a master negotiator trying all the tools of his trade or, as he claims, a realist who knows that they will never achieve anything and therefore calmly accepts the inevitable?
As the pair debate life, the war and everything we gradually gather that they are symbols representing their respective nations. The man from behind the Iron Curtain is a master of obfuscation and filibustering, while the lady from Wausau, Wisconsin believes that a direct approach will achieve her personal ambitions.
This play, which opens The Tricycle Goes Nuclear Season, examines the proliferation question in some detail. However, it often has more of the texture of a short story than a play and the arguments can be difficult to digest despite the brightness of their presentation.
The highlight is a late parable when the upstanding American admits to a moment of stress-induced madness that somehow encapsulates the pointlessness of their year-long debate.
It would be interesting to get the views of visitors of different ages and outlooks to this play. Those beyond retirement age who remember the dark days of the late 1950s and early 1960s when people really feared that the bomb would destroy the planet will see the debate in a very different way from an undergraduate today, who might regard this period as akin to the Second World War, the Great War or quite possibly, 1066 and all that.
A Walk in the Woods will appeal most to those with an interest in this period of history. They will get a reminder of how fraught life could be in the shadow of the bomb and how lucky we are today.
Playing until 12 November
Reviewer: Philip Fisher