Wall
David Hare
Royal Court Theatre Downstairs
(2009)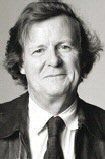 The Royal Court is not going to be making too many friends in Israel at the moment. Hot on the heels of Caryl Churchill's Seven Jewish Children comes another late night snippet that portrays the country in an unfavourable light.
Ten years ago, Sir David Hare travelled to Israel and presented his observations on the same stage under the title, Via Dolorosa. That play told of his travels around the Holy Land in a way that might be seen as even-handed.
Wall is at least theoretically a piece about the effect that the £2bn. wall that is currently being built is having on the communities on either side. One suspects though that his sample of Israeli intellectuals is not in any way representative of the 84% of Israelis who are actively in favour of a wall that dwarfs its predecessor in Berlin.
One should not be surprised that 84% feel the need for this protection. After all, their community is the one that benefits from the existence of what they call a fence and it is being constructed as a reaction to a series of suicide bombings.
Their Palestinian counterparts regard this as yet another obstruction to their attempts to live a normal life, though extremists might see it as both a useful political weapon but also a block to their attempt to gain ground by violent means.
The 45 minute presentation, not a play as such, makes the Israelis seem like the oppressors, as a result of both the harsh economic and social effects of the barrier to normality but also a not too subtle case of land grabbing as its route veers off the country's traditional Green Line.
Although it is not balanced, Sir David's attack is not all on one side, as he does identify the corruption of the PLO and the violence of Hammas.
The overall impression, lightened by travelogue and odd flashes of humour, is that this divided country will take generations more before it finds a peaceful solution to its problems and the wall can only make matters worse.
In this performance directed by Stephen Daldry, the writer/performer relies on a script, especially in the later stages, and arguably Wall would work equally well as an essay. The one advantage with a performance by its creator is the chance to see his sincerity shine through.
It would be good to see an Israeli play at the Court before too long to silence any suggestions of pro-Palestinian or even worse anti-Semitic bias against a theatre that, while political in its interests, normally attempts to be determinedly apolitical. In the meantime, some of its finest writers are making the most of their chance to bring a matter that they see as of burning significance to a wider public.
Playing until 25 April
Reviewer: Philip Fisher