War and Peace
Sergei Prokofiev
Welsh National Opera
Royal Opera House
–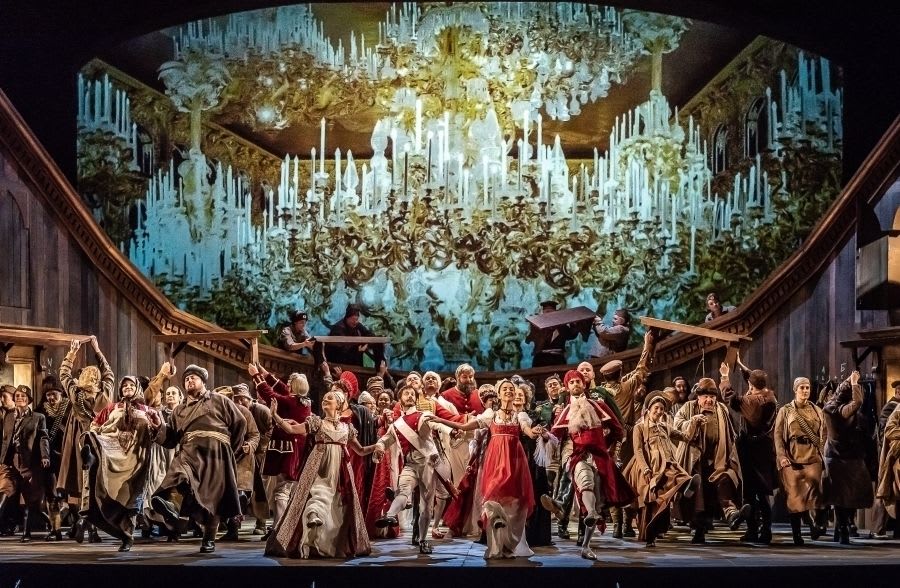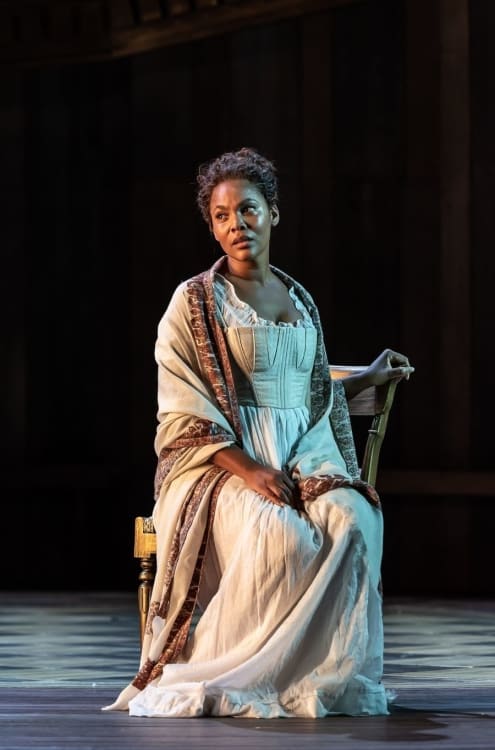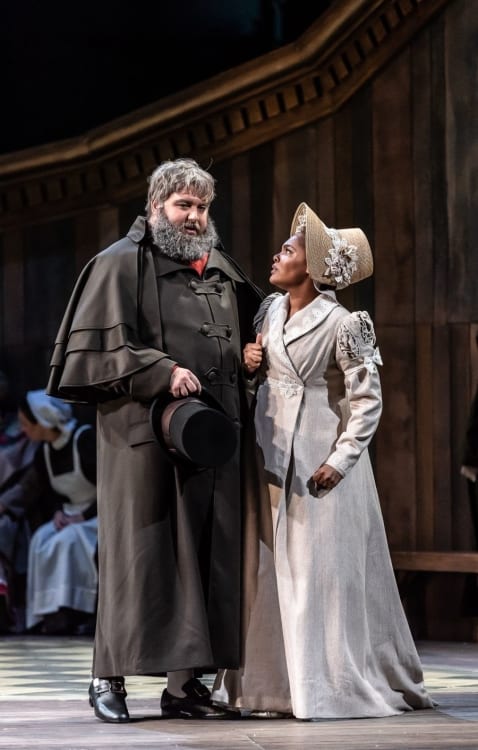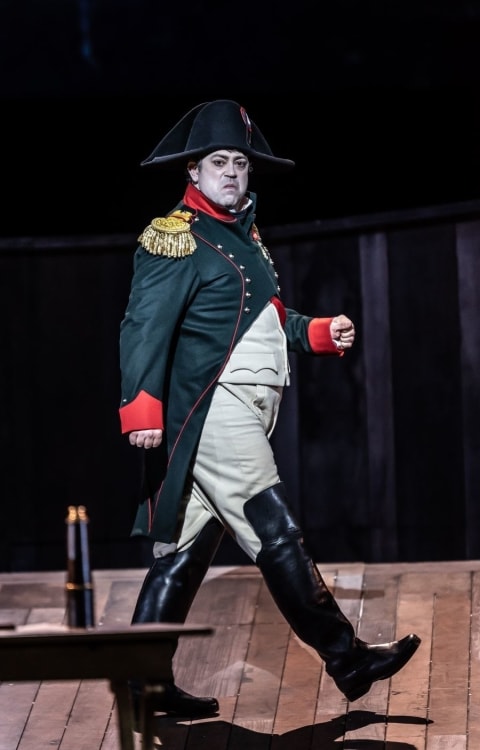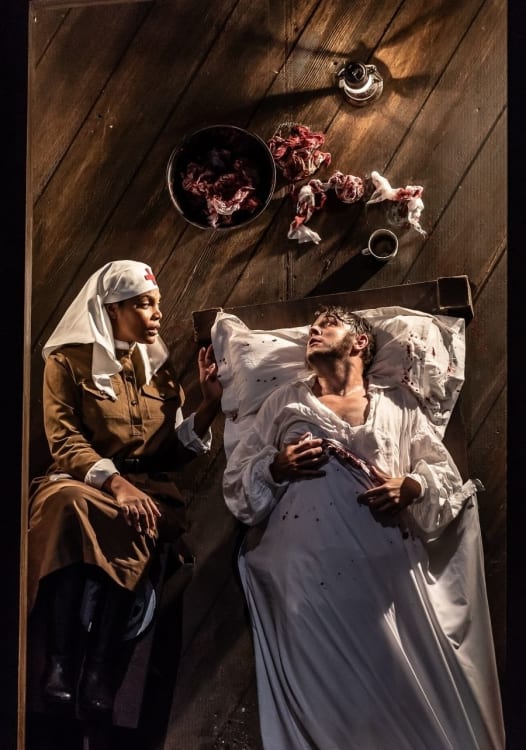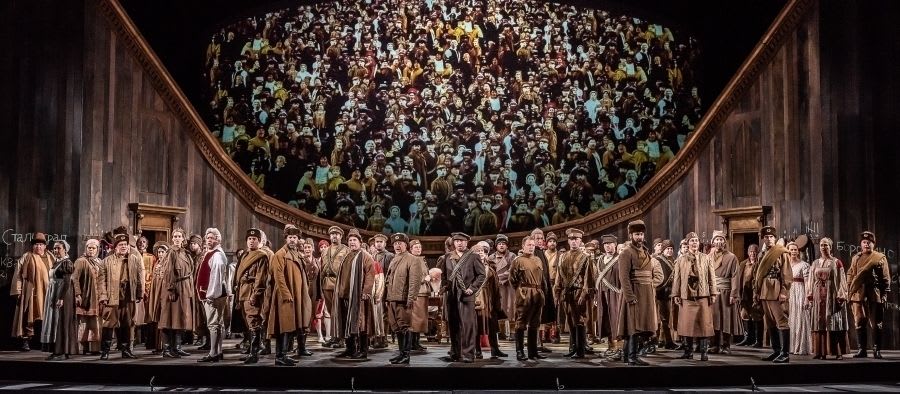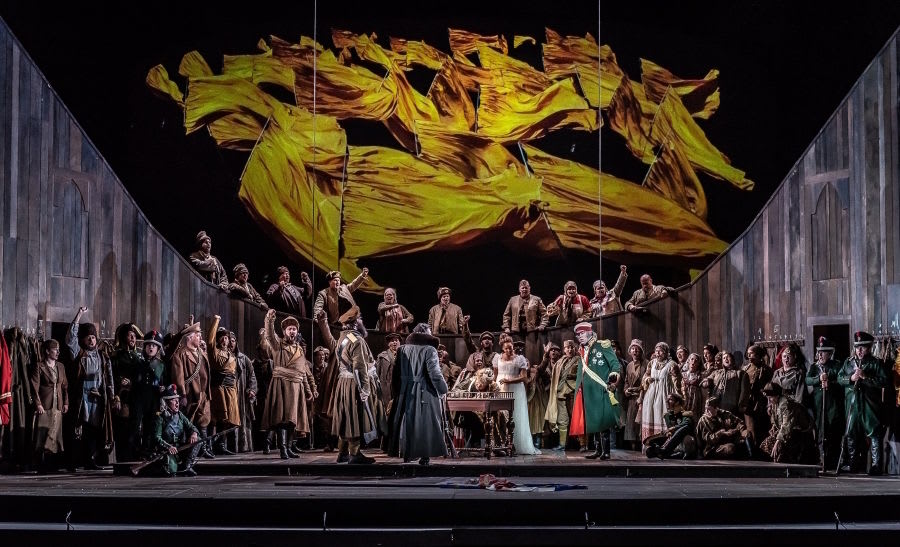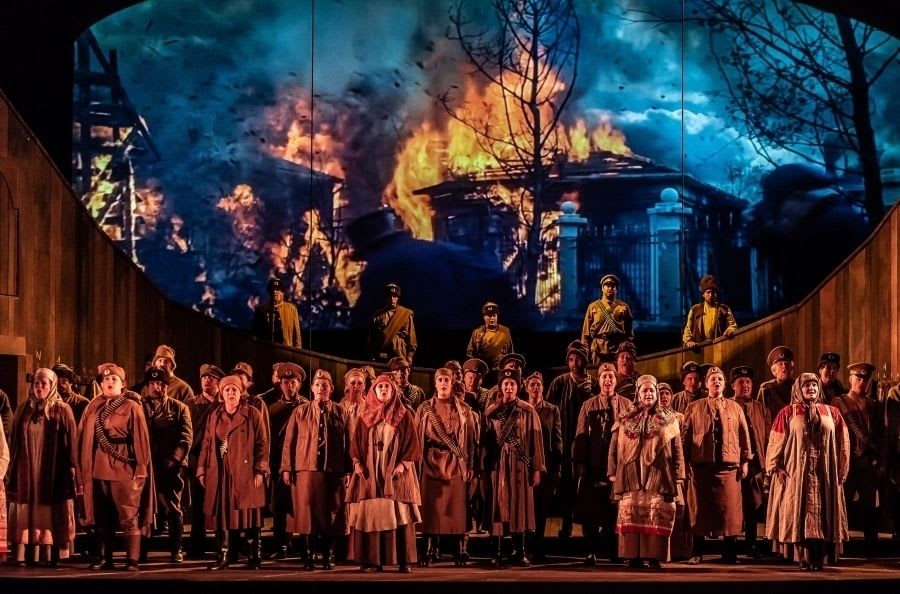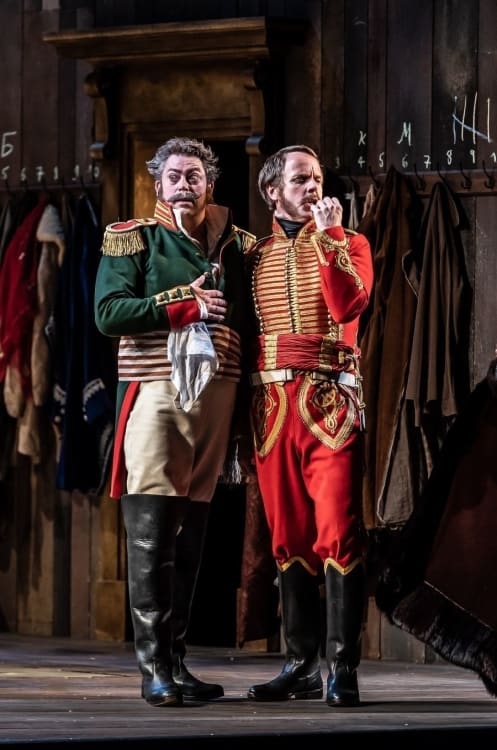 I never thought of Sergei Prokofiev's War and Peace (or should it be Peace and War, for that's how his opera divides) as a sing-along opera, yet the lady (soprano voice) seated next to me is singing along to the final patriotic anthem, keeping apace with the fine Welsh National Opera chorus. Just what Stalin wanted... a rousing call to arms... I'd have liked it in Russian (such a different sound to English), but English it is in Dr Rita McAllister's translation of Prokofiev and his wife Mira Mendelson's libretto. That's my only quibble. I wonder what the Russian Ambassador, in the audience I believe, thinks of it.
Opening with bearded Tolstoy in peasant shirt sitting at his desk, his words from volume three appearing on the screen behind him in cursive script: "Силы двунадесяти языков Европы ворвались в Россию. Русское войско и население отступают, избегая столкновения, до Смоленска и от Смоленска до Бородина." "The forces of the twelve languages of Europe broke into Russia. The Russian army and the population retreat, avoiding a collision, to Smolensk and from Smolensk to Borodino." A prologue of war before the peace that is the first half, presaging what is to come in the second.
What is most striking is Robert Innes Hopkins's clever set, curved wood panelled walls that serve all the settings of peace and war, interior and exterior scenes, with a viewing platform, it seems, above, for the peasants, servants and a miscellany of characters to observe what is happening below. Costumes hang on pegs and are put on as needed, making for swift changes in dress and character. It must be like a military campaign on stage.
David Haneke's captivating video projection design fills the oval space above the set with chandeliers, grand ballrooms, burning Moscow, victorious flags, birch groves, and the battle of Borodino taken from Sergei Bondarchuk's 1966/7 seven-hour four-part film of War and Peace in which he also plays Pierre Bezukhov. I remember giving up a whole day to watch it. I also remember the Borodino cyclorama in Moscow. It means a lot to Russians and this Sir David Pountney captures in his last season at the WNO. What a splendid production to go out on.
A three-and-a-half-hour production of Prokofiev's troubled War and Peace opera is a challenging undertaking, demanding in every way, singers playing multiple roles, somehow Pountney manages to keep all the balls in the air. And the chorus is outstanding. The applause is thunderous for them, as they reprise that final anthem taken from Sergei Eisenstein's Ivan the Terrible film. Eisenstein was also inked in to direct this opera, having worked successfully with Prokofiev on both Alexander Nevsky and Ivan Grozny.
Condensing Tolstoy's wordy epic recounting the lives of a multitude of characters in peacetime and war—so much and so many personages have to be edited out—it gave a powerfully emotional call to arms during the Second World War—what the Russians called the Great Patriotic War, that paralleled Russia's brave stance against Napoleon's 1812 invasion.
With many rewrites demanded by Stalin, poor Prokofiev never saw it performed on stage in his lifetime, dying on the same day as Stalin. "Woe betide our foes". "We shall drive the invaders out of our land." "What a fine life, the life of a fighting partisan." Such propaganda… Stalin didn't allow his soldiers to retreat from Stalingrad, as Kutuzov retreats strategically from Moscow, setting it alight.
Pountney spells out that curious symmetry between Hitler and Napoleon's invasion of "invincible Russia" with some in nineteenth century dress (the aristocracy) and some in 1940s army uniform (the peasants and conscripts) and it works well with so many milling on the stage. He also spells it out for those that read Russian, with Stalingrad and Moscow, Smolensk and Borodino chalked in Cyrillic on opposite sides of the wood panelling. No attention to detail has been spared, Marie-Jeanne Lecca's costumes particularly accurate.
The other remarkable chalk-up is that what we have here is a version of the score based on Katya Ermolaeva and Rita McAllister's new critical edition of Prokofiev's original. Though there is no list of scenes in the programme and I lose count of whether it is thirteen or eleven. Prokofiev was forced to make many revisions and additions, emphasising the sacred duty to fight. And the two Prussian generals—on Russia's side in this 1812 war—are roundly mocked, as is the French messenger wrapped in the tricolour flag.
As in the novel, one either favours the peace sections or the war—as a student I skipped the war bits in the novel—but here it is the war music that is the most exciting, Musorgsky's influence strong (even the two idiots let loose from an asylum in a burning Moscow remind of the holy fool in Boris Godunov). Peace with Natasha Rostova's falling in love with Andrei Bolkonsky and her flirting with the wicked incestuous and married Anatole, compromising her standing, has a lyrical Tchaikovsky Eugene Onegin quality, the ball waltz divine—another hummable melody much like the one in Prokofiev's Cinderella.
Love, heartbreak, drama and death—Natasha loses Andrei in war. This is her growing up time. There's a splendid scene, viewed as if through a window in the dacha wall, where she sits beside his deathbed and their duet is spellbinding. Lauren Michelle's Natasha is soft-voiced as befits a young girl in love with love; Jonathan McGovern's upright, sincere Andrei a sweet baritone.
But it is Mark Le Brocq's tenor voice and sympathetic Pierre that wins the night in every way, though much of his backstory is of necessity lost in the opera. How he got to marry the decadent Hélène (mezzo-soprano Jurgita Adamontyé in bright red), how he hated her debauched French-speaking milieu (the sickle and pitchfork-wielding peasants see it all from above—no wonder the revolution swept them away). Tolstoy's alter ego, we do get his love for the common man, his lesson in life from the peasant Karatayev (Gareth Dafydd Morris), his hatred of money.
I must say that Adrian Dwyer's tenor also seduces me as much as his Anatole seduced Natasha. But it is Simon Bailey's bass Kutuzov—the people's choice not the tsar's—who has the best tune, that anthem that stirs the blood. And David Stout's bass baritone Napoleon / Dolokhov / Denisov / Raevsky stands his ground well, though I do wonder about Napoleon in his redoubt scene—it rather slows things down. Jonathan May makes for an amusingly rude, snobbish Old Prince Bolkonsky, and there is some coarseness from the peasant soldiers—something about getting shot in the arse. Necessary gallows humour to lighten the dramatic load.
Tomáš Hanus, music director of Welsh National Opera, conducts an orchestra on great form. A tremendous, scorching undertaking on one of the hottest days in the capital brings to life a series of tableaux from a vivid tale of the past that resonates loud and clear.
Reviewer: Vera Liber