War Horse
Nick Fisher after Michael Morpurgo
National Theatre
Wales Millennium Centre
–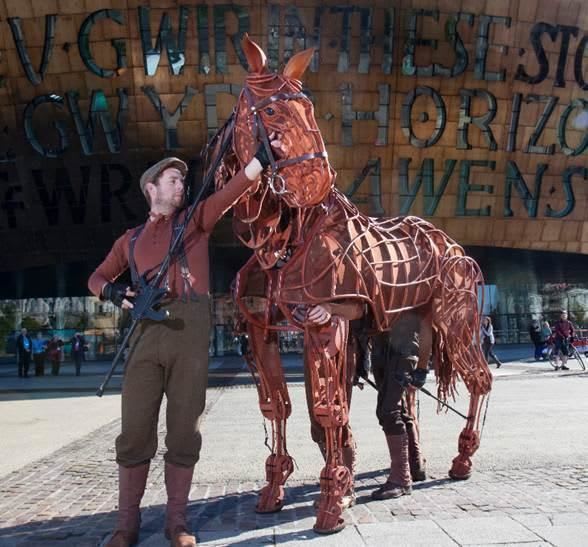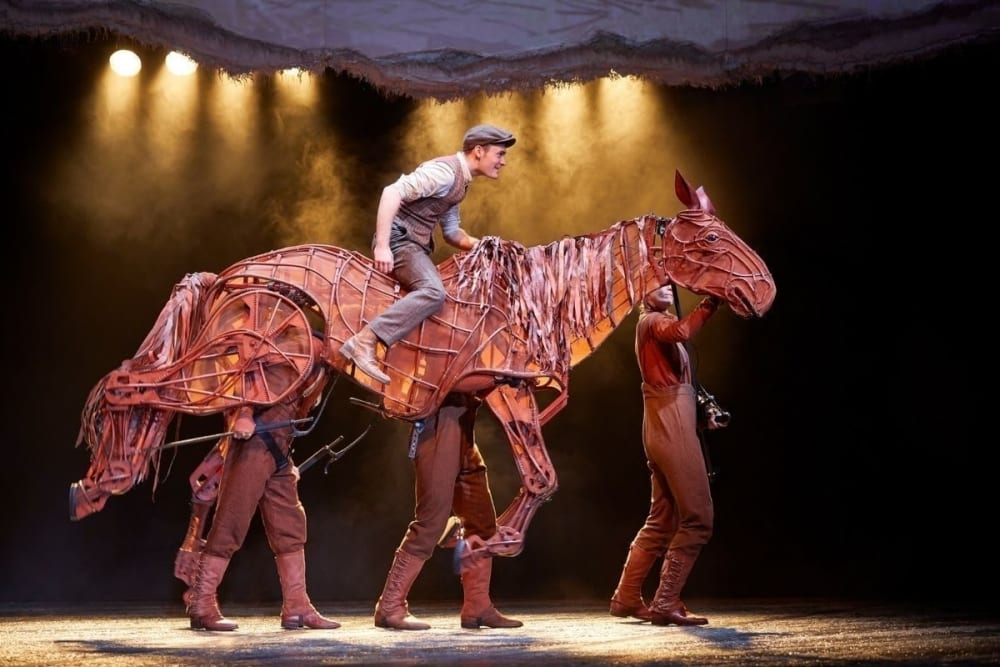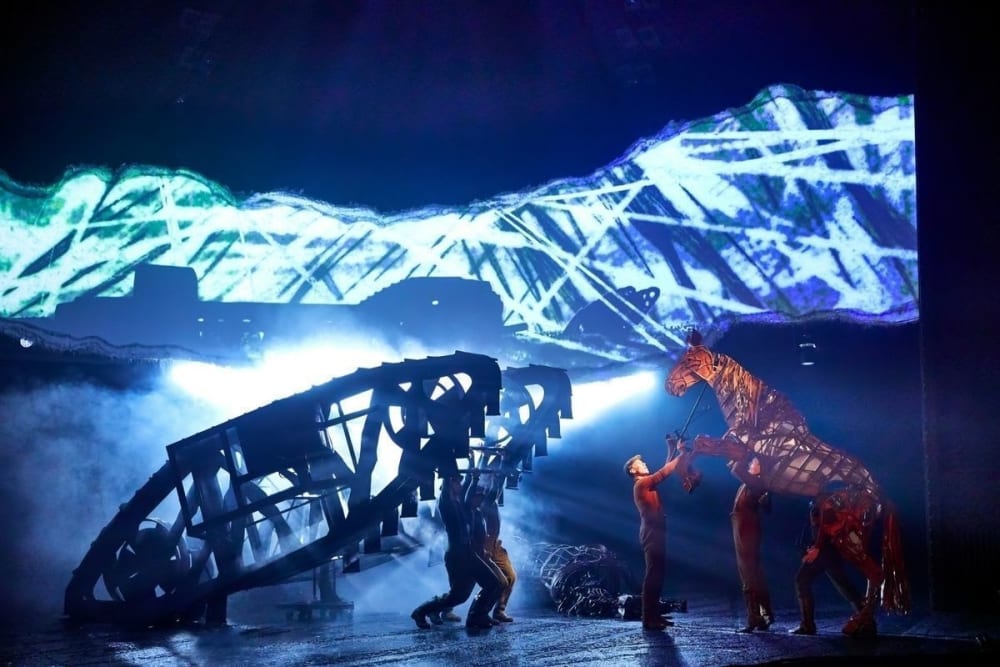 The National Theatre's adaptation of Michael Morpurgo's War Horse has arrived at the Wales Millennium Centre, four years after its last visit. This extensive tenth anniversary tour of a show which has been a remarkable success in the West End, on Broadway and beyond coincides with the centenary commemorations of the Armistice.
Even those who, like me, have managed to avoid both book and Spielberg film will be familiar with the plot. This is a tale of boy meets horse, horse gets sent off to World War I, boy joins up to find horse.
They will also be aware of the producers' inventive masterstroke—enlisting South Africa's Handspring Puppet Company who, in conjunction with choreographer Toby Sedgewick, magically bring the beleaguered equines to life.
The story, scripted by Nick Fisher, begins in rural Devon, where drunken bravado and sibling rivalry leads impoverished farmer Ted Narracott (Gwilym Lloyd) to buy a horse out from under the nose of his more successful war hero brother Arthur (William Ilkley). Ted's wife, Rose (Jo Castleton) is exasperated, but their son Albert—Thomas Dennis—is enchanted, and immediately begins to build up a rapport with the animal.
Financial issues, however, mean that the family is forced to sell the horse, Joey, to sympathetic army officer Nicholls (Ben Ingles) to take to the front as war is declared. Though under-age, Albert is compelled to follow.
It goes without saying that the horse-work—each animal operated by two or three puppeteers, is wonderful—even though the operators are never out of sight, the equine movements are utterly convincing. The show even makes a virtue of their visibility—when at one point a horse dies (this is war, after all), its operators solemnly disengage and walk away.
The hellishness of battle is conveyed with great effectiveness through sound and lighting design (Christopher Shutt and Paule Sutton, respectively)—and some very loud gunshots (heart patients beware). Directors Marianne Elliot and Tom Morris make good use of a large ensemble both as human and inanimate elements of the story on Rae Smith's inventively organic set.
Adrian Sutton's score is stirring, as are the songs by John Tams performed by folk singer Bob Fox who wanders through the mayhem passing comment on the action. Mention must also be made of the video back-projection (courtesy of 59 Productions), which manages to be illustrative without detracting from the on-stage action.
Amidst the violence, there is also humour, largely thanks to Andrew Hodges's shouty Sergeant Thunder, and human warmth, through Albert's friendship with fellow soldier David (Toyin Omari-Kinch) and the journey of Peter Becker's horse-loving German officer, Friedrich.
The show isn't entirely flawless—some of the "rural" acting is a little broad and a few of the non-horsey puppets irritate. One might argue that the climax of the narrative is a little contrived; although this is, after all, based on a story written for young audiences whom one would not wish to traumatise unnecessarily. And we willingly submit to this emotional manipulation.
At a little over two and a half hours, War Horse does not drag at all—the action is filmic and fast-moving, and the narrative compelling. I suspect, though, that I am not the only audience-member who would have been quite content simply to watch Handspring's horses trotting around all evening.
Reviewer: Othniel Smith