Ward of the Manor
Ivan Turgenev
Kiev's National Academic Theatre of Russian Drama Lesya Ukrainka
St James Theatre
–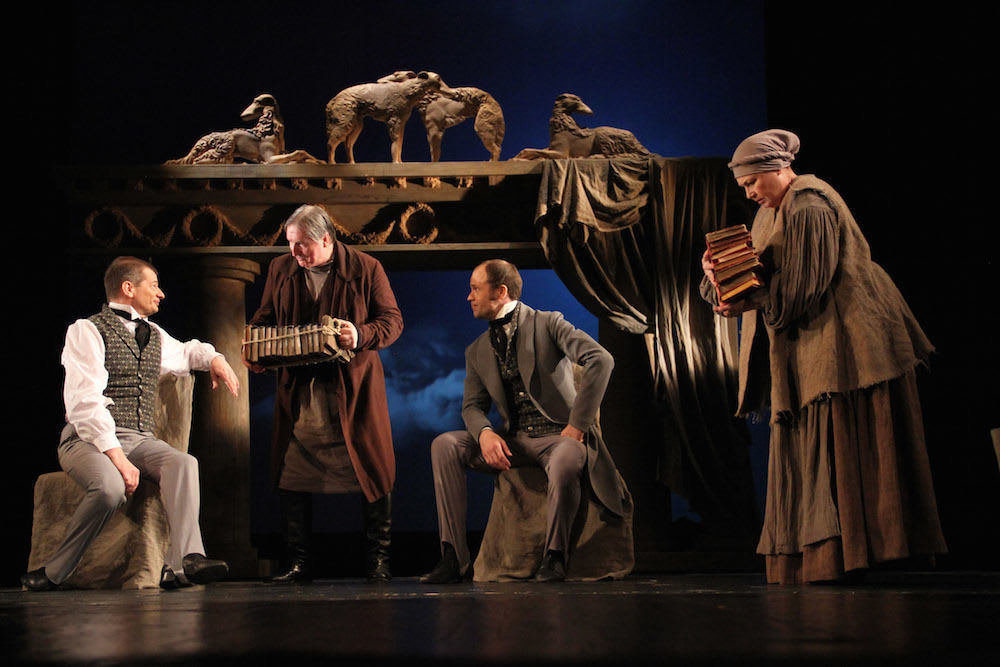 From 8 to 19 September, Kiev's National Academic Theatre of Russian Drama Lesya Ukrainka—to give it its full mouthful of a title—presents four plays curated by Mikhail Reznikovich, its artistic director: Turgenev's Ward of the Manor, Chekhov's letters in My Mocking Happiness, Chekhov's short stories in Life's Little Nothings and Lesya Ukrainka's version of Don Juan.
These are performed in Russian with no English surtitles but live-dubbed via an earpiece by a translator present in the auditorium. In addition to the plays, this festival of Ukrainian culture also includes two free film screenings (Sergei Paradzhanov's The Shadows of Forgotten Ancestors and Alexander Dovzhenko's Earth) as well as a photography exhibition.
The festival opens with Ward of the Manor, a translation of Turgenev's Nakhlebnik, which The Old Vic presented in 2013 in Mike Poulton's version as Fool for Love, with Iain Glen as Kuzovkin, Richard McCabe as Tropatchov. Alan Bates and Frank Langella won awards for their performances in a 2002 production (Poulton version again) on Broadway.
Not an easy title to translate, it can mean 'freeloader', 'hanger-on'. 'Living on charity', eating their khleb (bread the symbol of Russian hospitality), 'a permanent guest' often found in Chekhov's plays too, think of Waffles in Uncle Vanya, come closer to Turgenev's meaning.
Written in 1848, a time of social upheaval in Europe, when he was only thirty, Turgenev wears his heart on his sleeve, despising the vulgarity (the poshlost Chekhov exposes in his works) of a society that thinks it is better than the less advantaged, a society used to the owning of serf souls. The original text is sentimental, melodramatic with a touch of Dostoyevskian realism railing against the injustice of the social order, and even vaudevillian in places.
"Dedicated to the memory of the great stage director Georgy Alexandrovich Tovstonogov", "adapted from the eponymous comedy and prose of Ivan Turgenev", director Mikhail Reznikovich and his co-director Leonid Ostropolsky put their cards on the table. Liberties are taken; subtext is on show (reminds me a little of Rimas Tuminas's work at the Vakhtangov in Moscow); the Russian soul is exposed for what it is.
This production leans towards Gogol grotesque, as well it might with its gallery of ridiculously posturing characters, not least Tropatchov (Alexander Khoroshko) potting imaginary billiard balls with his silver walking stick, pompous butler (Oleg Roenko) and presumptuous estate manager (Vasily Yurchenko). "We all came out from Gogol's Overcoat", is a phrase famously attributed to Dostoyevsky.
A short story in essence: new arrivals disturb the order of the house in the sleepy countryside where they "live like mushrooms in cream"; a secret is revealed that upsets everyone; life will never be the same again.
Newly-weds 21-year-old Olga (Anna Artyomenko) and her 32-year-old Collegiate Councillor husband Pavel Yeletsky (Oleg Zamyatin prematurely grey, passionate not cold as per Turgenev's stage directions) arrive from St Petersburg to stay on her inherited family estate.
She hasn't been here since she was fourteen, and it all comes as a delightful surprise to this coquettish young lady with St Petersburg manners, playing ride a cock horse on her husband's lap, picking cherries in the orchard.
Little does she know that she has inherited the nakhlebnik, her father's friend, as part of the estate. Little do any of them know the secrets he has been keeping all these years and the reason why he is so excited at seeing Olga again.
Mild, meek, good-natured Kuzovkin (Stanislav Moskvin) is the dispossessed, impoverished dependent nobleman, mocked, turned into a plaything, a court jester, by the local landed gentry with nothing better to do. Even the serfs abuse him. Chekhov's debt, which he acknowledges in Seagull with "but not as good as Turgenev", is evident.
In a drunken scene that goes on far too long and tests one's patience—playing to the Russian stereotype of knowing no measure when drinking—Kuzovkin blurts out his secret. Here an interval would have been welcome, but the two-act play is played straight through for an interminable two hours.
Measures are taken to still tongues and remove him, a mouse from his nest, by the most honourable way possible, which is not very honourable.
The absurdity of Russian life, its tragicomedy is hammered home in a cinematic fusion of fantasy and reality with score to match, of wife-beating flashbacks, vignettes and tableaux from the past, moralizing voiceovers, interventions, lots of stage business and unsubtle acting.
The only one not playing it large is Pavel Kilnitsky as Ivanov, Kuzovkin's only friend, in a lovely understated performance amongst the coarseness, the boorishness, the khamstvo, on display. A look in the mirror for Russia today: "That's not possible. Everything is possible, especially in our Russia" (Tropatchov, end of act one).
Reviewer: Vera Liber