Warrior Women of Yang

China National Peking Opera Company
Sadler's Wells
–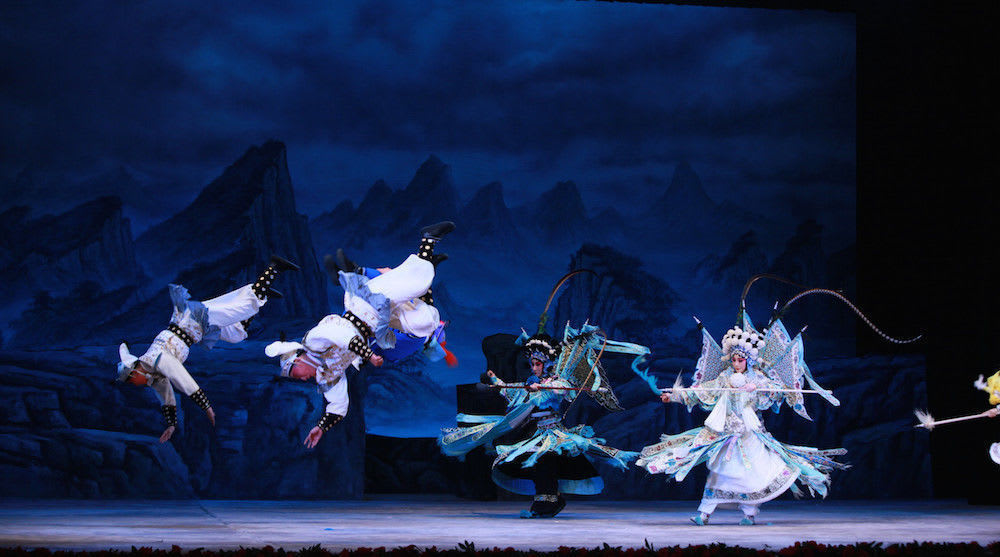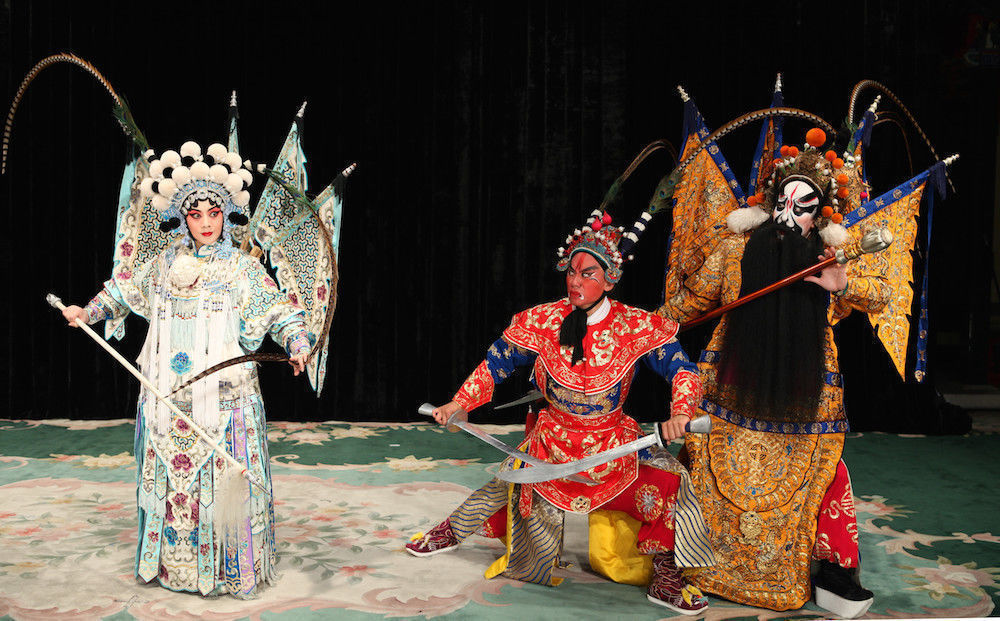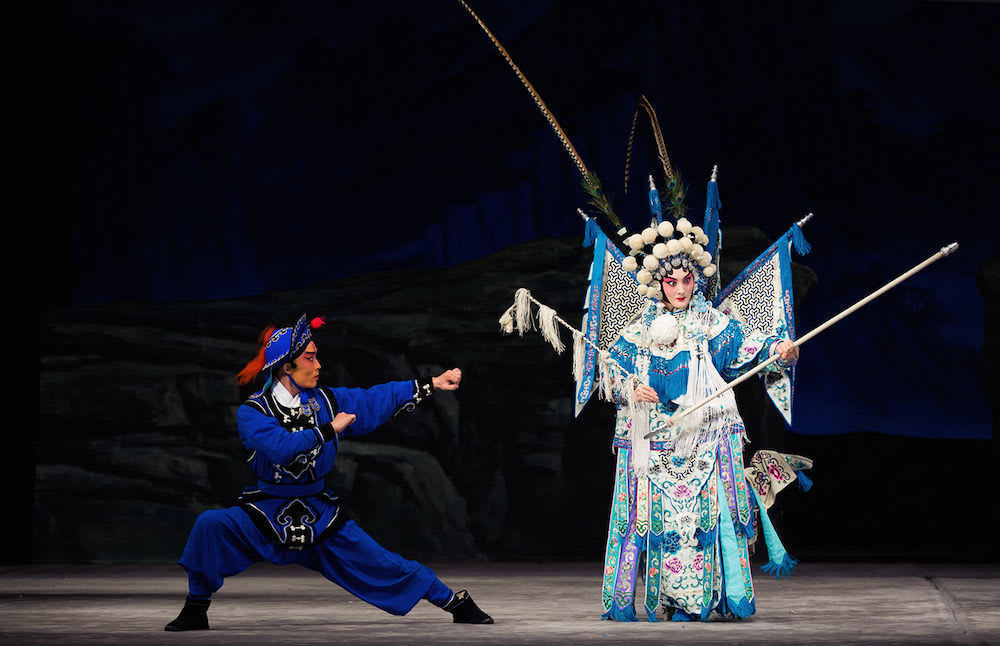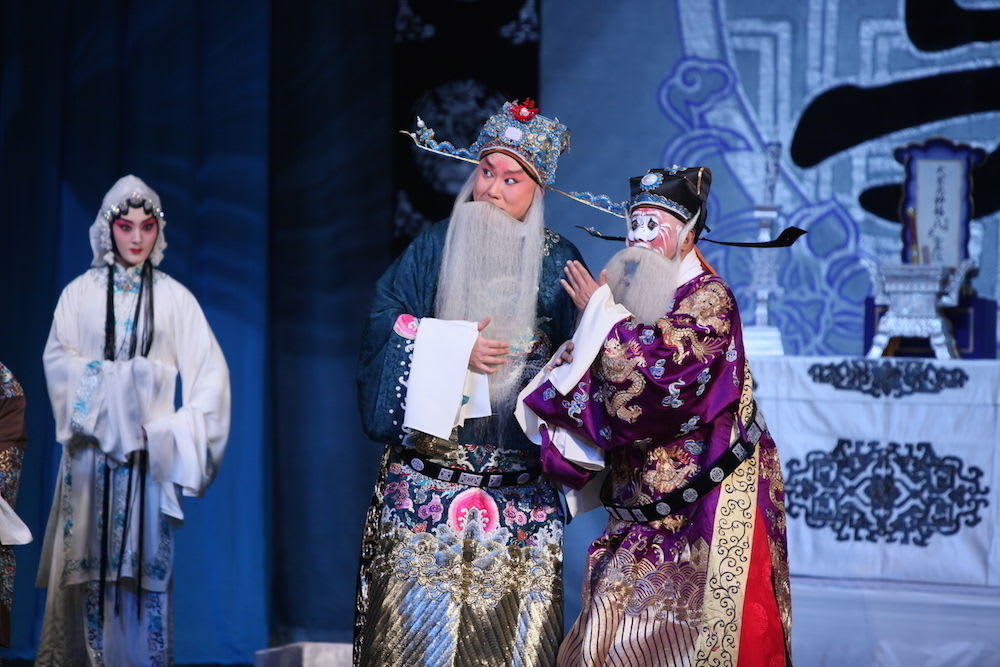 One can read about Chinese opera, its long traditions and intense training, the significance of its make-up and mime, its musical instruments, with wonder and awe, see filmed versions, but the visceral eye-blinding live theatrical experience is something else, coupled as it is with a predominantly Chinese audience's vocal reaction and interaction—hao is its bravo shout. Hen hao, I'd say.
A rare chance for us in the West to partake of that experience is not to be missed, with or without the aid of abbreviated surtitles. The music—musicians on the stage alert to every nuance in the actors' repertoire—is superbly evocative; the acrobatics and martial moves astonishing (think Zhang Yimou's House of Flying Daggers and Hero films but without the aid of special effects and wires); the costumes out of this world; the acting both delicately subtle and comically blatant.
Amongst a large cast, the stock characters, doddery retainers, comic duos, villains, heroic women and acrobatic young men, the Emperor in royal yellow, are not difficult to read, though Chinese audiences will obviously get there before we do, able to read as they are the beautiful coded facial painting of each character as soon as they set foot on stage. Not far off pantomime or commedia dell'arte really.
But the singing, though mesmerizing, is something other, perhaps too falsetto for Western ears—and microphones set to deafening don't help. Sound engineers please take note. Guo Yaoyao's mellower mezzo tones as the hundred-year-old matriarch of the Yang Clan not only do my ears alone appreciate, but warm applause greets her every aria.
Set during the Song Dynasty period (960-1279AD), based on the stories and genealogy of the dynastic Yang Clan, its patriotic prowess, its loyalty to the Middle Kingdom, its era of clever 'Amazonian' women, who defended its border when most of the male leaders had been killed off, the libretto, divided into eight scenes or chapters with musical interludes to cover for change of set, is simple enough.
The last Yang general is dead, so announce two of his clumsy surviving and possibly cowardly soldier brothers to his wife and mother on the day of his fiftieth birthday banquet, which will be attended by the dowager matriarch, who at the age of a hundred proves to be the toughest and wisest of them all. After much lamentation she insists on leading into battle her family now consisting of only women and a young boy skilled in martial arts.
They are all skilled in the martial arts. With swords and spears, with staffs and swift moves, in multi-layered costumes with four flags like angels wings on their backs, the women are no mean fighters against somersaulting back-flipping Catherine-wheeling young men.
In heavily embroidered silk costumes with water sleeves dextrously and eloquently manipulated, expressive faces and body language, and a heel-toe walking gait that looks like gliding, the women are the real deal.
And did I mention the headdresses? In fearsomely tall dancing feathers above a tier of pompoms and pearls atop determined faces that might intimidate any adversary, these women outfight and outwit their enemy lying in ambush on the mountain pass. And what skilled horsewomen they are—a staff bewigged with coloured hair is all that's needed for a dragon hobbyhorse—music and movement do the rest.
Dating from the eighteenth century, Peking Opera fell out of favour during the Mao Cultural Revolution years, but here it is as part of the UK-China Year of Cultural Exchange 2015, its first visit to these shores in ten years with two of its leading stars, Li Shengsu and Yu Kuizhi, whom the expats welcome with loud applause.
Warrior Women of Yang is new to me, but China National Peking Opera Company's other offering, Farewell My Concubine, many of you will know already from Chen Kaige's wonderful 1993 film. Both are a visual treat: breath taking tableaux vivants imprint indelible pictures.
I will not say spectacle because that word will undoubtedly be bandied about in all the reviews. But I will say it's a fabulous (in every sense of the word) pageant on a stunning stage set. Up the valiant Warrior Women of Yang! Up the cast and creatives of the China National Peking Opera Company!
Reviewer: Vera Liber