Waste
Harley Granville Barker
Lyttelton Theatre (National)
–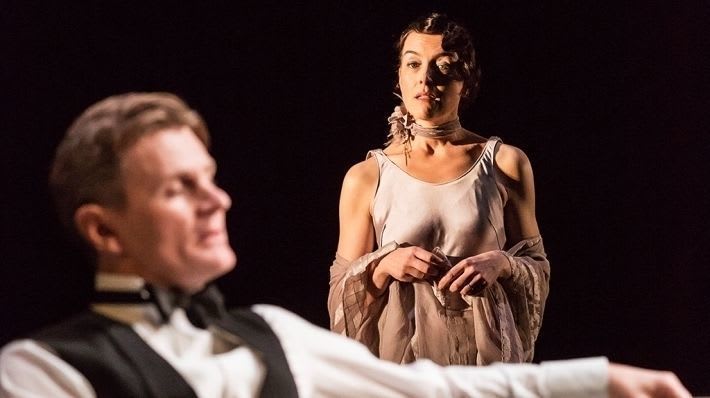 Harley Granville Barker is still under-rated despite a stream of high quality productions in recent years so Roger Michell's revival of his 1907 play (revised after the First World War) that scandalised London is welcome. He may not be as high in the popularity ratings but, at his best, is worthy of comparison with his contemporary George Bernard Shaw.
The ever-impressive Charles Edwards plays Henry Trebell, a politician from another age (with echoes of Trollope even further in the past) whose problems still seem highly relevant today.
The play opens at a house party given by a Lucy Robinson's Lady Julia, a patrician power behind the throne. It is there that the protagonist risks all for passion and a brief fling with the married Amy O'Connell, Olivia Williams playing a lonely Catholic soul who believes that she might have found love, sadly a sentiment that is beyond Trebell, whether for prospective wife, family or party. Instead this very modern type is driven by his work and ambition.
The independent (in every sense) politician is about to throw his hat into the ring with a new Conservative government.
His reasoning has nothing to do with fellow-feeling since he is a "notorious no Tory". Rather, Trebell is committed to a bill promoting disestablishment i.e. dividing church and state. Unusually for his breed, this politician's motivations seem more geared to belief in an oxymoronic secular church than personal glory. However, with this cold fish, it isn't easy to tell.
The politicking is stopped abruptly when first Amy announces that she is pregnant, having not seen her husband for over a year, and then dies following a botched abortion.
Arguably, the play's pivotal scene takes place after the interval as the core of the incoming Cabinet meets to debate a new strategy, balancing political expediency, a.k.a. hypocrisy to protect themselves against potential scandal, as they try to buy off the grieving husband, Paul Hickey offering a memorable cameo as Justin O'Connell.
Their efforts come to naught when Trebell bravely but foolishly arrives to confront his nemesis face-to-face.
The conclusion is inevitable, as must be the case in all true tragedies from the Greeks through Shakespeare to Granville Barker and beyond, leaving much food for thought about a series of moral and ethical issues that we can only realise in retrospect are timeless.
After a languid opening act, the drama and tension build to an unforgettably harrowing but credible ending, close on three hours later.
By that stage, Charles Edwards has proven his mettle in the leading role, especially complemented by Sylvestra Le Touzel in the role of Trebell's selfless, altruistic sister Frances, as loyal a partner as any wife could hope to be.
The best of the support comes from actors playing a quintet of the political elite: Andrew Havill, Gerrard McArthur, Michael Elwyn, William Chubb and Louis Hilyer.
The expressionistic staging is deliberately distant and dispassionate, which might not appeal to all. Michell and his designer, Hildegard Bechtler having created a surreal, disorienting limbo, which can at times leave actors and their voices lost in vast stage spaces.
Viewers of this production will still find themselves forced to reconsider issues of sexual, gender and class politics, as well as the parliamentary version afresh, which is why this fine playwright is still so popular today.
Reviewer: Philip Fisher