Waste
Harley Granville Barker
Almeida Theatre
(2008)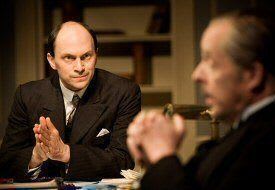 Strangely, the issues considered in Harley Granville Barker's political drama seem even more timely today than they did when it was last revived by Sir Peter Hall at the Old Vic in the very significant election year of 1997. For three hours, we become embroiled in the machinations of a Tory party that is seeking to and then does get into Government.
At the start, an ailing Liberal/Labour coalition is on its last legs and the vultures on the other side are planning a feast. The opening could have come straight from Trollope, as the real powers behind the throne, a group of imposing women, led by Jessica Turner's Lady Julia and Helen Lindsay as her mother a Countess, discuss issues of the day and the ways in which they will ensure that their men folk keep up to the mark.
The principal issue that needs to be resolved is that hoary old chestnut of disestablishing the Church of England, yet again under discussion of late with the proposal that primogeniture is abolished and Catholics allowed to ascend to the throne.
Back in the mid-1920s, any aspiring Conservative Prime Minister had to be at least 65 and preferably hairless, embodied by Hugh Ross's ineffectual and indecisive Cyril Horsham. Rather than carrying through this important bill himself or through his senior colleagues, he enlists the help of an independent MP, the single-minded and very solitary Henry Trebell, Will Keen at his sensitive best.
He is a natural politician whose "career of potent promise" gives him every chance of making it right to the top, supported by his loyal sister, Phoebe Nicholls playing Frances. All that Trebell needs to do is to pick friends judiciously and keep his nose clean. The core of Waste's tragedy is based on an investigation as to why he is unable to do either.
His failings are those of so many politicians both before and since. In an excess of confidence and bravado, a middle-aged man who admits that he has not kissed a woman for ten years makes a play for the attractive, flirty Amy O'Connell, played by Nancy Carroll. She reciprocates and a passionate affair of exceptional brevity, just one week ensues. This has untold consequences, an unwanted pregnancy compounded by the fact that the lady is both Catholic and married.
Here, Granville Barker reveals much about the society of his day, as Mrs O'Connell's dignified husband, an Irish republican portrayed by Patrick Drury, can act high and mighty despite his relationship with a maid; the Prime Minister's family, it is hinted, has had similar problems in past generations and abortion only happens in back streets.
It should not be giving away too much to say that Waste ends, as its title suggests that it might, tragically. In doing so, it speaks to us today almost as powerfully as it must have done to those living through the period.
At its best, this play makes many telling points about politics and more pointedly, politicians with the lucidity of Granville Barker's contemporary, George Bernard Shaw. He also shares with Shaw slightly too great a partiality for pontificating through the mouths of his characters. As a bonus, this does allow most of the members of a quality cast opportunities to show their abilities as speech makers, none more so than Richard Cordery playing Russell Blackborough, the man who ultimately brings a house of cards down.
Waste may be just a little too long and wordy for contemporary audiences but Sam West's carefully directed, intimate production, making full use of Peter McIntosh's deviously constructed sets and drawing every ounce of value from the text, proves once again what a fine writer Granville Barker was.
It is to be hoped that the mini revival of his works, which has also included The Voysey Inheritance at the National and The Madras House at the Orange Tree - both, like Waste, sweeping ambitious plays with large casts - becomes a full-scale retrospective before too long.
Playing until 15 November
Reviewer: Philip Fisher