Wastwater
Simon Stephens
Royal Court Theatre Downstairs
(2011)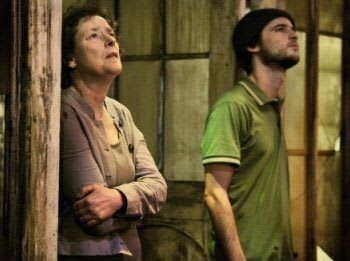 Still waters run deep but none run deeper than those of Wastwater in the Lake District, nor metaphorically those in a Simon Stephens' play named after it.
The 100 minutes are divided into three seemingly unconnected contemporary scenes, all taking place within a short distance of Heathrow Airport on realistic sets designed by Lizzie Clachan which transform magically between scenes.
The link between them is Linda Bassett's Frieda, a serial foster mother whom we meet along with Harry, one of her many troubled charges.
The boy in his 20s is Harry, played by Tom Sturridge, a common or garden lad with his own troubles who has decided to emigrate to Canada. Four years on, he is still haunted by a drunken night when his step brother Gavin crashed a car and lost his life. After half an hour or so of chatter, we know both a great deal about them and practically nothing.
Cut miraculously in seconds from the derelict property to an upmarket airport hotel bedroom. This is the location for a nervy interaction between Lisa, a rather brassy woman in her early forties wittily brought to the stage by Jo McInnes and dressed to kill, and Paul Ready's nervous Mark a dozen years her junior.
How they came together is never explained but what starts as a passionate encounter soon turns itself into something both more sinister and comic, as we discover that art lecturer Mark has found himself a woman who combines heroin addiction with her dual employments as policewoman and porn star - or at least that is what she says.
Their passion breaks down due to lack of sexual compatibility but the tension is remarkable. By this stage, we see not only that the pieces have loose connections in their story lines but discover thematic links littered through the mini-dramas.
The third pairing, joined briefly at the end by two more characters, are Angus Wright as honest, dull Jonathan and Amanda Hale 's lively Sian. It takes some time to work out what has thrown these two together in a disused garage or warehouse. The answer is that Sian is interviewing Jonathan for the potential adoption of a little girl from the Far East.
Her manner of doing so might be described as unorthodox but going any further would be unfair to the playwright.
Simon Stephens may give us no pat answers and Katie Mitchell's production does little to reduce the obfuscation. However, the purpose of a Stephens play is to make us look deeply into contemporary society and some of its less palatable characteristics. In doing so, it is all too possible that we will see ourselves in the characters and, more particularly, facets of ourselves that we might prefer to ignore.
In Wastwater, the issues that we might be expected to look at afresh include sex and parenthood, loneliness and addiction.
This is an intriguing and strangely engrossing play that may avoid any single narrative line but does not suffer as a result.
Playing until 7 May
Reviewer: Philip Fisher