Way Upstream
Alan Ayckbourn
Salisbury Playhouse
(2011)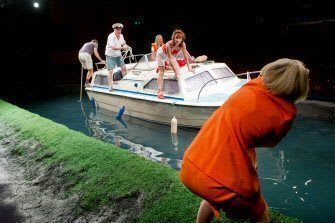 Mutiny aboard the Bounty - again? Except that this is not Frank Lloyd's 1935 film with Clark Gable and Charles Laughton. It is Alan Ayckbourn's 80s dark - very dark - comedy Way Upstream now revived by Lucy Pitman-Wallace in an excellent production for Salisbury Playhouse..
To be honest, this is by no means my favourite Ayckbourn. Sentimentalist that I am I prefer the witty Relatively Speaking though several others are almost as delightful.
Yet I have to admire this first rate revival, the latest in a series of fine productions Pitman-Wallace has achieved at Salisbury.
And what I admire especially is the energy and enterprise of John Titcombe and the Salisbury production team, all inspired I assume by designer Janet Bird. Undeterred by the experience of the National Theatre at their opening of the play when the Lyttleton Theatre was flooded, as the water tank burst emptying into the Thames, they installed their own 40,000 litre tank onto which the 20 ft Hadforth Bounty was launched.
As if this were not enough, the team were required to remove over 100 seats onto the main stage for production "in the round".
The packed house settles down to a relaxing evening of Ayckbourn humour as holidaymakers arrive on board. First Alistair, a sensitive performance by Daniel Crowder, then snobby housewife June, a welcome return for Cate Hamer who featured in The Country and Indian Ink, followed by Alistair's gentle wife Emma, a delightful portrayal by Sally Scott, last seen here in The Importance of Being Earnest.
Finally, as the others grow impatient, arrives June's domineering husband Keith, in a nice performance from David Hounslow who as usual one suspects has messed up his train times.
No prizes for guessing who will be captain as Keith is the only one with his own master's cap - a touch familiar to anyone who has been near a canal boat! This however, is not the canal but the River Orb, another warning hint from the playwright.
There might be enough on stage already for a rollicking farce of the Navy Lark variety - Ayckbourn, however, has so much more in his sights: Thatcher, Ray Buckton, Terry Duffy and anyone else synonymous with the dreadful state of industrial strife that was Britain in the late seventies.
And then, before we can swallow an interval drink, we have Vince, wolf in sheep's clothing who saves innocents abroad before eating them for supper. An excellent, almost frightening, performance by Richard Trinder - this is Ayckbourn's manifestation of rampant fascism. Small wonder Vince has been booed off the stage by some audiences - and if he hasn't played panto then he ought to!
Fleur, the decadent aristocrat (no target is missed in this eloquent broadside) is a nice performance by Georgina White and there is a splendid cameo by Suzy Aitchison as Mrs Hatfield - and where have we heard that name?
Altogether a fine piece of theatre to wrap up the summer and send-off the proms. But we might have known that a voyage to Armageddon would end in tears.
"Way Upstream" continues until Saturday 8th October
Reviewer: Kevin Catchpole