The Way You Look Tonight
A celebration of Jerome Kern
Directed by Simon Green with musical direction and piano by Stuart Hutchinson
Salisbury Playhouse Salberg Studio
(2009)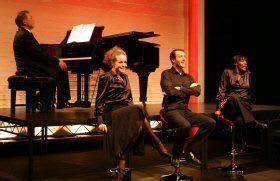 Following last year's highly acclaimed musical miscellany of Irving Berlin's tunes, Salisbury Playhouse recall the successful team of director Simon Green and musical director Stuart Hutchinson who have together produced a charming cabaret celebration of Jerome Kern.
A packed first night house in the Salberg Studio on Friday gave an enthusiastic reception to the three soloists, soubrette Jacqueline Boatswain, soprano Hannah Robertson and tenor Andrew Halliday, with Stuart Hutchinson at the piano also lending a rich touch of vocal bass when required.
Choreography is again by Alexandra Worrall with lighting by Dave Marsh.
The cabaret offers a relaxing evening of musical memories - a real wander down memory lane, opening with strains of the famous Showboat and ending with a real piece of nostalgia, "The Land Where the Good Songs Go" from Miss 1917.
Jacqueline Boatswain's throaty dark tones lend a fine balance to the sweet, lilting soprano of Hannah Robertson while the clear light tenor of Andrew Halliday brings to life the heroic aspect of some of Kern's most famous numbers - among them "You are", "The Folks who live on the hill", and "I've told every little star".
The three move lightly over the dark floor, in a kaleidoscopic style, just occasionally availing themselves of the bright red stools which adorn the excellent set created by Rhys Gilliard, Tim Reed, Clare Shearman, Zoe Parsons and Dave Marsh..
Most of the numbers are shared by the trio, moving smoothly between solos and harmony.
The excellent narrative, also shared by the company, is by Kit Hesketh Harvey, of Kit and the Widow fame, among others.
Showboat is of course well represented beginning with "How'd you like to spoon with me?" and including a fine full company ensemble of "Old man River". In which accompanist Hutchinson's fine bass baritone is the final touch.
This show, easily on a par with last year's well-received Berlin cabaret, runs in the Salberg Studio until Saturday 16th January and early booking is recommended.
Reviewer: Kevin Catchpole