Weapons of Happiness
Howard Brenton
Finborough Theatre
(2008)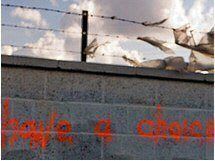 Weapons of Happiness opened at the Finborough Theatre this month - the first revival in over thirty years.
Its pedigree is not without note - for prolific and controversial playwright, Howard Brenton, it won the Evening Standard Best Play Award, it was the first commissioned play to be staged at the NT and it inaugurated the Lyttleton Theatre. However its premiere was perhaps most significant in that it represented the move of the fringe-based political theatre of the time into the mainstream.
The piece is set in 1976, amid miners' strikes, IRA atrocities, the emergence of Margaret Thatcher and punk rock, and uses the story of a workforce's struggle to keep their jobs under the threat of factory closure to juxtapose the state of British society with the condition of the European Left over previous decades.
In many ways Weapons of Happiness is of its period. Just as Brenton's device of introducing fantastical elements into an otherwise realistic scene no longer challenges the audience, neither does the thuggish behaviour of the young, uneducated factory workers surprise or shock. And we do not recognise their values in today's young people - Liz wants to get married if she loses her job in order to avoid becoming a bag-lady with a bottle of ruby wine. Today I suspect they would anticipate a future of benefit-supported binge drinking.
However, if the passing of the years means that it has lost its power to shock, then this has occurred without the piece losing its relevance or ability to affect.
The relationship that forms between two factory workers - young strong-willed Janice and older, aloof Josef - at first seems improbable but develops and reaches a fitting conclusion. It is through these two principals and the action of the story that the play's political arguments are delivered.
Jan is the ring-leader of the youthful gang at the factory, indelicate but intellectually head and shoulders above them, she has "read, read, and read" and believes herself to be a true Trotskyite. She holds the thesis with the arrogance of the young and the zeal of the newly converted.
Josef Frank has come to England a broken man and with a starkly different view of communism. As a result of his position as a Czechoslovakian Minister he was tortured in the Stalinist purges and coerced to confess in a show trial after years of tormented imprisonment.
The events of his life have left him traumatised and ill, with both his days and nights haunted by his memories presented here, often as flashbacks, interspersed with the story of the factory workers.
Under director Nathan Curry this piece progresses at a pretty unrelenting pace in keeping with the strength of the writing. The staging makes the best use of the tight space and the stark set from Alistair Turner provides a suitably bleak environment, which is reflected in the lighting design of Paul Bull.
The combination results in disturbing, stripped down scenes, where we are left without the protection or distraction of props or complicated scene changes. Some comfort is afforded by musical accompaniments, selected or composed by Sarah Llewellyn, but these can equally contribute to the darker atmosphere.
Hilton McRae gives an extraordinary performance as Josef. He is not instantly likeable but we are gripped nevertheless, and won over by his intelligence and inner strength. Hayward Morse as Clementis, a fellow State Minister and also a character based on an historical figure, provides a moving and convincing comparator to Frank.
Katie Cotterell imbues Janice with a brashness by which she is in charge of the cohort of young workers but she visibly matures, displaying an almost maternal knowing as she takes forward what she has learnt.
Benjamin Davies is both credible and scary as illiterate, thuggish Ken whose idea of a night out is "a couple of dozen pints and a good sick up", and who is easily bossed around by Jan because he has neither education nor intelligence with which to have choices; with a contemporary ring of truth, we know Kens now and he epitomises why today's adults are scared of society's youth.
In 1976 Brenton wrote, "Writers of my group all sense the enormous upheaval that is going to come" - his words were sibylline. There was upheaval but Jan's revolution of the workers to "change this fucking country" didn't happen. Instead Josef's prediction came true: "Nothing will change in England. Decay yes, change no." And don't we know it.
"Weapons of Happiness" runs until Saturday, 23rd February, Tuesday to Saturday evenings at 7.30pm with Saturday and Sunday matinees at 3.00pm
Reviewer: Sandra Giorgetti