We Happy Few
Imogen Stubbs
Gielgud Theatre
(2004)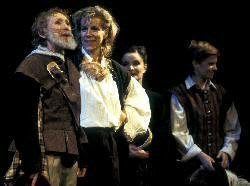 Imogen Stubbs is best known as an actress and is currently starring as Gertrude in husband Sir Trevor Nunn's Hamlet at The Old Vic.
As a playwright, she has half a dozen plays in her. Unfortunately, We Happy Few, now cut to three hours, contains parts of all of them, rather than concentrating its considerable resources on one.
What starts as a ghost story quickly transforms itself into a drama about women at war, travelling players, German refugees, unhappy families and lastly, love of every kind bar the most common, husband-wife type. There is comedy and tragedy, lots of melodrama and even a vein of Vaudeville running through it.
The main thread is the tale of The Artemis Players, a seven-strong female company that tours Shakespeare around Britain during the Second World War.
Too often before the interval, the Bard jokes, both new and old, fly around the amateur theatrical types giving an impression of Noises Off meeting Reduced Shakespeare or possibly, even a gender bent It Ain't Half Hot Mum.
Miss Stubbs' affection for Shakespeare shines through, especially when Hetty, her stage alter ego and irreverent autocrat of our heroines, played by the divine Juliet Stevenson, launches into the big speeches. The final St Crispin's Day speech from Henry V, containing the words of the title, brings a closure to the best of the plot threads in most moving fashion.
Too often, the play relies on nostalgia and over-the-top sentiment, as it meanders along in desperate need of some major pruning. Even Sir Trevor, directing his wife's debut, has not managed to achieve any unity of dramatic purpose.
The Nunn's are buoyed by a big name cast with Miss Stevenson supported by Marcia Warren, EastEnders' Patsy Palmer, Caroline Blakiston and Kate O'Mara.
The conclusion is not that Miss Stubbs should give up the moonlighting. There are enough good lines and moments to suggest that she has the talent to write incisive plays that would be well worth seeing. Without a great deal of cutting, We Happy Few is currently too confused to be one of them. With at least an hour more lopped off, it could be.
This review originally appeared on Theatreworld in a slightly different version
Reviewer: Philip Fisher