What We Did to Weinstein
Ryan Craig
Menier Chocolate Factory
(2005)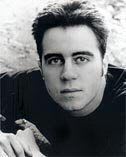 Ryan Craig can consider himself unlucky. He has managed to write a play that is in far too many ways a weaker replica of Mike Leigh's Two Thousand Years, which opened at the National last week.
Craig's play also looks at the difficulties faced by secular Jews in London as they struggle to come to terms with the situation in Israel and the determined religious backlash of their children. Remarkably, the Jewish boy that turns orthodox in each case is a thirtyish misfit named Josh.
Where Leigh feels that this is enough for two and a half hours' entertainment, his younger rival chucks in everything that he can think of, running half a dozen plot lines simultaneously and jumping around in time, sometimes confusingly.
The protagonist is played by another Josh - Cohen. He is a complex and unbelievably volatile character who fights his father, his girlfriends and pretty much everyone else until he leaves London and joins the Israeli army. There he ends up imprisoned after an encounter with a Palestinian played by Pushpinder Chani whose sense of humour leaves him branded as a killer.
Miranda Pleasence is former girlfriend, Sara, who yearns for a baby. She also struggles with her own identity as she becomes a campaigning journalist, proudly highlighting Israeli excesses much to the embarrassment of Leonard Fenton as her father. He in turn is Josh's father's agent.
Dad Max (the excellent Harry Towb) is a famous writer baffled by his newly orthodox son. In almost the final plot twist, his nurse (Vineeta Rishi) is a modern British Muslim burdened by a fundamentalist brother who has the makings of a suicide bomber; and a potential boyfriend who proves impotent but with Sara rather than her.
There is also Weinstein who doesn't get a mention for an hour and then makes a brief, symbolic appearance. He is the subject of Max's cathartic death bed memoir of British Fascism in East London in the fifties.
What We Did to Weinstein suffers from all of this complicated plotting and, by the end, it can be hard to remember what is going on or to care about some of the caricatured people involved. The issues are interesting but would have benefited from considerable simplification that would also have cut the running time.
The play is also hindered by Craig's love of cliché and often too jocular tone. That does not mean that some of the comedy and a couple of great jokes do not lighten the heavy politics, just that on occasion they are out of place.
Tim Supple brings the best performances out from Towb, Cohen at times and Chani, and nicely elides scenes by keeping actors on stage when they are not involved. Ryan Craig's heart is in the right place but he could learn a lot from Mike Leigh.
Reviewer: Philip Fisher