Well
Lisa Kron
Apollo, Shaftesbury Avenue
(2008)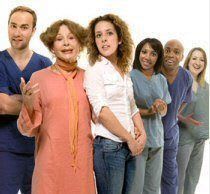 Well started life Off-Broadway as an autobiographical play in which the writer played herself. With intimacy and the authenticity lent by seeing the protagonist psychoanalysing herself on stage, it must have had attractions.
Translated to the West End, all of Well's weaknesses are exposed. It is not helped by Eve Leigh, a director only two years out of college, who asks her actors to play folksy and overdo things at every opportunity.
Former Hollyoaks and Two Pints of Lager .... star Natalie Casey plays Lisa Kron. She begins by addressing her audience and outlining what might happen over the ensuing 90 minutes.
In the background, in a kind of untidy sawn-off den, is the prone figure of her mother Ann, played by Sarah Miles.
What Lisa ostensibly wants to tell us about is illness and racial integration in Michigan. She grew up there with the kind of embarrassing mother who would blight any teenager's life. Mum is either a hypochondriac, a sufferer from a series of psychosomatic ailments or really sick. So is Lisa.
At 19, Lisa drops out of college and goes to an allergy clinic peopled by cartoon-like characters, where the intern's every word has to be siphoned through another patient. As all around are reacting badly, Lisa seems fine, though it is later explained that this is part of her evasion.
If the sickness stuff is ducked, the racial integration of her childhood has even less depth. What Lisa Kron has used in an attempt to make an unexceptional story different is an injection of Pirandellian post-modernism.
Ann keeps interrupting not only the monologues but also the scenes acted out with the four ensemble members. The supporting cast then begin to slip out of character and chat in their normal English (and Scottish) accents with the old lady, much to the very understandable irritation of the actress/playwright who sees her story collapsing all around her.
Once the novelty of the "Six Characters in Search of a Story" wears off, Well becomes very pedestrian. Ultimately, we learn a little about Lisa Kron and her mother Ann, far less about allergies and next to nothing about racial integration.
With the original cast featuring the writer playing herself, Well managed a six-week run on Broadway. Opening in the period between Christmas and New Year is unusual but even so, the London run is unlikely to be any longer.
Howard Loxton reviewed this production at the Trafalgar Studios
Reviewer: Philip Fisher