The Westbridge
Rachel De-Lahay
Royal Court Theatre Local - Bussey Building, Peckham Rye
(2011)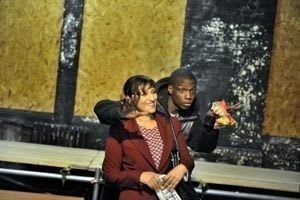 Rachel De-Lahay, who won the 2010 Alfred Fagon Award for playwrights of African and Caribbean descent with this play, seems like a readymade writer for TV soap operas.
The Westbridge could easily be a 1¼ hour pilot for a series that sets out to explore the lives and loves of the occupants of an eponymous sink estate in Battersea.
The staging by Ultz is certainly novel making the most of Theatre Local, a cricket bat factory subsequently turned into a performance space located right next to Peckham Rye Station.
Visitors sit on chairs deliberately placed at right angles to each other to observe the drama played out on raised boards around the periphery of the large, open room.
The catalyst for much of the action is an attack on an Asian girl by black youths that is soon built up by the local rumour-mongers into a racist gang rape.
Love and racism are the two hot topics as riots rage around the estate. The lynchpins are Soriya, played by Chetna Pandya, and Marcus, Fraser Ayres. Both are half-caste, with white mothers but black/Asian fathers, leading to serious identity crises when they start co-habiting.
Their issues are hardly helped by all of their neighbours. Starting at home, their flatmate Daisy Lewis's diminutive Georgina is a blonde airhead wannabe model who was brought up by Soriya's father and is desperately in love with her brother. This is inconvenient since Ibi played by Ray Panthaki has just entered into an arranged marriage with a reputedly beautiful first cousin from Pakistan.
Marcus has a 16-year-old protégé, Andre who exudes all of the attitude that one could ask for and quickly gets accused of the rape by his own mother.
To close the circle, he is also the Asian family's next door neighbour. This brings the older generation represented by Paul Bhattacharjee and Jo Martin together to display various levels of disapproval about life in this region of constant fear and disharmony.
Angst levels run high, as every mixed-race relationship either ends in break-up or leaves souls being searched, while the one solidly Muslim (ignoring Ibi's long-gone blonde Mum) marriage is equally insecure.
Underlying the strife are some serious messages about our multicultural society but this debutante playwright seems more interested in shocking and amusing than getting beneath the surface.
Under the direction of actor-director Clint Dyer, who peaks with a hilarious family meal at a table symbolically divided by the whole audience, there are some strong performances particularly from Ryan Calais Cameron as cocksure but much maligned Andre and Chetna Pandya as an equally confused Soriya.
Following its sojourn in Peckham, The Westbridge will play Upstairs at the Royal Court from 25 November.
Reviewer: Philip Fisher