We the People
Eric Schlosser
Shakespeare's Globe
(2007)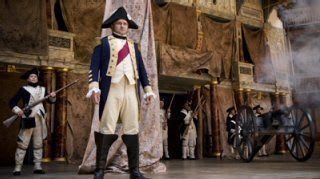 The man who brought us Fast Food Nation and Reefer Madness has been commissioned to write the final play in the Globe's Renaissance and Revolution Season. Eric Schlosser has created a kind of 18th Century Verbatim drama - with additional dialogue to create some often much-needed human interest.
We the People is set in Philadelphia in 1787 in and around the Convention that gave the United States a constitution. As such, it is timely, since 220 years on, We the European People have still not quite got there yet but the subject is certainly up for heated debate.
It is remarkable that the Americans got theirs, judging by the fraught discussions amongst those who finally did (and in some cases didn't) append their names to it. It took a long time to get a quorum and once they sat around the table, a series of problems seemed insuperable.
It was only thanks to far-seeing individuals such as James Madison (Robert Bowman), the eccentric inventor Benjamin Franklin (John Bett) and the man who presided over proceedings, George Washington (John Stahl), that final agreement was reached.
The rancour over both major and minor subjects was great. In particular, the case for the abolition of slavery was cogently presented several times over, allowing the double act of Kobna Holdbrook-Smith and Seroca Davis as former slaves a moment of glory; and subsequently, Trystan Gravelle and Christopher Godwin playing Gouverneur Morris and George Mason also weighed in with powerful speeches.
It is sad that racial equality took another two centuries to arrive in the United States and some might even argue that it has not fully done so there and elsewhere today.
It may well be deliberate, but We the People is at its best when it has been written with retrospection. Those ignorant of the history can see the seeds of the American Civil War being sown and discover why the decision was taken to have a single executive (leading up to George Dubya) who can be impeached (think Tricky Dicky) rather than the Roman triumvirate that was seriously considered (how about a dream team of George, Hillary and Rudi?).
At times, We the People can feel a little too much like a two and three quarter hour history lesson rather than a staged play but the creative team have done a great job of dramatising what could have been very turgid, even if they have chosen not to do a little much-needed cutting.
Director Charlotte Westenra ensures that the audience is always involved by creating a studio production feel, using an apron mini-stage in front of the fixed one.
The only action that takes place on the main stage is the Convention, visually recreated with painterly skill by designer Paul Wills.
Add in West African Griot music played on instruments surely never before heard or seen at the Globe and this becomes an unusual but worthwhile evening, at least for those with some interest in political history and theory.
This production has also offered another example of the curse of the Globe. Having seen The Merchant of Venice hard hit by illness, this time it was an injury to the bravely hobbling William Mannering that brought Dominic Dromgoole on to the stage for yet another announcement about malaise amongst the cast. This may also have caused some wry amusement to some as Mannering's posturing Alexander Hamilton seemingly held a limping contest with the randy, one-legged Gouverneur Morris.
One prays for a better, safer season in 2008 but the way things are going, it would be a brave actor who accepted an invitation to appear in the Scottish Play at the Globe!
Reviewer: Philip Fisher