What Do I Know?
Richard Eyre
Nick Hern Books
Released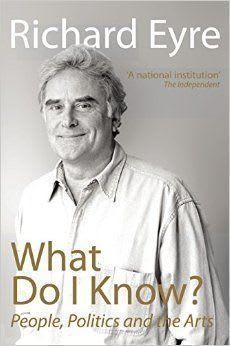 Sir Richard Eyre, once Artistic Director of the National Theatre and since a successful freelancer, has collected together a series of highly intelligent and thought-provoking essays in this book, subtitled with the names of each of its sections: People, Politics and The Arts.
While its primary concentration is inevitably on the theatre, this book has wider reach delving not only into film but also politics with pieces on the likes of Margaret Thatcher, The Monarchy and The Iraq War.
Sir Richard also presents a touching eulogy to Mary Soames, granddaughter of Sir Winston Churchill but also Chair of the Board of the National Theatre during the author's time in charge.
Almost everything in What Do I Know? will generate more than a mere flicker of interest and, in particular, there are great insights into what it means to work as a theatre director.
In the essay on Marlon Brando, the writer gets right to the heart of what it means to be an actor when he says "some lose themselves in research, like archaeologists or detectives, as if to elevate the business of acting into a pseudo-science. Others improvise and paraphrase. Others still literally become the character, on set and off".
It is also hard to recall a better description of the work of a director than the piece about Ian Holm's King Lear, which superbly demonstrates the interdependency between a leading actor and the man chosen to create what all hope will be an unforgettable production, as this highly regarded effort at the National Theatre undoubtedly turned out to be.
Strangely, one of the most perceptive essays about acting is the one entitled Playing Mad, consisting of a lecture delivered to the South London branch of the British Psychoanalytical Society. Not only does this make some pertinent points about madness, it also identifies the similarities between acting and madness, using Hamlet as a benchmark.
To present a flavour of what else is in this book it may be most helpful to give some section headings. Under People, one can read about Arthur Miller, Tennessee Williams, Kate Winslet and Peter Hall, as well as the less vaunted but equally venerable Michael Bryant and Ian Charleson.
In The Arts, Richard III and Hedda Gabler rub shoulders with Simon Gray and The Pajama Game. For some light relief, there are also spectacular and highly entertaining demolitions of popular entertainments including The Da Vinci Code (the book) and The Mousetrap.
By far the largest section is a diary that Sir Richard wrote when he was making Changing Stages, a history of theatre for the BBC.
All in all, there is something for every theatre addict to enjoy in a well-written collection.
Reviewer: Philip Fisher