What Girls Are Made Of
Cora Bissett
Raw Material and Traverse Theatre Company
Soho Theatre
–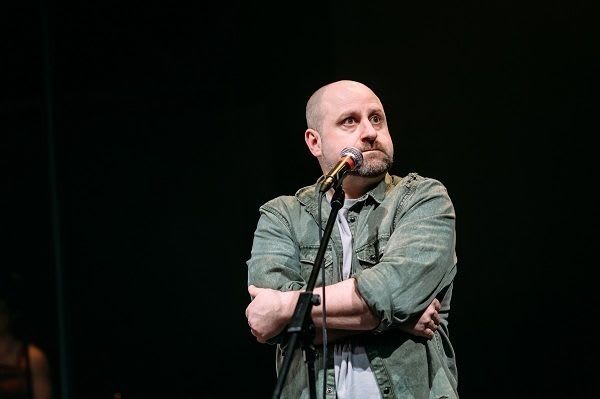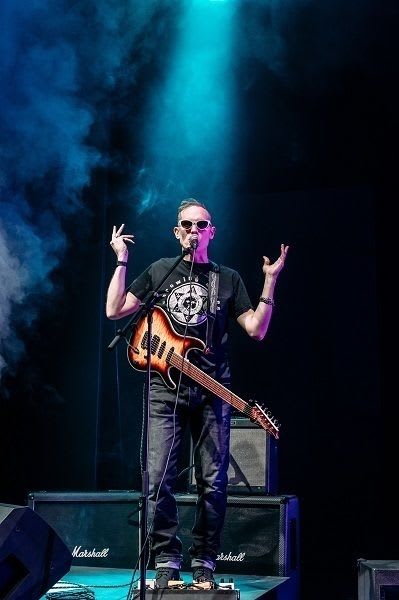 Which youngster hasn't dreamed of being a popstar?
So, when your journey from the pavements of Fife to the promise of fame, fandom and financial freedom goes sour and you end up broke and busking outside Tooting Broadway tube station, why not, subsequently, turn the story of your life into a pop show? An autobiographical tale of triumph, tears and tragedy transfigured into a metatheatrical pop gig, anyone? Life literally becomes art?
For Cora Bissett's What Girls Are Made Of—a huge success at the 2018 Edinburgh Fringe and now showing at the Soho Theatre—charting her journey from Fife to fame to failure, is billed as just that: a 'World Tour 2019', which is taking Bissett's sincere but at times sentimental history as wannabe-turned-worldly to audiences in the UK, US and Australia.
Director Orla O'Loughlin, designer Ana Inés Jabares-Pita and lighting designer Lizzie Powell authentically recreate a neon-lit set, all eye-watering strobes and snaking mic leads, as Bissett looks back 25 years down memory lane using her late father's magazine clippings, her adolescent diaries and her reminiscences—musical, magical and miserable by turn—to tell the tale of her teenage self's meteoric rise and equally swift fall.
Barely out of school, the musically ambitious teenage Bissett answered an ad in a local Scottish rag for a singer who would fit into a band influenced by Siouxsie and the Banshees and The Pixies. Before she could blink, Bissett found herself standing before the lead mic of the indie band Darlingheart. Her co-musicians were two older guys and one young girl—the drummer, still in the midst of her GCSEs and reliant on her father to ferry her to their gigs straight from the examination hall.
Astonishingly—these were pre-Internet and social media days and the pace from would-be starlet to winner's stardom was generally less rollercoaster—the band's first demo (of their songs "Smarthead" and "Queen Bee"), recorded at Abracadabra Studios in Kirkcaldy, secured them a manager and a huge record deal. They found themselves supporting tours by Radiohead and Blur. Of course, the bubble burst; or rather, was burst by a review in NME by Johnny Sharp (aka Johnny Cigarettes) who proved their nemesis.
Bissett's relationship with her parents seems to have been honest, strong and supportive. It's not clear from Bissett's account why the teenager was left to her own devices: to read (or not) the forty-page contracts that left her not just open to but practically groomed for theft and exploitation by unscrupulous agents and music execs; to sign countless open cheques; to be duped into spreading her legs for nineties lads' mags, or unwittingly misquoted by GQ?
The list of crooners who become casualties of their supposed 'career-carers' is long-lived and lengthy: from Elvis to Leonard Cohen, from Billy Joel to Bob Dylan, from The Sex Pistols to Sting. Where were those who supposedly loved Bissett? But, Bissett herself is not really interested in such matters: her show seems designed to reassure us that if the fantasy ended in failure, then for a time she lived the dream and it was worth it.
It's hard not to feel that twenty-five years have lent a rather rosy tint to history. Bissett's Pixies tee-shirt erases the years: she is once again that screaming, sweat-drenched teenager, dining on Radiohead's leftover pizza—and she relives the dream with panache. But was it really so terrific getting drunk on free mini-bottles of plonk, hanging a dress out the window of a dingy hotel to dry off the sweat? Even when she's lost her solo deal and is left adrift in London, running up Shaftesbury Avenue between busking pitches, psychologically beaten by the billboards blasting out the latest stars' propagandist PR, Bissett remains upbeat, in all senses of the word.
I guess Bissett does recreate the innocent excitement and the rush of euphoria at having 'made it'. She puts on a terrific performance, both in front of the mic and fronting the stage. But the cynic in me had some doubts. She's previously said that she "kept a diary religiously from the age of 11 until I was 35. I was obsessive about it. Pretty much every day of my life was written down". What, even after she'd washed down the scrag ends of a Marguerita with slops of free wine? When she'd screamed her lungs off until 3AM? How could the young woman who idolises Patti Smith, channels P J Harvey and worships Dolly Parton find herself kissing the feet of Radiohead "not because they were, like, Radiohead, but because they were so bloody posh"?
There's little sense that, looking back, the adult Bissett might see things with a different eye: instead, the show strives to recreate that the vibe of the day, and we look solely through a teenage lens. But, we also look back through the music of the day, and this is the show's real strength. It's easy enough to play oneself—and Bissett certainly does recreate the innocent excitement of hearing one's song on the radio for the first time, the crowd's screaming for more—but she is supported by a terrific trio of singer-actors, and it's Simon Donaldson (as Cameron Campbell), Harry Ward (Clark Thomson) and Emma Smith (Cathryn Stirling) who really make the performance more than just a sing down memory lane.
The three play bandmates, family members, dodgy Dirk Devine the agent that screwed them—and was later found to have done more of the same when reported to #MeToo—roadies, music business players and more, segueing brilliantly between characters, always with a guitar or drumstick at the ready. Donaldson is especially adept at skewering mannerisms of musicians such as Damon Albarn. Ward is a terrific ventriloquist, his voice capturing the stoicism of Bissett's mother, the self-regard of a radio presenter. Smith, as 16-year-old Stirling, looks as if she'd prefer to remain safe within the folds of her drum kit, but her gentle contributions convey the youngster's unworldliness and guileless charm.
Towards the close, there is a more reflective tone as Bissett muses on families (her father has dementia, she has had a child), death and survival. But, you can't keep an optimist down and the final chorus is an uplifting anthem to female resilience and—if not saccharine—then perhaps single-focused: the story here is that if you have enough hope and resilience, all will be well.
Interestingly, in January 1991, Jon Pareles published an article in The New York Times, 'The Incredible Shrinking Career of a Pop Star', in which he noted that while record sales were at 'new peaks', performers such as singer-songwriter "Edie Brickell can sell 2.5 million copies of her first album, in 1989, and watch her second, in 1990, fail to reach the Top 30, while a rapper like L L Cool J finds himself trying to make a comeback only five years after his debut".
As Pareles puts it: "Disposability has always been part of pop's appeal; a three-minute song can capture an ephemeral feeling or a snappy little lick, share it with the world and then drift into memory… As more money is spent on marketing fewer hits, and those hits are promoted purely for the moment, eventually the audience may not care at all about the singer or the song."
But, Bissett is concerned only with her own story—and it's a story of popular music, performance and pluckiness. And she tells it well.
Reviewer: Claire Seymour