What Girls Are Made of
Cora Bissett
Traverse Theatre Company
Traverse Theatre
–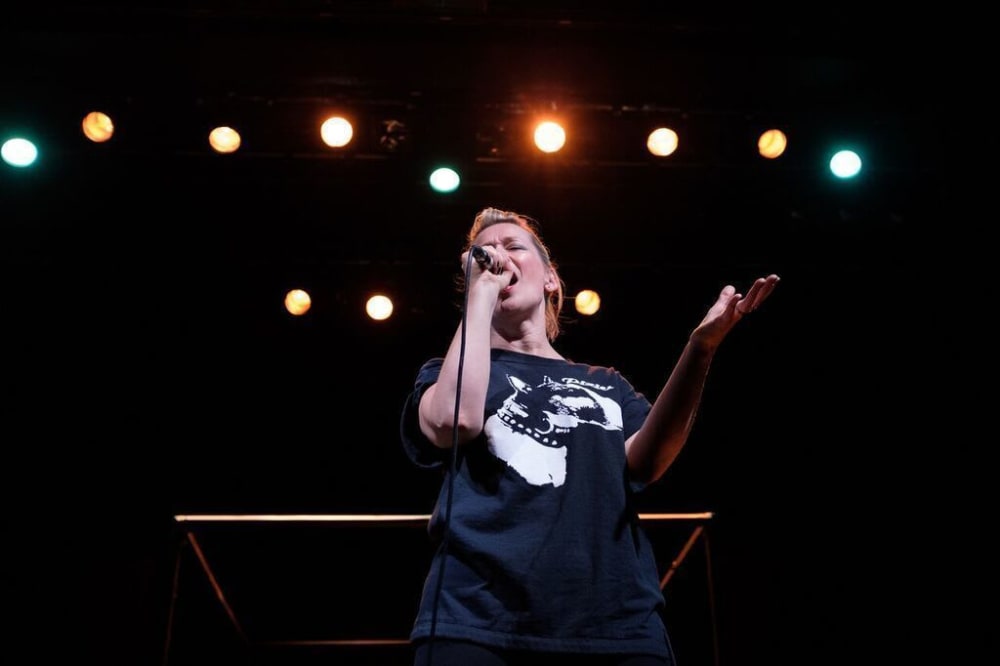 This 90-minute-long extravaganza could easily have been a typical, mildly entertaining Edinburgh Festival Fringe monologue. However, thanks to the extraordinary skills of the multi-talented Cora Bissett, it is likely to be one of the best shows in the city this August.
What starts out as a coming-of-age comedy-drama opens in the early 1990s when Miss Bissett was a teenager trying to decide what to do with her life.
Like so many of her peers, the youngster wanted to be a pop star. Unlike 99%, she managed to live the dream—at least for a while.
Supported by a couple of lads and a younger female schoolfriend who was still sitting exams, she became the lead singer of Darlingheart, a band good enough to secure a label, generous advances and gigs supporting the likes of The Cranberries, Radiohead and Blur.
Following the pattern of every West End juke-box musical in living memory, the group from Kirkcaldy were ripped off by their manager, surely pseudonymously called Dirk Devine, faced gigantic Inland Revenue debts as a result and were then obliged to break up when the record label decided that Cora should go solo.
Unlike Carole King, Tina Turner and The Kinks, the story does not have a happy musical ending. Instead, Cora went to drama school, changed career and has subsequently become one of Scotland's most popular writers and performers.
There are number of different factors that make What Girls Are Made of so special. To start with, Cora Bissett is an extremely talented writer who knows how to build tension and transition smoothly from comedy to pathos, in this case ably assisted by director Orla O'Loughlin. She also knows how to paint character portraits in a few words, especially those of her much-loved parents.
Next, she is a consummate performer who can win over any audience either as an actor or singer. On this occasion, the star has surrounded herself with a talented trio of colleagues, Susan Bear, Simon Donaldson and Grant O'Rourke, each of whom is both a good character actor and extremely talented musician.
Finally, she has what is ultimately a heart-warming tale to tell and does so in highly entertaining style. Anyone who loves rock music, a great, tear-jerking tale or perfectly pitched performance should race along to the Traverse before tickets disappear for good.
Reviewer: Philip Fisher