What Happened to Agnes
Nishla Smith
Nishla Smith with Opera North Projects, Leeds Playhouse and the PRSF Talent Development Programme
HOME, Manchester
–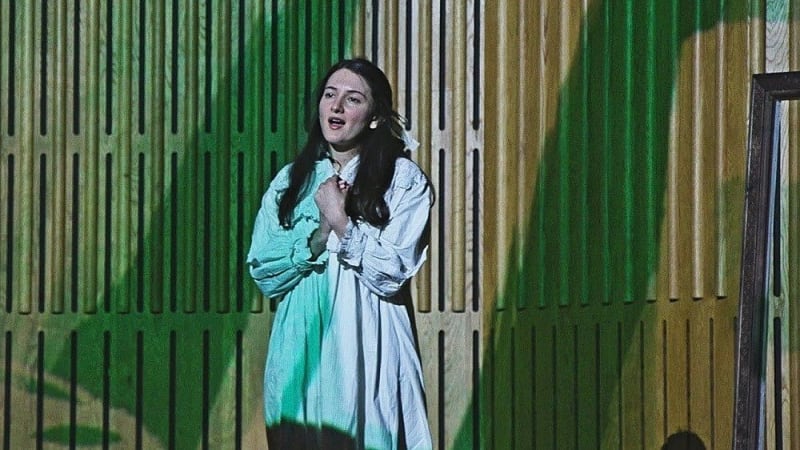 Although the atmosphere for What Happened to Agnes is gentle and reflective, the determining characteristic of the show is a refusal to compromise. There is a sense of Nishla Smith wanting her work to be judged entirely by what is on stage. The story is told in a song cycle rather than as a narrative and lyric sheets that might have helped clarify some of the more obscure aspects are available at the end, rather than beginning, of the show. Memory is notoriously unreliable and, as Smith has based her show on the recollections of a relative, it has a dreamlike tone similar to a fairy tale.
Smith has a close relationship with her grandmother and is fascinated by tales of her childhood in Malaysia before the Second World War. Smith describes an idyllic childhood full of daring adventures that stray into fantasy with talking tigers and other delights. But all is not well in paradise—endless staircases must be climbed to take children to a hospital from which not all return and the invading Japanese army necessitate the family taking refuge in a plantation. With all these adventures it is perhaps not surprising that grandma loses track of her older sister and cannot remember what happened to Agnes.
Although the story of What Happened to Agnes takes place in Malaysia, the atmosphere of the show is distinctly European. The subdued opening of Nishla Smith seated at a table and concealed by shadows brings to mind a Parisian nightclub. Tom Harris's score, played live, is simple and intimate, beginning with a hushed introduction, but capable of projecting urgency and even chaos.
Nishla Smith places high demands on the audience. The entire story is told in song with only limited spoken introductions and recordings of conversations between Smith and her grandmother. Furthermore, the songs are not conventional verse / chorus numbers and build the mood of the show rather than fulfil a direct narrative purpose. As Smith takes on a range of roles rather than acting as narrator, the audience has to identify which character is singing from the lyrics. Many of the lyrics use imagery to convey a theme or sense of place but it is not always easy to be sure one has formed the correct interpretation.
There are few visual clues to guide the audience. Smith adopts a timid childlike stance when taking on the role of her grandmother and occasionally adds a ribbon to her hair, but Luca Shaw's hand-painted projections are abstract, conveying a child's exaggerated perception of, say, a garden but adding little clarity. Otherwise, one must work out which character is speaking purely from the vocal intonation—a sinister, seductive tone is, one assumes, a tiger or other lethal creature.
Smith is telling her story from the viewpoint of a child, which adds a sinister edge to the tale as some of the developments remain mysterious. The reference to a neighbour who falls into disgrace and is ostracised is somehow more disturbing for the lack of a detailed explanation or conclusion. This is the major strength of the show—communicating a child's subjective and occasionally confused view of the world with vivid imagery of infinite staircases and endless games. The ability of children to endure tragedy is reflected in the grim acceptance that many siblings did not live past childhood.
What Happened to Agnes is a mellow, melancholic reflection on the fragility of memory and the enduring power of childhood. It requires concentration on the part of the audience but is well worth making the effort.
Reviewer: David Cunningham