What Shall We Do with the Cello?
Matei Visniec
Atelier Theatre Studio
The Vaults, Waterloo
–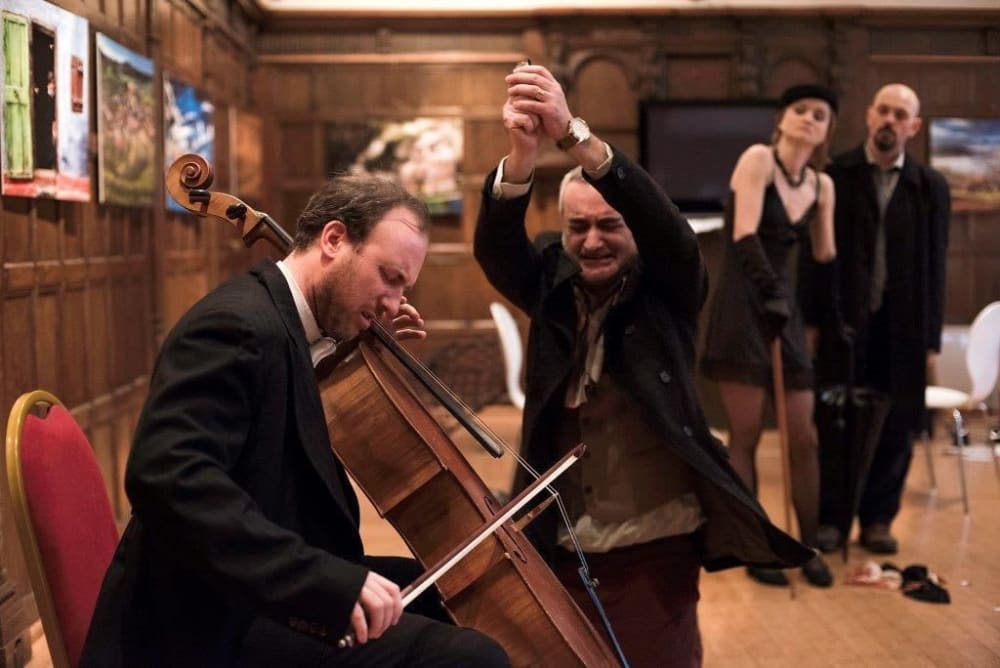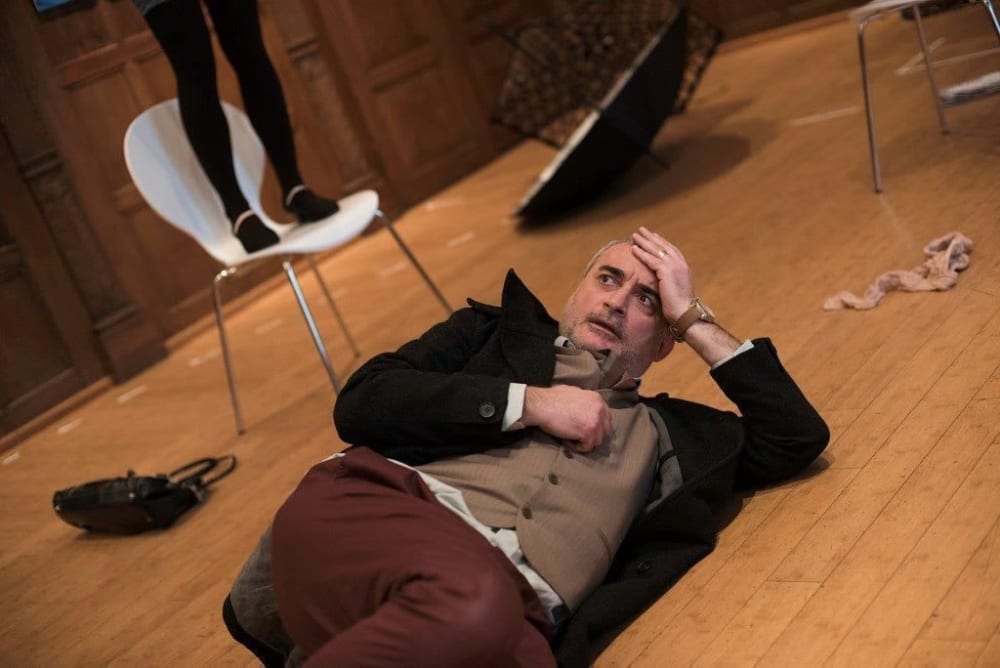 On the surface, What Shall We Do with the Cello is an absurdist comedy set in a railway waiting room. However, the fact that this play was banned by the Ceausescu regime in the playwright's home country of Romania (although he sought political asylum and has lived in Paris for the last 30 years) immediately puts one on notice that a great deal might be concealed beneath the surface.
As one gradually recognises through its hour-long running time, this funny piece, delivered in English as it enjoys a belated UK première, is actually an allegory about the country and its citizens during the benighted days of the Ceausescu dictatorship.
It opens with Nick Allen as The Man with the Cello dedicatedly but dissonantly (and to the uninitiated badly) playing his instrument in a railway waiting room during a day of unmitigated heavy rain. He is joined in a lengthy wait, that had started at the very least a day before, by a random trio of strangers who get increasingly irritated by his efforts.
Simona Armstrong as the Lady with the Veil appears young but classy, while her two male companions each seem to be the sum of their foibles. Tudor Smoleanu plays The Man with the Newspaper, not to mention a very short temper, while Mihai Arsene is The Man with the Stick, who at least on the surface appears more patient but is also bolder when it comes to addressing their collective frustration with the cellist.
Despite their efforts to distract the musician, the cello is as incessant as the stormy weather that pounds down outside, initially amusing then increasingly driving the trio to distraction and beyond.
Their antics become extreme, building to a meaningful if unexpectedly chilling finale, accompanied by news footage from the recent past.
Considering that the run is only five days, the actors have been impeccably drilled by director Vasile Nedelcu for Atelier Theatre Studio, using both physical and verbal skills perfectly in an unusual but engrossing political play that deserves to be seen much more widely.
Reviewer: Philip Fisher